Do you wonder how many people see your Facebook posts? Are your posts reaching your followings News Feed? In this post, you will discover what's new with Facebook's algorithm. 
How Many People See Your Facebook Posts
Facebook's algorithm keeps changing. In fact, it seems as if it is changing every day. With this new algorithm, most of your posts are not seen by your fans. In fact, only an average of 8% of your fanbase will see your posts.
That means 8 out of 100 fans will see your post. Those numbers can be discouraging especially when you work so hard to gain a following. 
This brings up a critical question. 
Do you try to build a bigger fan base or do you try to engage more with the fans you already have?
It is important to work on both, building your following on Facebook and how to increase your organic traffic. 
Important Update
Revised August 2017
How many people see the average Facebook post?
Research from [email protected] suggests that for Pages with more than 500,000 Likes, organic reach could be as low as 2%.
According to Sophia Bernazzani For a Page with 1 million fans, about 20,000 would end up seeing posts (based on the 2% figure).
You might have noticed your Facebook page post reach dropped suddenly 2018.
This news might be alarming and to be honest, it is.
What was working for us just a few years ago is now obsolete.
It is time we all roll up over sleeves and start working on new strategies that will help us to continue to build an audience on Facebook.
Ways To Increase Facebook Traffic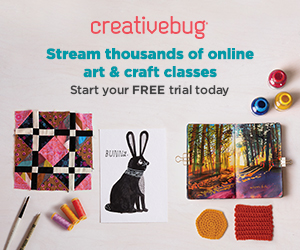 Painting Repeat Patterns by Hand: A Daily Practice by Cleo Papanikolas on Creativebug!
Facebook is not the only social media network that has changed their algorithm. It is becoming more difficult for marketers to reach their audience on most social media sites.
Just a few years ago you could post an image of your artwork on Facebook and a large percent of your followers would see that image in their News Feed.
In order for you to be successful in social media, you will have to change your marketing strategy.
Below are a few different strategies that are working well for some artists.
Give them a try. Tweak them to fit your brand and goals.
Before we get started I want to ask you, "Is your Facebook Page optimized for today's marketing strategies?"
Visit Optimize Your Facebook Page For Art Sales for tips on how to optimize your Facebook page for today's marketing and to help you with your Facebook reach.
Images
Sharing images is easy for artists. You want people to see your latest artwork. 
But what happens if it takes you a week or two to create your art?
Does this mean that you do not post anything for a couple of weeks? 
You should attempt to post daily even if you do not have any new work to share. You do not want your followers to start forgetting about you.
You can post the progress of your latest work, news on upcoming events and inspirational stories. Just include an image with your postings.
The next time you watch someone on Facebook, notice how quickly they scroll through the posts. Most of the time, they will skim through the posts until something catches their eyes. They will then stop to see what the post is about.
Reply to Comments
Always reply to comments on your posts. Engage in a conversation with your fans. Facebook will keep your posts in the News Feed if your posts receive likes, shares or comments.  By replying to comments left on your post you are keeping a conversation going. Just keep the conversation relevant to the posting. This might pull your post into other News Feeds as well.
By replying to comments left on your post you are keeping a conversation going. Just keep the conversation relevant to the posting. Engaging in a conversation might pull your post into other News Feeds as well as increasing your organic reach.
Post at Different Times
Some studies show when the best time to post on Facebook is. This information is a good starting point but the best way for you to find out what works best for your feeds is by trying different times and analyzing the outcome. This will take a few weeks for you to get an accurate study but in the end, it will be well worth your time.
Keep in mind you might have a fan base located all around the world. They will be on Facebook at different times. You need to find when they are online and post at those times.
Don't be afraid to post the same message at different times during the day. Try posting in the morning one day then the next day posts the same posting at night.
Another thing to think about is posting during off times. What I mean by that is to post when people are not posting. If you post when everyone else is posting on Facebook, the chances of your post getting lost are greater than when fewer posts are being published.
Sometimes thinking outside of the box is the best thing for your business.
Ask Questions
Asking questions is another great way to engage with your fanbase. This is another way for your posts to keep on top of the News Feeds.
Asking questions will also give you valuable information on what interests your audience. This will make creating content easier for you.
How many people see your Facebook posts? Do you know your statistics?
I would love to hear your thoughts in the comment section below.
Video
More videos are being posted on Facebook's News Feeds over the past year.
In fact, Facebook just announced that live videos are can see a ten percent increase in organic traffic.
This is big news for marketers.
You will have a chance to reach more of your audience if you start to post videos on your Facebook Business Page.
If you want to bring in more revenue and be a more effective advocate for your handmade business, don't miss the incredible line-up of classes in Crafty Marketing Techniques by Mei Pak.
Popular Art Marketing Courses
Are you ready to take your art business to the next level?
Investing in marketing courses and tutorials will maximize your profit and speed up the growth of your business.
Below are some of the most popular art marketing courses that will grow your online art business:
Most Popular – How to Make a Living Selling What You Make by Megan Auman
Most Popular –  Build a Successful Creative Blog by April Bowles-Olin
How to Build a Business While Learning Your Craft by Megan Auman
Pinterest Marketing for Makers & Designers by Megan Auman
Conclusion:
Facebook is constantly changing. In order for you to continue to see growth in your following, you will have to keep up with the changes.
Try new strategies but keep in mind that not every strategy will work for everyone.
Discover what works best for your Facebook Fans and continue to develop strategies to perfect them so you can continue to reach your audience.
Your goal is to get likes on Facebook free not by paid advertisements.
You might also be interested in:
Disclaimer: This post may contain affiliate links. If you make a purchase by clicking on an affiliate link, Nevue Fine Art Marketing may earn an affiliate commission at no additional cost to you. Affiliate relationships include, but are not limited to, Bluehost, Tailwind, Skimlinks, SareASale and StudioPress. To learn more visit Affiliate Link Disclosure Policy
28 Day Blogging Challenge for Visual Artists
Are you ready to start building an online presence?
Available on Amazon or Download your copy today.
The Productive Artist How to Live Your Dreams
The right mindset and time management skills are essential for any business. These topics are often not talked about but are key elements for your success. You will learn how to have a winning mindset and time management skills necessary for operating a successful art business.
Available at Amazon or Download your copy today.
Get More Done in Less Time The Part-time Artist
Proven strategies that will help you to get more work done in less time so you can sell more art and earn more money.
Available at Amazon or Download your copy today.
Did you enjoy this article? Don't forget to sign up for my free weekly newsletter.
You can also join me on:
Learn how to start, grow and monetize your online art business.
Art Business Planners