Last Updated on
Would you like to triple your art blog traffic? In this post, I am going to share with you how I tripled my art blog traffic in 4 months so you can learn how to increase blog traffic.
How I Tripled My Art Blog Traffic In 4 Months
Original Pastel Painting by Dave Nevue.
By the end of this post, you will know…
Redesigned My Site
Cleaned Up My Menu Bar
Editorial Calendar
Create More Content
Revise Old Posts
Pinterest Referrals
A few years ago I started putting my energy into content marketing because I started to see some changes in social media that I was not fond of.
My Facebook posts were starting to reach fewer people, Twitter was becoming to be a chore that didn't produce additional sales, and YouTube was becoming oversaturated. Social media was taking up to much of my time and not producing the results I was striving for.
While I was becoming frustrated with social media I was listening to Joe Pulizzi's podcasts and reading his blog posts about content marketing.
Joe inspired me to start blogging, and I am happy that I followed his advice because now my website receives over 100,000 unique pages views every month, and the number continues to grow.
I have to be honest. During the first couple of years of blogging, I struggled.
I spent hours every week trying to learn how to start a blog, how to build your own website with WordPress, SEO (Search Engine Optimization) and how to increase blog views.
My blog went through many facelifts during those couple of years (I now use StudioPress Themes for WordPress) and to be honest I was never good at writing, but I kept at it.
I knew that if I wanted to continue to be successful selling original art online I would have to change my marketing strategies.
Related Resources:
The best way for you to grow your online business faster is to learn from people who have built a successful art blog for their online art business.
In the beginning, you might be discouraged because you are not seeing immediate results.
Always remember that they started where you are today.
It took the bloggers you are studying a lot of hard work and discipline to grow their blog to where it is today.
Your time will be rewarded with an increase in traffic and online art sales.
How I Tripled My Art Blog Traffic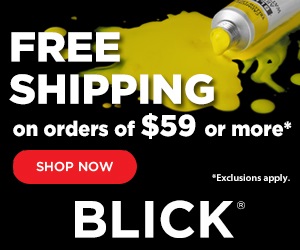 I am going to share with you everything that I did in 4 months that helped me to triple my blog traffic.
The tips outlined below will show you how to get traffic to your blog quicker.
When I first started blogging, I thought all I had to do was write a few posts to generate more traffic.
I could not have been more wrong. There is a lot of variables that come into play when it comes to publishing posts that people will discover and read.
Redesign My Site
The first couple of years was all about learning how to build a blog, learn how to write more efficiently and learn how to promote a blog to let people know that it exists.
I learned from day one that it would take a couple of years to see real results and that information was accurate.
In the beginning, the only people who visited my site was me and my wife. The only reason my wife did was that I asked her to edit my content.
While I was learning how to write posts people would enjoy reading, I experimented with multiple WordPress Themes and WordPress plugins.
It took a great deal of time and trial and error before I was able to build a site that was secure, optimized for search and easy for my audience to navigate.
I wish I had someone tell me from day one tell me what I should be using.
I am going to save you some valuable time and tell you exactly what I use for my site.
Keep in mind that not everything I use will be best for your goals but it will be a good starting point.
HostGator – Hosting services.
StudioPress Themes for WordPress – Premium WordPress Themes.
OptinMonster – Email opt-in form.
Yoast SEO Plugin – SEO optimization plugin.
Akismet Anti-Spam Plugin – Anti spam plugin.
Broken Link Checker Plugin – Checks for broken links
Social Warfare Plugin – The best social sharing plugin.
VaultPress – Website backup.
This is the basic foundation of my website from hosting to the plugins I use.
Take a look at them so you can get an idea of what you might need for your WordPress art blog.
Cleaned Up My Menu Bar
While I was trying to find the best templets and plugins for my site I was experimenting with different menu options (links on the top of the homepage).
I have found that less is more.
It easier for my readers to navigate through my site because I provide them with fewer options.
You will overwhelm your audience if you provide too many links on your menu bar which could increase your bounce rate (when a person leaves your site after viewing one page).
Your homepage should be clean, easy to navigate and explain to new visitors what you have to offer.
Editorial Calendar
The next step I took was creating an editorial calendar and I have been using it ever since.
Developing an editorial calendar has made it easier for me to see what content I have already covered and what I should be focusing on for the future.
It also makes it easier for me to keep track of what posts are performing the best.
Visit How To Create a Blog Editorial Calendar to see how I set up my editorial calender.
Create More Content
I had a difficult time writing when I started my blog. Grammar and writing have never come easily to me.
I can remember it took me four hours to write a 500-word post. Today I can write a 2,000-word post in just a couple of hours.
Ann Handley wrote in one of her books, "Writing is a skill that can be learned", and she is right.
I am by no means an expert at writing but describing my thoughts with words has become easier over time.
As it became easier for me to write I started publishing more content. I went from publishing three times a week to publishing 5 days a week.
Within just a few weeks I started to see an increase in my traffic.
The incline in my traffic excited me enough to decide to post seven days a week.
I published 7 days a week for four weeks and I didn't see a big increase in my traffic. However, I did notice that the quality of my content was being effected so I decided to go back to five days a week.
Revise Old Posts
While I was seeing an increase in my traffic due to creating more content I decided to revise my older posts.
At that point, I was better at writing and I wanted to keep my content up-to-date so the readers would receive the best information I could provide.
Even though I didn't realize at the time how this would affect my traffic I am happy I decided to execute this task because my traffic doubled.
I now revise old posts every week.
Revising old posts and keeping them up-to-date is a great way to boost blog traffic.
Pinterest Referrals
If you want to bring traffic to your blog you have to create a Pinterest Business account.
When I decided to promote my art blog on Pinterest I saw a spike in my traffic that I have never seen before. It was as if it was an overnight success story.
Within a couple of months, I went from receiving 15,000 unique monthly page views to over 50,000. (Update: I have continued to implement the strategies outlined above and my website is now generating over 100,000 unique page views every month.)
I can still remember staring at my Google Analytics asking myself, "Why didn't I start using Pinterest sooner?"
The other key factor was when I decided to use the Social Warfare plugin.
Social Warfare allows you to brand your social shares. You have the ability to create images and text that will be posted on your audience's newsfeeds when they share your content.
Getting traffic to your blog is easy with Pinterest. Start your business account today and watch your traffic grow.
Use Tailwind to save time pinning to your Pinterest boards.
Related Resources:
How To Sell Paintings With Tailwind Series
Conclusion:
Learning how to increase traffic to your blog takes a lot of research and trial and error.
The best way to get started is by learning what strategies successful bloggers have used to build their audience.
Not every strategy you come across will bring traffic to your blog but you will find some common tactics that all bloggers are using.
If you are trying to increase your internet exposure try starting with what worked for me. The strategies I outlined above are how I tripled my art blog traffic in 4 months, you can see the same results too.
If you are strapped for time and you do not have the extra time to search for information on how to increase blog exposure you might want to consider taking the 28 Day Blogging Challenge for Visual Artists.
The 28 Day Blogging Challenge has made it easy for over a thousand artists like you to build an artist blog that sells art.
USE COUPON CODE – 28DAY to save $10 off 28 Day Blogging Challenge for Visual Artists eBook.
How I Tripled My Art Blog Traffic in 4 Months Overview:
Redesigned My Site
Cleaned Up My Menu Bar
Editorial Calendar
Create More Content
Revise Old Posts
Pinterest Referrals
Popular Art Marketing Online Video Courses:
You can also join me on:
Learn how to start, grow and monetize your online art business.
The Complete Blogger Template Toolkit 
OVER 450+ Templates You Need to Quickly Create Stunning, Jump-Off-The-Screen Image to Grow Your Blog-- Without Having to Learn Design!