Last Updated on
Do you find it difficult to complete everything you need to get done during the day no matter how many hours you are working? In this post, you will discover how batch processing will make you a more productive artist so you can get more accomplished in less time.
How Batch Processing Will Make You A More Productive Artist
Many people ask me, "How do you get everything done in a day?"
Yesterday I kept track of the work I did. This is what I completed:
Revised one post
Wrote a 1,500-word blog post
Wrote one chapter for a new art marketing eBook
Answered multiple emails
Pinned 25 articles
Created 2 Facebook posts
Created 5 Twitter posts
Responded to comments on social media
Uploaded new art and wrote descriptions for the landing page
Created two new pieces of art and prepared them for photographing
Taught 10 one-on-one guitar lessons
As well as spending quality time with my family
It was a busy day, but nothing abnormal. This is how my days look Monday through Friday.
Over the weekend will spend a few hours planning for the upcoming week and some extra computer work.
How Do I Get All Of My Work Done Every Day
Over the years I have learned different ways to be more efficient with my time. One way I can get more done is by "batching" projects or "batch processing".
It is not a new concept and I just stumbled upon it while I was trying to accomplish more projects than I could handle.
I have always found myself biting off more than I can chew. Once I have a routine that works, I decide to start a new project. The only way I can stay afloat is by batching similar tasks together.
Wikipedia defines Batch Processing as:
"The execution of a series of jobs in a program on a computer without manual intervention (non-intervention). Strictly speaking, it is a processing mode: the execution of a series of programs each onset or "batch" of inputs, rather than (which would instead be a custom job.)"
I heard Darren Rowse from ProBlogger talk about batching in one of his podcasts and realized that was what I was doing without even thinking about it.
I generally put aside a block of time during the week for packaging and shipping art.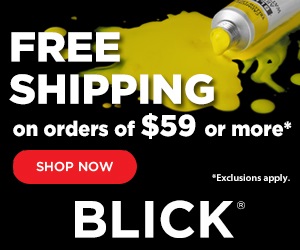 There is a block of time throughout the week when I research for post ideas.
I have blocks of time when I revise posts, research, photograph artwork, upload artwork, create and send newsletters, answer emails, create art, social media marketing and so on.
Blocking off time during the week for these projects allows me to get more done throughout the week.
Batching Strategies
Do not try to do multiple tasks at once. Our minds are not built to focus on more than one thing at a time.
Group similar tasks together and complete them all at one time.
For example, managing your emails.
Instead of spending time throughout the day reading and answering emails, dedicate a block of time each day for your emails.
Schedule enough time to read and respond to important emails as well as deleting emails you do not need.
Blocking off a specific amount of time dedicated to emails could save twenty or thirty minutes a day.
Batching your social media posts is another great way to save time.
Block off some time when you can schedule all of your social media posts at one time. This will take some planning and might be difficult at first but once you get into the routine you will find yourself not wasting time logging into your social media accounts throughout the day.
Find What Works Best For You
There is no one way that will work for everyone. Everyone has a different lifestyle and priorities.
You will want to take a few minutes and try to think of similar tasks that you can batch together.
There will be a learning curve in the beginning. Over time you will start to discover what works best for you and your schedule.
Do not lock yourself into a routine that does not work. Experiment at first and see how you can get more done in less time.
Action Step:
Sit down for fifteen minutes and write down everything you do for your art business.
The list should include everything including shopping for supplies, cleaning your art supplies, organizing your office. Everything that relates to your art business should be on the list.
After you have completed your list, block off time throughout the week for each task you can batch. For example, social media posts, reading and responding to emails, shipping products, etc.
For the next couple of months try to revise your schedule so you can be more efficient. Maybe you are more focused to write first thing in the morning. A good time for you to be creative might be during the afternoon. Discover when you are the most productive for each task and schedule your tasks accordingly.
In about six months you will realize how much you are accomplishing throughout the week and how much extra time you will have to do other things you enjoy.
Conclusion:
There are a lot of little jobs that are associated with selling art online. If you are not careful you can easily find yourself overlooking important tasks.
Batch processing will help you to enhance your time management skills so you can get more done in less time.
Batch Processing Will Make You a More Productive Artist Overview:
How do I get All of my Work Done Every Day
Batching Strategies
Find What Works Best for You
You might also be interested in:
28 Day Blogging Challenge for Visual Artists
Are you ready to start building an online presence?
Available on Amazon or Download your copy today.
The Productive Artist How to Live Your Dreams
The right mindset and time management skills are essential for any business. These topics are often not talked about but are key elements for your success. You will learn how to have a winning mindset and time management skills necessary for operating a successful art business.
Available at Amazon or Download your copy today.
Get More Done in Less Time The Part-time Artist
Proven strategies that will help you to get more work done in less time so you can sell more art and earn more money.
Available at Amazon or Download your copy today.
Did you enjoy this article? Don't forget to sign up for my free weekly newsletter.
You can also join me on:
Learn how to start, grow and monetize your online art business.
The Complete Blogger Template Toolkit 
OVER 450+ Templates You Need to Quickly Create Stunning, Jump-Off-The-Screen Image to Grow Your Blog-- Without Having to Learn Design!