Last Updated on
Have you heard the phrase, "good content?" If you are learning how to sell art online you have heard the phrase good content everywhere. Everyone is telling you that it is important to create good content and plenty of it to build your online art business. But what is good content? In this post, you will discover what good content is and how to write it so you can start driving your target audience to your artwork.
Why You Need To Produce Good Content To Sell Art
Why is it important for you to publish fresh content if you are trying to sell art online?
In the beginning, many artists feel that all they will need is to build a WordPress website or set up an Etsy account and sales will start to roll in.
Unfortunately, this is not how it works.
Your Website is a place where people can view and purchase your artwork. Blog posts are the fuel that drives traffic to your art listings.
Basically blog content is how business websites and blogs are found on the internet.
Websites that publish fresh content on a regular schedule is rewarded by Google. The reward is having your art blog posts ranked higher in the search results.
The sites that can rank on the first page wins the race and will receive a lot of traffic.
This sounds like a lot of work and it is.
The positive side is that when you write an article and post it, it will be available forever.
Think of an article you published like a door. If you publish one article you have created only one door for someone to enter your site. If you have two articles you now have two doors for people to enter.
Can you imagine how much traffic you will receive when you have 100 articles posted?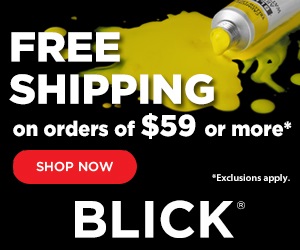 Good Content Definition
Content marketing is the marketing and business process for creating and distributing relevant and valuable content to attract, acquire, and engage a clearly defined and understood target audience – with the objective of driving profitable customer action. (Source: Content Marketing Institute)
Good content is relevant and valuable content that your readers will enjoy and want to share with their friends.
The content you publish should reflect your mission, brand and be entertaining, informative, inspirational, and motivational.
Good content could be measured by the results you have received from specific posts.
Visit your Google Analytics to find out how well your posts are performing.
By visiting your Google Analytics account you can see how many people have visited a page, how they landed on your page, how long they spent on your page and where they went after leaving a page.
Studying analytics will help you to write more effective posts that will help you to reach your business goals.
For example, if a person stayed on a page for a long period of time (The median average time spent reading an article is 37 seconds (Source: NewsCred) let's say for a minute or two and they followed your call-to-action at the end of the post, you know you hit the bullseye.
If people are only spending a few seconds on a post you know you will need to put in some extra work on that specific post.
The good thing about publishing blog posts is that you can revise them as many times as you need to.
How To Create Great Content
Great content or useful content is going to be different for everyone. What I might find as helpful might not be something you would be interested in and the same goes for our audience.
Your art collectors are going to have different likes and needs than my art collectors.
You can separate yourself from all of the other artists selling art online by writing content that relates to our unique brand
Below are some common categories people are reading from art blogs:
Educational – Many times people will go online to find a solution to a problem.
Providing information that will help your audience will turn them into raving fans. They will see you as an authority in your niche and they will visit your site for similar content.
For an example of how artist Sophie Ploeg helps her audience visit How to Care for your Oil Painting.
Read the testimonials Sophie is receiving from her audience on her About Page. The time Sophie spent learning about her audience and delivering valuable content that helps them has paid off. You can see the same results as long as you spend the time to learn what your audience interests are and producing content that will help them solve a problem.
Entertaining – Some blog readers visit blogs for entertainment just to get away and escape the real world for a minute or two.
You can provide this type of content by telling your story. Write about vacations or day trips that have inspired you to create a special piece of art you have for sale.
Make sure you include an image of the artwork and a link for them to be able to make a purchase.
Related Post: Sell Art Online – Call-to-Action Strategy that Generates Sales
Informational – Many artists have built a large following by writing about specific products of topics.
For example, you could write posts that talk about frames you recommend for your artwork or even write posts about the supplies you use to create your artwork.
News – The last topic I would like to talk about is writing posts about upcoming events you might be attending or the latest news about your art business.
People want to know more about you as an artist and what is new with your business. This is a great way to build trust with your audience.
Tips For Creating Good Content
The best tip I can give you is to just start writing and write on a regular schedule.
The only way you can improve your writing skills is to start writing.
Just like anything you do in life the more you do it the better you will become.
Forget about trying to write the perfect art blog post. There is no such thing. Just be yourself and help others out by writing about things that will make their life a little easier.
Bottom line just be you. But make sure that what you write about reflects your artist brand. Most people will not care about what you had for dinner last night.
Conclusion:
Are you ready to start building your audience and sell more art?
If you take action now and write a blog post.
It does not have to be a novel.
Just write a post about something you know about that will help solve a problem for your audience.
Why You Need To Produce Good Content To Sell Art Overview:
Good Content Definition
How To Create Great Content
Tips For Creating Good Content
You might also be interested in:
7 Mistakes That Hurt Your Art Blog
Digital Content Marketing – What Artists Need to Know
How Long Should Your Artist Blog Posts Be For Best Results
7 Effective Steps For Writing Art Blog Posts That Generate Traffic
Art Blogging For Beginners | How To Start A Blog That Sells Art
Did you enjoy this article? Don't forget to sign up for my free weekly newsletter.
You can also join me on:
More resources to help build your online art business.
The Complete Blogger Template Toolkit 
OVER 450+ Templates You Need to Quickly Create Stunning, Jump-Off-The-Screen Image to Grow Your Blog-- Without Having to Learn Design!