The online fine art print market has increased over the past five years. Artists can easily promote and sell their original artwork and reproductions on multiple online platforms, and art collectors benefit because they can now discover new art from artists worldwide.
Even though any artist or photographer can sell prints online, they still need to understand how to promote their work, price prints, know what print sizes to offer, and where they will get their fine art prints.
Disclaimer: This post may contain affiliate links. If you make a purchase by clicking on an affiliate link, Nevue Fine Art Marketing may earn an affiliate commission at no additional cost to you. Affiliate relationships include, but are not limited to, Bluehost, Tailwind, Skimlinks, SareASale and StudioPress. To learn more visit Affiliate Link Disclosure Policy
What Is Fine Art Printing
Fine art printing, also known as giclée printing, is a process that uses high-quality inks and archival papers to produce prints that accurately replicate an artist's original work.
This type of printing is ideal for artists who want to create limited edition prints of their work or sell prints online. Fine art prints are also less expensive than original works of art, making them more affordable for collectors.
Printing fine art can be produced on-demand, so store inventory is unnecessary.
Art prints are extremely versatile and can be used in various settings, from framed wall prints to mounted canvas prints. For these reasons, fine art printing is becoming increasingly popular among artists of all genres.
Where To Print Fine Art Prints
There are a few different options for making prints from your original artwork.
Before making fine art prints, you must create a digital image of the painting or drawing. To make a digital image of your painting, you can photograph your artwork with a digital camera or scan your drawings.
The resolution of a digital image will affect the print size and quality.
Resolution refers to the amount of visual detail contained in an image. The resolution of output devices (printers) is measured in dots per inch (dpi) and, in the case of halftones, lines per inch (lpi). (Source: Corel Discovery Center)
A digital image saved with 300dpi will produce high-quality reproductions.
To save a digital image at 300dpi, open the image in Photoshop, and click image size.
Type 300 in Resolution Pixels/inch. Click ok when done. Save the image as a jpeg to your computer.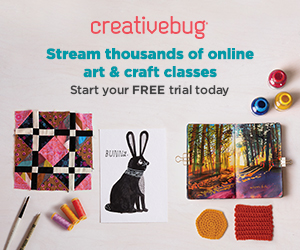 Painting Repeat Patterns by Hand: A Daily Practice by Cleo Papanikolas on Creativebug!
Once you have a digital image, you can bring a USB with the digital image to your local printer. Upload the image to a print-on-demand site or print them at home.
Make Artwork Prints At Home
You can have prints made at a local printing store, online, or home.
If you are printing them at home, you want to invest in a high-quality printer that uses archival ink and use acid-free fine art papers for the prints.
If you are interested in large format printing, you will need to invest in a printer that prints larger than an 8.5 x 11 piece of paper or outsource the job.
Technology has come a long way, and the cost of high-quality inkjet printers is very affordable.
For example, take a look at the prices of these inkjet printers:
To learn more about these printers and other printers that print high-quality art prints, visit 6 Best Printers For Printing Fine Art Prints.
The best paper for your fine art giclee prints is acid-free cotton rag paper, watercolor paper, or canvas. These paper types have different textures and colors and produce museum-quality prints as long as they are printed with archival ink and fine art printers like Epson.
If an acidic product comes into contact with the paper, photos, textiles, or other similar items, the acid can migrate, causing permanent damage and decay. This is why it is so essential to use good quality acid-free and archival materials (Source: The Memories & Nostalgia Collection)
Selling Your Art
Artists can benefit from selling giclee prints online and offline. Mant artists who print at home sell at local art and craft fairs, open studio events, or artist websites.
Whether you are selling you at local fairs or on your website, you will want to know:
How to package the prints to protect the art paper
What print sizes you will be offering
To learn more about print sizes visit, What Size Art Prints Sells Best.
Shipping costs if you are selling a reproduction online
How To Store Art Prints
To learn more about storing prints visit, How To Store Prints.
How To Package Art Prints
Printing limited edition prints at home is more affordable now than in the past. However, additional costs are associated with giclee printing from home besides ink and art paper.
Factoring the costs of packaging supplies into the selling price will keep profits high.
Besides the quality of the printing and the quality of the fine art papers used, the way the prints are packaged will affect the value of an artist's brand and work.
Supplies needed for packaging prints:
Packing prints for shipping and local craft fairs are similar. Cut a piece of chipboard to the size of the print. Place The print and chipboard in clear plastic envelopes. Ensure the plastic envelopes are not too large so the print will not move around.
Matting the print will add extra value and protect it during shipping and handling.
Use acid-free artist tape to mat the reproduction. Place the chipboard with the matted picture inside the clear plastic envelope for added protection.
Shipping prints:
Packaging prints for shipping is similar to packing them for local fairs. The only difference is that you want to sandwich the plastic envelope with a chipboard to prevent any bending during shipping.
For more information about shipping prints, visit, How To Ship Art Prints.
Online Giclee Printing
Another option for having reproductions made is by using a print-on-demand service or an online giclee printing service.
There are pros and cons to using a print-on-demand service for reproducing your original artwork.
A print-on-demand company will print, fulfill and ship the prints directly to the buyer at no upfront cost to the artist. The artist will receive royalties for each print that is sold. You will not be able to sell limited edition prints if you use a POD service because you must sign and number the prints. However, you can purchase the prints from the POD service and have them shipped to your home, where you can sign and bumper the copies and ship them to the customers.
Pros For POD Services:
No upfront costs
Different prints are available, including canvas prints, photo paper, matte finish prints, gloss prints, fine art paper prints in various sizes, and merchandise, including mugs, tote bags, and apparel.
No inventory
No shipping
High-quality prints
Cons For Pod Services:
The profit margin is low
No customer contact information for future sales
Little flexibility for pricing
Costs of materials are high
No control of shipping costs
To learn more about ordering prints online, visit:
Giclee Print vs. Poster Print
The quality of the reproductions an artist offers directly reflects their brand.
For example, Giclee prints are produced with a high-quality digital image on acid-free fine art paper or canvas with archival inks.
Posters are printed on a large format paper with dye inks. The paper and inks used will not withstand the negative effect of UV light, making the color fade, and the acid paper will turn yellow over time.
Posters are less expensive to produce, but the price an artist can charge is less than a limited edition giclee print.
For more information on giclee prints, visit:
How Much Can You Make With Print-On-Demand
Some print-0n-demand services allow artists and photographers to choose how much royalties they will receive for each sale. For example, if a premium 8 x 10 canvas print costs 42.00 for production and the artist wants to receive $10 per sale, the canvas will cost $52.00 + tax and shipping.
Other POD services only give a percentage of each sale and do not allow the artists to alter the product's price.
Research some top POD sites to see what is the best for your art business goals.
Popular Print-On-Demand Sites:
The quality and production are similar for each company listed above, and creating products is as easy as uploading a photo of your artwork.
The difference will be how much royalties you will receive per sale and if the companies offer a free or premium gallery to showcase your artwork.
Order Prints Of Your Art
When you outsource a printing job to a company, you trust that they will use quality paper and ink for your reproductions. Searching for companies that offer giclee printing is the first step. The second step is to purchase a copy to see if the quality of the paper and colors are to your liking.
Purchase a larger copy to see the quality. The smaller copies will also look good if a larger copy looks good.
Long Format Printing
You may wonder how to generate more income from your work as an artist. One option is to sell prints of your paintings or photographs. While this can be a great way to make some extra money, it's important to remember that prints are generally not as valuable as original artwork.
You may consider selling long-form prints if you want to generate more income from your art.
Long-form prints are simply prints that are much larger than standard prints. They can range in size from 18″ x 24″ up to 36″ x 48″ or even larger. Because they are so large, they tend to be more expensive than standard prints, making them a great option for artists who want to generate more income from their work.
If you're interested in selling long-form prints, you should keep a few things in mind. First, ensure that your artwork is high quality and will reproduce well at larger sizes. Second, consider partnering with a local print shop or framer who can help you produce and sell your prints. Finally, price your prints accordingly – remember that buyers of long-form prints are typically willing to pay more for high-quality artwork.
Final Thoughts On Fina Art Prints
Thanks to the internet, there are many ways individual artists can earn passive income. Selling reproductions of original paintings and drawings is just one way an artist can easily generate more income. Besides selling reproductions on fine art papers, an artist can sell canvas prints and other merchandise like tote bags, mugs, and apparel with their art on them.
Customers are searching online and ready to buy art like yours on merchandise, and museum-quality limited edition textured prints. Offering a variety of products is an excellent way to increase your revenue.
More Posts Related To Printing Prints
Best Print On Demand For Greeting Cards
7 Best Watercolor Printing Services For Watercolor Artists
7 Best Watercolor Printing Services For Watercolor Artists
Best Printing Companies That Print On Canvas