How often has someone told you that they "love your work but can't buy it right now?"
What do you do when you hear that?
Do you give them a business card if they are with you in person, or do you ask them to join your email list if you are talking to them online?
These are just a couple of email marketing for artist strategies I use to build my email list. 
Disclaimer: This post may contain affiliate links. If you make a purchase by clicking on an affiliate link, Nevue Fine Art Marketing may earn an affiliate commission at no additional cost to you. Affiliate relationships include, but are not limited to, Bluehost, Tailwind, Skimlinks, SareASale and StudioPress. To learn more visit Affiliate Link Disclosure Policy
If someone goes out of their way to tell you they wish, they could purchase your art, ask them to join your email list. They are potential buyers whom you do not want to lose contact with.
There will be times when potential buyers are in the market for purchasing art. It would be best if you had a way to stay in contact with them.
Both large and small businesses use newsletters for generating long-term continuous sales, and as an artist, you can also use your newsletter to build relationships with your fans. Connecting people with your art on an emotional level increases high ticketed artwork. 
Building an email list is much work and can feel overwhelming at times.
This email marketing guide will walk you through the steps to help grow your email list faster. 
What Is Email Marketing For Artist
Many artists struggle when it comes to building their email lists and developing a productive email marketing strategy.
There is a lot that goes into an email marketing strategy.
First, you have to have people on your email list to send art newsletters to.
Second, you have to make the newsletters personal, and track the analytics to determine how effective your marketing strategies are.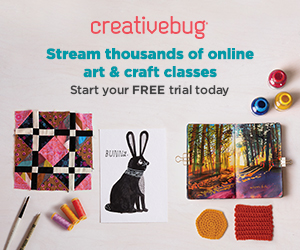 Painting Repeat Patterns by Hand: A Daily Practice by Cleo Papanikolas on Creativebug!
You can also segment your audience by interests so that you can send specific content to artists, collectors, and potential buyers.
How To Grow Your Email List
Let's get started by talking about how to grow your email list.
Always have an email list signup sheet and business cards available at art shows, galleries, and craft fairs you are showcasing your art.
On the top of the signup sheet, write something like, "Join my email list to keep up-to-date with my upcoming shows and artwork."
Divide the sheet into two columns for their full name and email address.
Place your business cards next to the signup sheet.
Provide a way for people a way to sign up for your newsletter on your artist website.
Use a lead magnet tool like AWeber or OptinMonster and entice them to join the list by giving them something for free.
You can offer them something like:
Postcard
Calander
Greeting cards
Small print
Screen saver
Email Management Services (EMS)
It is important not to send emails from your Google or yahoo email account.
Doing so could cause legal issues because sending emails in bulk is classified as sending spam emails.
An EMS will integrate your online signup list, track the CTR (click-through rate, how many people open your emails), and what links people click on your newsletters.
Popular EMS:
How Often Should You Send Newsletters
Your art business goals will determine how frequently you send newsletters.
Some factors include:
How quickly you can create artwork
How many shows you will be attending
How busy you are or how often to can commit to writing a newsletter
Some artists send newsletters, weekly, biweekly, or monthly.
I recommend not to go longer than a month.
An email marketing plan's objective is to keep your artwork in the minds of your potential buyers.
What Should An Artist Newsletter Consist Of
Many artists work hard and do all the right things to grow their email list but struggle when it comes time to create a newsletter, so they put it on the backburner.
Succesful artists found a way to keep the newsletters personable, entertaining, and fresh.
They have created an email marketing calendar that is highlighted with different topics to write about, so the reader does not read about the same thing repeatedly.
Here are four different topic ideas highlighted in How To Create A Successful Art Newsletter.
Highlight Your Artwork
People who join your art newsletter love your artwork.
Your artistic style is the primary reason people sign up for your email list.
They want to learn more about your artwork, share pictures, videos, and stories that will connect your readers to your artwork.
When you are talking about your art, write as if you are only talking to them so they can connect with you personal level.
Showcase Older Artwork In Your Art Newsletter
So many artists get caught up, only showcasing new artwork in their newsletter.
People who just signed up did not see art you created a year or two ago.
Even if a painting sold, showcase it, and tell the story behind it.
Make sure that you emphasize that it is sold.
Art In Progress
Many artists, including me, have seen great results by sharing art in-progress photos and sharing the stories behind the entire process.
People love to see art come to life right before their eyes.
You might be surprised how many times you will sell a new piece of art you are working on before it has been completed.
Upcoming Events
Always highlight all of the events you will be attending for the year.
Keep adding to the list as new local art fairs you will be attending and other events that arise.
Share pictures and write about old events to inspire the reader to visit the next event you will be attending.
For even more ideas, visit How To Create A Successful Art Newsletter.
Final Thoughts On Email Marketing For Artist
Selling art online or selling art at craft fairs is a lot of work.
Selling to a potential buyer who has signed up for your email newsletter will be easier than trying to find new collectors on social media.
Art buyers are everywhere and are searching for art, just like yours.
Develop a strategy to collect email addresses on your blog posts, social media, and use tools like OptinMonster to help you grow your list faster.
There are many email service providers available. Take a look at the list above to see if any of those fit your business goals.
Building your email list should be at the top of your art marketing list.
Now that you know how easy it si to develop an email marketing for artist strategy it is time to take action and start growing your email list.
Popular Art Marketing And Sales Tutorials
Below are some of the most famous art marketing courses that will grow your online art business:
Most Popular – How to Make a Living Selling What You Make by Megan Auman
Most Popular – Build a Successful Creative Blog by April Bowles-Olin
How to Build a Business While Learning Your Craft by Megan Auman
Pinterest Marketing for Makers & Designers by Megan Auman
Did you enjoy this article? Don't forget to sign up for my free weekly newsletter.
You can also join me on:
Learn how to start, grow, and monetize your online art business.