Learn How To Draw
Are you interested in learning how to draw?
Drawing is fun, relaxing, rewarding, and is a skill that anyone can learn.
Drawing means making marks on a surface. You learned how to write your name and the letters of the alphabet. If you can print your words on paper, you can draw objects you see.
The artists you admire have spent a great deal working on various drawing techniques to enhance their drawing skills.
You, too, can also improve your drawing skills by spending time working on the tips outlined in this post.
You will be able to draw better faces, flowers, animals, or whatever subjects you would love to draw in no time at all.
Drawing Tips For Enhancing Your Drawing Skills
By the end of this post, you will know…
The best drawing supplies for your drawings
Understand the different grades of pencils
How to control your pencil
Different mark-making techniques
The elements of shading
How to create sharp edges
How to protect your drawing surface
Understanding different textures
How to create smooth value changes
Working with photo references
Before we get into the drawing exercises that will improve your drawings, we would like to mention the importance of using high-quality art supplies.
The pencils, erasers, and paper you use for drawings will greatly affect the finished picture positively or negatively.
The good news is that drawing supplies are relatively inexpensive.
Practicing the drawing tips and techniques outlined below with premium supplies will help you become familiar with the tools you are using, which will make the learning process quicker.
Here is a list of high-quality drawing supplies used by professional graphite artists:
Drawing Paper
Blending
Pencils
Value Finder
Erasers
Extras
For more information about art supplies, visit:
Best Drawing Pencils For Beginners And Professional Artists
Strathmore Bristol Vellum Paper – Best Paper For Realistic Drawing
Different Pencil Grades
Before you start drawing, let's take a minute to talk about the different pencil grades available in artist-grade pencil sets.
Graphite grading scales measure the hardness of a pencil's graphite core.
The letter "H" indicates a hard pencil.
The harder the graphite core is, the lighter the line will be on your drawing surface.
The higher the number is, the harder the graphite core will be.
The lower the number is, the softer the graphite will be.
Common "H" pencils: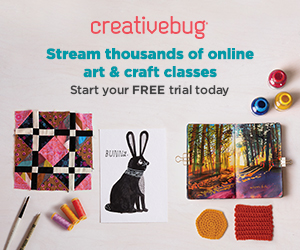 Painting Repeat Patterns by Hand: A Daily Practice by Cleo Papanikolas on Creativebug!
Drawing Tip: If you press down too hard with a pencil, you will increase the odds of damaging the drawing surface.
Always use a light touch when drawing with "H" grade pencils. You can make the area darker by drawing over the lines with the same grade.
It will be impossible to add layers to the drawing surface if the "tooth" gets damaged.
For more information on the best way to shade, visit:
How To Shade Drawings With Graphite
Shading A Cylinder Drawing Tips
Soft Lead Pencils:
"B" indicates the darkness of a pencil's mark.
The higher the number is, the softer the lead will be.
The softer the lead, the darker the mark will be on your drawing surface.
Common "B" pencils
There is also an HB grade. This grade is in the middle of the "H" and "B" grades.
Drawing Exercise:
Try drawing a box with each grade of a pencil. This exercise will help you to understand the value each pencil offers.
Having the right pencil for shading is crucial, and this exercise will help you know what pencil will be appropriate for every situation you come across.
Disclaimer: This post may contain affiliate links. If you make a purchase by clicking on an affiliate link, Nevue Fine Art Marketing may earn an affiliate commission at no additional cost to you. Affiliate relationships include, but are not limited to, Bluehost, Tailwind, Skimlinks, SareASale and StudioPress. To learn more visit Affiliate Link Disclosure Policy
Continue this exercise with each pencil grade you have.
Many people keep the drawing for a grayscale reference.
Drawing Tip – The soft lead pencils will leave little white dots when adding graphite to the drawing surface. To make you're drawing more realistic, start with a harder lead like a 2H pencil to condition your drawing surface.
The hard lead will reach the bottom of the "tooth," eliminating the little white dots.
Ensure that you do not press too hard or destroy your paper's "tooth," making it difficult to add darker values.
To learn how to draw using the grid method and add layers for making realistic drawings visit Grafite Realism Course.
Control Your Pencil
There are several different ways an artist holds a pencil when drawing.
Each grip will affect the marks you make on your drawing surface.
Learning how to control your marks with several different grips will allow you to create perfect lines every time.
Below are the most common grips for drawing:
Traditional grip
Underhand grip
Overhand grip
Traditional Grip
Traditional grip is how most people learn to grip a pencil when they first know how to write.
With this grip, you will have the most control, and it works well for fine details.
Underhand Grip
The underhand grip is held loosely between the index finger and the thumb. The other fingers are used to stabilize the pencil.
This grip forces you to draw with your shoulder, not your wrists, and is a perfect grip for loose drawings.
Overhand Grip
The overhand grip is like the traditional grip, but you hold the pencil towards the pencil's back. This grip works best with new pencils to place your hand farther away from the tip of the pencil.
This grip is perfect for conditioning the drawing surface and adding soft values. It creates light, delicate marks.
Practice Different Mark Making Techniques
There are several different ways you can apply graphite to your drawing surface, and the ones you will use will depend on the subject and style you are drawing.
Practicing each of the techniques listed below will help you to have more control of your pencil.
With a little practice, you will be able to feel confident drawing anything your mind can imagine.
Different drawing methods:
Hatching – shading with closely drawn parallel lines.
Cross-hatching – shading with intersecting sets of parallel lines.
Stippling – the process of drawing, painting, or engraving using numerous small dots or specks.
Small circles – shading with small circular motions.
Scribbling – shading with the use of different lines
Blending – blending graphite with a blending tool like a Tortillon or Blending Stumps
Practice these pencil sketching basics until you feel confident you can apply them to a real drawing.
To practice the different shading techniques, sketch for circles and practice each method until you feel confident with your marks.
You can also use the drawing tutorial Shading A Cylinder Drawing Tips to practice different shading methods.
Elements of shading
Understanding the shading elements and how light reacts to objects will help you create photo-realistic drawings.
The 5 elements of shading are:
Full light – where the light hits the object and is the lightest area of the subject
Halftone – the middle value of a subject
Core shadow – the darkest area on a subject
Reflected light – a lighter value that outlines the edge of an object
Cast shadow – the shadow of an object
Learn more by visiting Drawing Tips For Realistic Drawings – The Elements Of Shading
Once you understand how light reacts to different subjects and materials, you can use the drawing techniques above to create a realistic drawing.
Most drawing tutorials explain how to shade areas of a subject but do not talk about the different shading elements. It is important to understand how light reacts to an object and practice how to add value to the drawing surface.
One of the best ways to learn more about the different shading elements is by studying art from other people. You can discover different artists on Instagram that use different shading techniques like hatching or blending. Follow your favorite artists and try to find out what drawing tools they use to create their work.
Control Your Edges
Edges created by value define the separation of objects.
In real life, there are no lines around objects.
You can see an object by the object's values and space's different values around the object.
Value is the relative lightness or darkness of a color.
In the drawing below, you can see that Dave Nevue created separation from all of the objects by concentrating on each object's edges. There are no outlines of the shapes.
The only time you will want an outline of an object is when you are drawing cartoons.
The drawing exercise below is not just for beginners. It is also a great way to warn before working on a project.
Draw a straight line and add lines that connect with the line. Make sure that there are no gaps between the lines. The lines should be touching each other.
Draw another straight line and draw lines that touch the edge and go away from the edge. All lines should connect with the first line and not overlap them.
Draw a curve and add curved lines that touch the other lines. Make sure there are no gaps between the lines.
The key point to take away from this exercise is that a shape is defined by value, not an outline.
Avoid Smudging
This is not an exercise that will help your sketching skills, but it will help you protect your drawing.
There is nothing more frustrating than when you feel like you have drawn your best drawing to find out that you smudged an area during the drawing process.
Always keep a piece of paper between your hand and the drawing surface.
If your hand rests on the graphite, your drawing surface will become smudged, and oils from your hand will soil the drawing surface, making it impossible to draw soft value changes.
Tip – Always lift the paper your hand rests on before moving it. If you drag the paper over your drawing surface, the shielding paper will remove some of the graphite and add the graphite to areas you do not want.
Another tip is to use a fixative for all of the sketches in your sketchbook. A fixative will prevent graphite from rubbing off on the different pages.
Understand Different Textures
Observe the different textures of the subjects you are drawing.
You will have to adjust your technique for various textures because light reacts differently to different objects.
For example, metal is a smooth surface, and you will have to keep the values consistent and use soft value changes to create depth.
On the other hand, tree bark has a rough surface with many valleys that light will not reach. You will have to add different values to create the cracks' illusion in the bark in this situation.
Before you start drawing, observe the object and determine if it has a smooth or rough surface.
A smooth surface like chrome on a motorcycle will have higher contrast and prominent highlights.
A rough surface like tree bark will have low contrast and little highlights.
Practice the different surfaces by drawing a soda can and a tree trunk.
The soda can will have smooth value changes while the tree trunk will have inconsistent values, creating a bark illusion.
Learning how to see different textures is important for building a strong foundation. You can practice all of the different exercises in this post but if you do not spend time learning how to see like an artist your drawings will look off.
Smooth Value Changes
Proper blending requires smooth value changes.
Before you can create smooth value changes and create photorealism drawings, you must learn how to apply the pencil line properly and learn how to use blending tools.
Soft value changes start with the lines you put on your paper.
No amount of blending will smooth inconsistent lines.
If there is space between the lines or the lines' darkness is inconsistent, the blending will be off.
How to draw smooth values:
Start by applying your pencil lines softly and in the same direction.
Build value by using different pencil grades, not by pressing too hard on the drawing surface.
The first layer of graphite should be done with a 2H pencil.
Start with the darkest areas and work towards the lighter values.
Keep drawing over the area with the 2H pencil until you have reached the maximum darkness your pencil can produce.
Take your HB pencil and add more value to the area, starting with the darkest part and work towards the lighter area.
Continue this step with your 2B pencil, 4B pencil, and 6B pencil if needed.
The values should look even and gradually lighten.
Dave did not use any blending tools with the drawing above. Everything was accomplished with a pencil.
To soften your drawing values, you can use a blending stump, tortillion, q-tip of tissue with no lotion.
Smooth everything out with a blending tool by moving in the same direction you used to draw your paper's values.
Use a light, even motion, starting with the dark areas and working towards lighter ones.
Practice adding dept to a sphere like the one below. Pay attention to the 5 elements of shading.
Try these drawing tutorials for blending:
Study Photo References
Photorealism drawings are art created by a reference photo.
If your goal is to create photorealistic art, you will need to study a reference image.
What to look for:
Identify where the light source is coming from
Notice how light reacts to the surface of a subject
Identify the texture of the subject
Even though the image is two-dimensional, try to see the subject as a three-dimensional object. Doing this will help you with the shading.
Notice the soft value changes within the subject. Print a black and white copy of the subject if you have difficulty seeing the value changes.
Drawing is observing and transferring what you see on paper.
Continue to look at your reference images while you are drawing.
Practicing Will Enhance Your Drawing Skills
Drawing is a skill that can be learned, just like guitar or drums.
A person does not play their favorite song the first time they pick up a guitar.
It takes many hours to learn how to play guitar, just like it takes many hours to learn how to draw realistic drawings.
If you draw every day, you will soon see that you can draw whatever your mind can imagine.
Use the drawing tips outlined in this post to help you speed up the learning process.
How To Sell Pencil Art
If you're a pencil artist who is looking to start selling your drawings, there are a few things you'll need to do to get started.
To start, you'll need to create a portfolio of your work. This will give potential buyers an idea of your style and abilities.
Next, you'll need to determine what prices to charge for your drawings. Be sure to research how much pencil drawings sell for.
You'll also need to promote your work and make it available for sale. You can set up an online shop or exhibit at local art fairs.
Drawing Tips Final Thoughts
Whether your goal is to become a professional artist or sketch as a hobby, the exercises and drawing tutorials mentioned in this post will make you a better artist over time.
Your drawing abilities will increase every week, making it more fun to draw what you see.
More Step-By-Step Drawing Tutorials
How To Draw Lips Step By Step Drawing Tutorial
Ears Drawing Step By Step Tutorial
What Should I Draw – Cool Drawing Ideas