This is a guest post by Annabella Carter Short
Are you participating in any art fair any time soon? Wondering how to set up your booth to attract more visitors?
If you are, check some of our tips for you!
Why artists should participate in Art Fairs and Shows?
Reliable art fairs and shows can attract between 20,000 to 40,000 visitors, definitely a place to be if you want to show off your work face-to-face. Such events gather art dealers, collectors, agents, curators, critics, influencers, and so on. It is the perfect chance for you to introduce your top stuff to all the people who count!
But, although art fairs can aid your art business, it can also become a frustration if you are not well prepared. Even small details might sum up to a negative balance after the show, so to help you take full advantage, check this short guide of how to minimize the friction with customers and maximize your sales.
Good Looking Setup
Setting up a booth can be challenging, especially if you add the pressure of making everything done by the fair's opening time.  So, set it up a few days earlier at your studio or outdoors, before going to any shows or fairs. This "trial" set up will give you some time to check what tools might be missing, if your booth is intact from previous shows, and if you might want to run last minute changes to it. You can also take a picture of how it should look on the day; this might be helpful if you will have helpers to organize it during the event.
Giveaways
It is not easy to sell during this type of events, especially if you are working with high-ticket prices. A giveaway is just perfect to gather contacts of potential prospects, whom you might be able to call later or send e-mails. You can offer one of your pieces as the prize and deliver to the winner's address later. Don't forget to check the show's policies regarding giveaways, sometimes organizers don't allow this type of promotion during the event. Create a powerful mailing list with this technique!
Eye level is always good
Your art should be visible. Don't make shoppers bend or overcome barriers to see your creations. Place your best-sellers on eye level. Depending on your art's size and medium, multi-level displays might be a huge help to assure your work will be easily seen. Also, make sure your booth has sufficient lighting. Lights will help to make your work attractive and enticing to shoppers.
Label your artwork
All artwork should have its authorship. Create beautiful tags to your creations and use them in your favor while exposing. If it is a painting, add information such as the artist name, title, year, print size, medium, and price. If you are selling handmade pieces, you can add personalized labels and tags. Share your brand's logo, materials used to craft and how to care properly.
Live work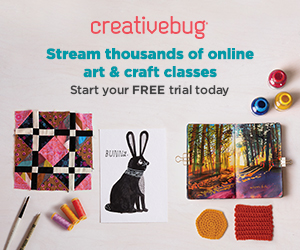 Painting Repeat Patterns by Hand: A Daily Practice by Cleo Papanikolas on Creativebug!
If you can, show the audience a taste of your skills and creativity. Everyone loves to see an artist in action, creating the most unique and formidable pieces. If your work can't be performed live, try to record it and show on a TV screen. People will mostly get curious and stop by to check your process. It's the perfect time to engage and exchange business cards or contact!
Don't Clutter your space
If you have many products to show, try to either get a bigger space to accommodate them all or prioritize them carefully. It is better to have a few highlighted pieces in a clean display than to have a cluttered one. When there is too much information, people tend to be confused and might not even pay attention to any of your work. Give each piece a breathing room. Make each piece look significant and exclusive (as they indeed are!). Cramped tables will only make your art look like commodity items on sale.
Make your booth entrance open and inviting
Make your booth entrance wide, so it is easy to get in and out. Sometimes shoppers might feel trapped if they see a narrow entryway, and might not even come into your booth. The idea is to encourage prospects to check your art, get to know you, leave their contact, and luckily buy a piece.
Annabella Carter Short is a freelance writer, seamstress of more than 7 years and a handmade lover. She's passionate about selling on Etsy and starting a handmade business. In her free time, she likes to make DIY projects with her two kids. Annabelle also works with few organizations to provide the best resources for raising and educating a special needs child.
Visit Annabella on Facebook.
Popular Art Marketing And Sales Tutorials
Are you ready to take your art business to the next level?
Investing in marketing courses and tutorials will maximize your profit and speed up the growth of your business.
Below are some of the most popular art marketing courses that will grow your online art business:
Most Popular – How to Make a Living Selling What You Make by Megan Auman
Most Popular –  Build a Successful Creative Blog by April Bowles-Olin
How to Build a Business While Learning Your Craft by Megan Auman
Pinterest Marketing for Makers & Designers by Megan Auman
Disclaimer: This post may contain affiliate links. If you make a purchase by clicking on an affiliate link, Nevue Fine Art Marketing may earn an affiliate commission at no additional cost to you. Affiliate relationships include, but are not limited to, Bluehost, Tailwind, Skimlinks, SareASale and StudioPress. To learn more visit Affiliate Link Disclosure Policy
28 Day Blogging Challenge for Visual Artists
Are you ready to start building an online presence?
Available on Amazon or Download your copy today.
The Productive Artist How to Live Your Dreams
The right mindset and time management skills are essential for any business. These topics are often not talked about but are key elements for your success. You will learn how to have a winning mindset and time management skills necessary for operating a successful art business.
Available at Amazon or Download your copy today.
Get More Done in Less Time The Part-time Artist
Proven strategies that will help you to get more work done in less time so you can sell more art and earn more money.
Available at Amazon or Download your copy today.
Did you enjoy this article? Don't forget to sign up for my free weekly newsletter.
You can also join me on:
Learn how to start, grow and monetize your online art business.
Art Business Planners