Last Updated on
Having a beautiful blog with nothing on it but images of your artwork is not enough to generate traffic. If you want to start generating traffic and building momentum for your art business, you're going to need to add content along with your artwork. In this article, you will discover the importance of content writing and tips on how to write content your audience will love.
Content Writing
What is content writing?
Content writing for blogs, businesses or websites is information about the blog or business that focuses on the brand and products. This type of content is what most people are looking for when they search for things on Google. Most people search for entertainment, information or an opinion. The more content your art blog has, the better chance your blog will be found. Creating new posts on a regular basis will also give an incentive for a viewer to revisit your blog and become a future buyer.
For example, if you have a hundred different posts on your site, you will have a hundred different ways a person will be able to discover you.
If you only have ten different posts, there will only be ten different ways your buyers can find you.
You can see just by this example how important content writing is if you want to be found online.
SEO (Search Engine Optimization)
Content Writing is stronger than providing just information and entertainment to a reader. By having rich content on your blog, you will rank higher with SEO.
Search engines search the web by matching the content that is on the website to search terms being searched. The more content that you have on different topics the more of a chance your blog will be found.
You can easily see that building a successful blog is a long process.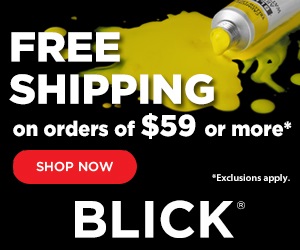 Many bloggers start off strong and after a month goes by they notice that their blog has not received many views and they give up.
This news should make you happy. Why, because there will be less competition for you. Artists who are not blogging are making it easier for artists who are blogging to build a large online audience. They are the artists that you see all over the internet.
As long as you stay consistent with your posts, you will become an authority in your niche and start to see yourself pass by your competition.
Content Marketing
What is content marketing?
Content marketing is marketing your blog posts content. To do this, you will have to update your blog on a regular schedule. This could be daily, weekly or monthly. Consistency is the key. When people start to find your blog they will realize that you post content on a particular day. They will be looking forward to your new material. If you do not post content on a regular basis, your following will start to forget you and go somewhere else.
Keep in mind that a person who posts daily will have 30 new posts at the end of one month. If a person posts once a week, there will only be four posts a month. The person who posts daily has a better chance of being found. They have more ways for their target audience to find their posts in the search results.
Decide how much time you can devote to writing and stick to it. Make an Editorial Calendar so you can stay on track.
Consistency is the key to the growth or your online art business.
Building Trust
Providing valuable content on your blog will build trust from potential buyers. When you share your knowledge, you show the readers you are an expert in your field. Your readers will start to go to you for any information they are looking for on the topics you cover.
When a reader goes to you for advice, they will buy from you. Why, because you have already gained their trust. They do not see you as a salesperson just trying to take their money. A customer will feel more confident purchasing from an artist that they know and trust.
It takes more time and effort to build someone's trust online. They can not see your expression or hear the tone in your voice. Trust is built by providing content that will help solve a problem.
In time a reader will start to get to know and respect your opinion. They will feel as if they already know you without meeting you in person. At that point, they will be willing to give you money for art that they can not feel or touch before purchasing.
Writer's Voice
Writing can be one of the most difficult jobs artists face in the beginning.
If you are new to blogging, you probably have not written anything in length since you were in school.
I have learned over the past fifteen years that the best way for me to write is as if I were talking to someone across a table. I just write what I would say in a regular conversation. This has become my voice, and when people read my work, they know it is from me. It takes some practice but you will get the hang of it, and you will find your writer's voice.
You will notice it becomes easier over time. Just like anything in life. The more you do something the more efficient you will become. Do you remember how long it took you to create a piece of art when you first started? Just like your art, your writing will evolve over time.
Publish Your Post
Many artists are afraid to publish a post because they do not think it will be good enough. No matter how much time you spend on an article, you will never think it will be good enough. You just have to publish the post, you can always go back and revise it in the future.
I go back and revise old posts on a regular schedule. There are many times when I read an old post and ask myself, "What was I thinking?" If find simple spelling and grammar errors that were overlooked.
Revising old posts also helps me to keep the content up to date.
Blogging ideas to get you started
Many bloggers struggle when it is time to decide what they will be writing about. Here are some ideas to help get you started.
Write about your latest artwork.

People also enjoy watching art in progress.

Talk about what inspires you to create.

Teach your techniques.

Share what artists inspire you.
There are so many topics that you can write about.
Once you make writing a habit, you will find that it becomes easier.
For more post ideas read 110 Art Blogging Ideas.
Conclusion:
Content writing is a tool used by businesses of all sizes to build an audience online.
Today will be a great day for you to start your artist blog if you do not have one yet.
You might also be interested in:
What difficulties are you having with your artist blog? I would love to hear from you in the comment section below.
Learn how to start, grow and monetize your online art business.
eBooks by Dave Nevue
Art Marketing Video Courses by Dave Nevue
Art Marketing Resource – All of the tools I use and recommend for my online art business.
28 Day Blogging Challenge
Are you ready to start building an online presence?
Take the challenge and join all of the other artists selling their art online.
28 Day Blogging Challenge for Visual Artists By Dave Nevue
Download your copy today, or Purchase on Amazon.
The Productive Artist How to Live Your Dreams The right mindset and time management skills are essential for any business. These topics are often not talked about but are key elements for your success. You will learn how to have a winning mindset and time management skills necessary for operating a successful art business. Available at Amazon or Download today.
Graphite Drawing by Dave Nevue
Purchase Prints and Greeting Cards
The Complete Blogger Template Toolkit 
OVER 450+ Templates You Need to Quickly Create Stunning, Jump-Off-The-Screen Image to Grow Your Blog-- Without Having to Learn Design!