Bring the beauty of nature into your home with a stunning pastel painting of a lion. If you're looking for an art piece that will make a bold statement, there is no better option than this majestic animal. Whether in your living room or bedroom, this masterpiece will surely draw attention and admiration from all who view it. The vibrant colors and intricate details bring the image to life, creating an unforgettable experience as you explore its many facets. Not only will it add elegance and sophistication to any space, but it also serves as a reminder that we are connected to nature in more ways than one. So don't wait any longer – let this lion pastel painting take you away on an adventure!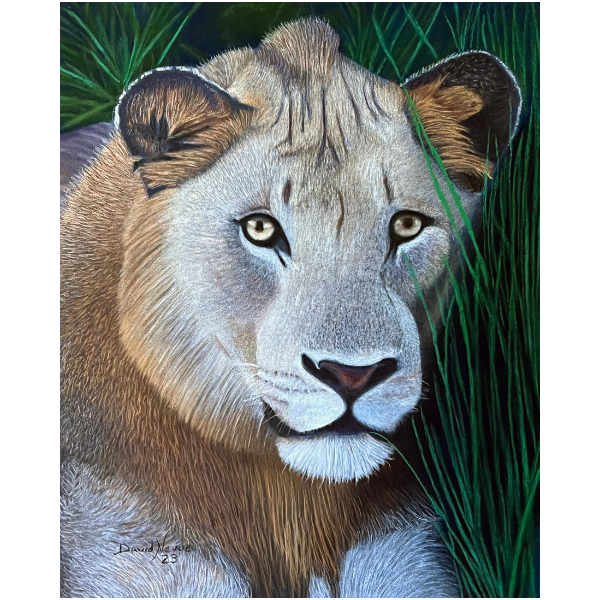 Disclaimer: This post may contain affiliate links. If you make a purchase by clicking on an affiliate link, Nevue Fine Art Marketing may earn an affiliate commission at no additional cost to you. Affiliate relationships include, but are not limited to, Bluehost, Tailwind, Skimlinks, SareASale and StudioPress. To learn more visit Affiliate Link Disclosure Policy
Find out more about these prints
Fine Art Prints on Premium Velvet Fine Art
When you select this lion pastel painting, you choose a long-lasting, high-quality piece of art that can be passed down for generations. My fine art prints are printed on luxurious velvet paper with archival inks so that they will stay vibrant and beautiful for years. The texture and depth of the velvet paper add another layer of beauty to this already stunning painting.
I inspect, sign and mat every print before sending them out, so all you have to do is frame the matted print, hang it on the wall, and enjoy. I want to ensure that my customers receive only the best quality artwork, so I take great care in providing everything is perfect for you.
About This Lion Pastel Art
My Lion Pastel Painting captures the beauty of the outdoors and brings it into your home. This 8 x 10 PastelMat painting is crafted with over 40 different soft pastels and pastel pencils to give this piece a vibrant and intense look. My painting captures the majestic beauty of the lion with intricate details and highlights, making it the perfect addition to your home décor.
Premium Velvet Fine Art Prints
My Lion Pastel Painting is now available as a premium velvet fine art print. These prints are printed on archival-grade paper, with a matte finish. This paper is designed to provide a richer and more intense color, giving you the same look and feel as the original painting. The prints are matted to provide a professional and elegant look, making it the perfect addition to any room or space in your home.
Perfect Home Decor Piece
Bring the beauty of the outdoors into your home with my Lion Pastel Painting. This painting is a perfect home décor piece, providing any room with a unique and vibrant look. Hang this painting in your living room, bedroom, or office, and enjoy the majestic beauty of the outdoors daily. My Lion Pastel Painting is the perfect way to bring beauty and elegance to your home. Purchase Prints
More Pastel Work Available:
Show Your Love for Wildlife with a Fine Art Print of a Cardinal Pastel Painting
Bring Nature Home with this 8×10 Grey Wolf Art Print
Enhance Your Home Decor With With This Beautiful Squirrel Pastel Print
Enhance Your Home Decor with the Stanley Red Deer Stag 8 x 10 Matted Giclee Print
Pastel Giclee Art Prints of a Leopard Cub Called Waiting For Mom