Do you have a hard time coming up with excellent blog post ideas to write about? Consistently brainstorming new art-related blog posts can become daunting. That is why we have come up with seven different strategies to brainstorm post ideas so you will never look at a blank screen again.
Rather than writing down 100 specific blog post ideas, we decided it was best to show the process of coming up with multiple blog post ideas that will drive your target audience to your online art gallery. 
Disclaimer: This post may contain affiliate links. If you make a purchase by clicking on an affiliate link, Nevue Fine Art Marketing may earn an affiliate commission at no additional cost to you. Affiliate relationships include, but are not limited to, Bluehost, Tailwind, Skimlinks, SareASale and StudioPress. To learn more visit Affiliate Link Disclosure Policy
How to Brainstorm Post Ideas For Art Blogs
Whether you are on WordPress, or Squarespace, you have to write content that will reach a broader audience.
There are an estimated 12 million – 24 million eCommerce sites online. With all of the competition, a content marketing strategy that focuses on a specific niche is the only way a small business can have its site ranking on Google's first page in search.
Answering the questions below will allow you to create a blog that is catered to your unique art business. The outcome is that more people who are interested in your artwork will visit your artist's website. 
How to Brainstorm 15 Post Ideas
Your Journey
Mediums
Studio
Inspiration
Motivation
Policies
New in Art
Your Journey
A great place to start getting ideas is by thinking back to the beginning of your art career.
When did you start learning about art?
How did you get to where you are today?
What were some of the struggles you have encountered along the way?
How did you overcome the struggles?
Just writing about your art journey will provide you with endless content. Your audience wants to get to know you as an artist. They want to connect with you on a personal level.
The more you share your story with your collectors, the more they will feel connected with your art, making your art more valuable.
Mediums
Another way to generate endless blog post ideas for beginners is to write about all of the mediums you have tried during your art career. Again, you will be providing value to your artist followers. For example, do you remember when you first started creating art and wondering what would be the best brand of art supplies to use?
Writing about the art supplies you use and where you purchase them will connect your target audience to your artwork and attract other artists to your site.
Emerging artists will start to follow you for advice and will become raving fans of your work. In addition, networking with these artists will help both of you to reach a larger audience online.
Here are some questions to answer that will help you develop unique blog post ideas that will increase the amount of traffic your website receives.
What is your favorite medium to work with?
What brands have you tried?
What is your favorite brand, and why?
What mediums have you not experimented with but would like to someday?
Do you purchase your art supplies online or from a local craft store, and why?
How do you search for the best prices?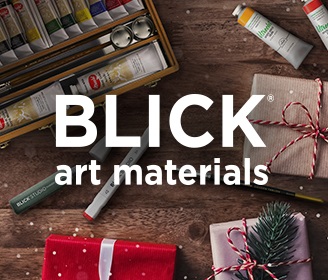 Art Studio
You can find many ideas to write about from your studio, no matter how big or small it is. Many artists would love to learn how you set up your studio and how you keep it organized.
Even art collectors enjoy learning more about where their favorite artists create their masterpieces. Just take a look at how art studio-related Instagram posts perform. Then, take a look at what other artists are sharing on Instagram to develop new blog post ideas for your art blog.
Here are some more ideas you can use.
Do you play music when you create? What is on your playlist?
Do you have art hanging on your walls for inspiration? If so, who is the artist?
How do you clean your brushes?
Do you work from reference images? If so, what have you found that works best for you? Are your reference images on the PC, a mobile device, or do you make prints?
What lighting do you use in the studio?
If you are working with hazardous materials, how do you properly ventilate the area?
If your studio is at home, how do you eliminate distractions?
As you can see, there are a ton of ideas you can come up with right from your studio.
Inspiration For Art
Write about the things that inspire you to create art.
What inspired you to start making art?
What inspired you to continue creating art and start selling your work?
Who artists inspire you?
People love to read inspirational stories. You will be inspiring young artists with your thoughts and views.
Share with your audience your favorite inspirational quotes.
Motivation
Everyone needs extra motivation tips. Share with your audience how you stay motivated.
For example, how do you stay motivated when sales are slow?
How do you stay motivated to finish your work when it is not coming out as you envisioned?
How do you become motivated to start a project and stay motivated to complete a project?
Are you self-motivated, or do you need help from others?
Art Policies
Write about your business policies. You will be creating an enjoyable shopping experience for your shoppers if you clearly state your policies.
Write a FAQ post answering the most common questions you are asked. You can update the post as needed.
Make sure you have your policies and FAQ posts readily available on your blog and website.
Many businesses have discovered that their FAQ page is one of the most visited pages on their website.
What's New in Art
Are you up-to-date with what is going on in the art world? If that interests you, share it with your audience. Write posts on new findings you stumble across.
Writing about real-time events will prevent you from running out of material.
You can find more topics to write about in this post, 110 Art Blogging Ideas.
Final Thoughts About Popular Blog Topics
Selling art is a numbers game. The more people who see your artwork online, the better your chance of landing a sale becomes.
The best way to drive more people to your website is by publishing numerous posts related to your brand. The more posts you publish, the easier it will be for new potential art buyers to discover you online.
 Coming up with different topics to write about is challenging, but the tips outlined above will make it easy to develop 365 blog post ideas in no time. Can you publish a new post every day? Maybe not, but you will have an endless number of posts to write about after brainstorming ideas like the pros. 
More Blogging Related Articles
Did you know that art bloggers have more success than artists who do not blog? Blogging is a great way to increase your exposure, drive traffic to your website, and gain new customers. In this blog post, we will discuss why art blogs are so successful and how you can start one of your … [Read more…]
Productivity Tips For Bloggers Well-written blog posts will drive a tremendous amount of traffic to your art website. Social media will allow you to connect with your fans, but your blog will allow you to reach a broader audience and increase your art sales. It doesn't take much to publish … [Read more…]
Blogging Strategies For Art Blogs Are you trying to build an audience for your art blog? Are you frustrated with blogging strategies that do not work? In this post, you will discover eight effective blogging strategies for art blogs that deliver real results. These are the … [Read more…]