Many of the artists I talk to share similar roadblocks. The most common roadblock is that they feel like there is not enough time in the day to get everything done.  Do you ever feel this way? I have some good news for you. There are different strategies you can start implement today that will help you to get more done in less time. In this post, I want to share with you 5 effective tips for brainstorming art blog ideas.
5 Effective Tips For Brainstorming Art Blog Ideas
If you have read my latest articles about creating pillar content, you already know have learned that developing a content marketing is important for building an online presence.
If you have missed those posts you can read them by visiting:
With so much to do and little time to do it, brainstorming blog ideas could easily be put on the back-burner. The problem with that is if you have nothing prepared to write about you will not write.
Because the internet runs on text and there are millions of people trying to sell products online it is imperative that you write blog posts on a consistent schedule.
I do not mean that you have to post a new article every day but I what I am saying is that you will want to develop a posting schedule and stick to it.
Effective Tips For Brainstorming Art Blog Topics
I have to tell you that I truly understand how hard it can be to get everything done in the day.  There are days that obstacles spring out of nowhere and I feel as if I achieve nothing at all.
Finding different ways to be productive with your time is important with all of the jobs that you will have to do in order for you to sell art online.
Here are some tips I have learned over the years that help make blogging a little easier. I hope they make your days a little easier too.
Art In Progress
This is an excellent way to fill up your blog with content that your readers will love. People who are interested in art also like to watch artwork come to life from their favorite artists.
At the end of each day take a photo of your artwork and jot down some key points that you would like to share. You could add information about the materials you are using, the supplies you are using, how to take care of the supplies you use, the progress you have made, and any struggles that you have encountered during that day and how you overcame them.
Your readers will start to feel connected with your art while you are telling the story behind your creation.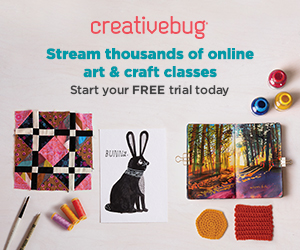 Painting Repeat Patterns by Hand: A Daily Practice by Cleo Papanikolas on Creativebug!
You might even be surprised that the artwork you are featuring sells before you even completed it. I have seen this happen time and time again with artists including me.
Read Art Books And Blogs
Reading other people's point of view will help to spark ideas for different blog posts you can write about. You might have a different opinion you would like to voice or be inspired to share with your audience someone's post you feel is valuable.
It is easy to link to other websites content on WordPress.
To link to another post visit Benefits of an Outbound Link Post and How to Write One.
Reading is a great way to help you to improve your writing and inspire you to write more.
Can I be blunt on this subject? If you don't have time to read, you don't have the time (or the tools) to write. Simple as that. ― Stephen King (Source: Positive Writer)
Review Old Content
If you have had your blog for at least a year, you should start reviewing and updating your older posts. Take some time every week to read an old post that you have created. I want to warn you,  you might be shocked at what you read. Just like your artwork, you will get better as time passes.
Reviewing and revising old posts is not only a great way to keep your posts up-to-date but also a great way for you to come up with new material to write about. You might find that you want to write more details about a particular topic you mentioned in a previous post. If you do don't forget to link to it.
Talk To Other Artists
Talking with other artists will not only inspire you to create more art, but you will be inspired to write about new topics. You will be able to see other artists' point of view on the business that you might want to touch on.
You might be inspired to try a new technique or use different mediums for creating art. These will all be good ideas to write about.
Schedule some time every month or so, and connect with your artist friends.
You might even want to consider joining a mastermind group.
Take A Walk
Not only is walking beneficial for your health, but it is also a great way for you to clear your mind and think of some great post ideas. You do not always have to be near a computer to be able to brainstorm blog ideas.
I recommended that you bring some paper, your smartphone, or a recording device on your walk. You will be surprised how many ideas that you will come up with. If you do not have anything to document your thought, they will be lost.
I cannot tell you how many million dollar ideas I have had while driving, that is lost forever.
Tools
There are so many free tools available for you to use that will help you to come up with different blog ideas. I will give you a list of the ones that I most frequently use.
Google Search – When you type in some keywords into the Google search bar, Google will give you a list of suggested phrases. This is a great way for you to see what is popular.
Google Keyword Planner – This is a free tool Google offers for you to research keyword phrases and it also provides you a list of suggested keywords.
Google Trends – This is a free service that will tell you what the hottest trends are on the internet.
Buzzsumo – Will tell you what the most popular blog posts are for any topic that you are researching.
HubSpot Blog Topic Generator – This is a free tool from HubSpot that will give you different topic ideas. Just type in three nouns and they will make you a list of ideas for you to write.
Google Analytics – This is a powerful tool that every blogger should be using to track their blog's analytics. You can learn what your most popular posts are, and you could write more content on that subject. That will be a sure win because you already know it is what the readers enjoy.
5 Effective Tips For Brainstorming Art Blog Ideas Overview:
Art In Progress
Read Art Books And Blogs
Review Old Content
Talk To Other Artists
Take A Walk
Conclusion:
If you schedule some time to brainstorm blog ideas, you will save valuable time when it comes to writing your blog posts. You will be able to sit at the computer and write a great post in no time.
You might also be interested in:
8 Effective Blogging Strategies For Art Blogs
How to Appear Authoritative as a New Art Blogger
5 Topics You Should Write About for Your Art Blog
How To Increase Art Sales With Great Pillar Content
How I Tripled My Art Blog Traffic in 4 Month
Did you enjoy this article? Don't forget to sign up for my free weekly newsletter.
You can also join me on:
Learn how to start, grow and monetize your online art business.
Art Business Planners
Disclaimer: This post may contain affiliate links. If you make a purchase by clicking on an affiliate link, Nevue Fine Art Marketing may earn an affiliate commission at no additional cost to you. Affiliate relationships include, but are not limited to, Bluehost, Tailwind, Skimlinks, SareASale and StudioPress. To learn more visit Affiliate Link Disclosure Policy