Last Updated on
Would you like to sell more of your artwork? Would you like to have sales occur any time of the day or night? With the help of technology, you can sell more art online even while you are sleeping. In this post, I am going to share with you some blogging basics tips that will drive traffic to your art listings so you can sell more art.
Blogging Basics – Sell More Art Online
Did you know that there are millions of artists like you trying to sell their original art online?
With so many people who sell fine art online, why does it seem like there are only a few artists that are all over social media and on the first page of Google's search?
The answer is quite simple, the artists who climb to the top are the ones who create great content for their audience.
They have spent the time building a blog that drives traffic to their website.
Your artist blog will be the fuel that drives traffic to your art listings.
Related Post: 6 Blogging Benefits You Can't Ignore
Visit Art Blogging For Beginners | How To Start A Blog That Sells Art if you have not started your art blog yet.
Below are some effective tips that will help you to build a solid foundation for your artist blog and online art business.
Know Your Niche
What is niche marketing?
A niche market is a focused, targetable portion of a market. By definition, then, a business that focuses on a niche is addressing a need for a product or service that is not being addressed by mainstream providers. (Source: Susan Ward – The Ballance Small Business)
Niche marketing not only provides startups with an opportunity to launch the business successfully but can also help them grow into major players in a larger market. (Source: Entrepreneur)
Knowing who your target audience is will make it easier for you to write content your audience can connect to.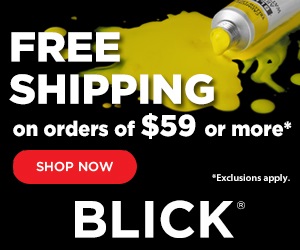 For example, if your artwork is primarily oil paintings of flowers, it will make no sense for you to write articles about boxing. Not only will your content attract a crowd that has little interest if any about your artwork but your blog will lose credibility.
In the example above the niche is oil paintings of flowers.
Every article should be focused on oil paintings of flowers.
The objective of your artist blog is to connect your readers to your artwork.
Take some time to see if you can narrow down your niche. Focusing on a smaller niche will make it easier for your content to be found.
By knowing valuable information about your audiences such as age, gender, income, and demographics, will help you to communicate your message more effectively.
Related Posts:
Find Your Niche – Increase Online Art Sales
How to Find Your Target Audience And Sell More Art
Discover Your Writer's Voice
Your personality comes out in your writing. Even if you use many voices (and I don't mean multiple personalities), they're still created by attitude, tone, and personal style. (Source: Leah McClellan - Simple Writing)
Your unique writer's voice is what will separate yourself from all of the other artists selling art online.
Defining a consistent writing style will allow your readers to connect with you.
Your goal is to have your readers feel as if they know on a personal level.
Building trust takes time but in the end, you will gain loyal art collectors by connecting your readers with you and your artwork.
In order for you to sell original art online you must:
Build an online presence
Build brand awareness
Build trust with your audience
All of this can be accomplished by writing about your artwork and you as an artist.
Kristen Kieffer is a great example of an artist who connects her audience through her unique writer's voice.
Create A Flow
You are an artist with a creative mind.
Use your creative mind to separate yourself from all of the other artists who sell original art.
Create a flow with your posts and bring your readers on your journey.
Just like when great sitcoms leave you hanging at the end of the show. Leave your reader wanting more. Make them excited about reading your next post.
Your blog is a story about your art journey. Take them for a ride with you and you will have a loyal art collector for life.
Beginning Blogging Tips
The first tip that I would like to address is to just get started.
Start writing and do not be afraid of making mistakes.
I have made many blogging mistakes over the years but my blog continues to grow because I have learned from all of the mistakes I have made.
The good news about blogging is that you can edit it at any time.
Every week I revise my older posts to keep them up-to-date. No matter how many times I revise them I still find simple grammar errors or spelling mistakes.
So the best advice I can give you is just to start writing. In a short amount of time, you will enhance your writing skills just as you have with your artistic skills.
Believe in yourself, believe in your artwork and start writing about it and take your readers on a journey with you.



Try AWeber free for 30 days! - AWeber Communications

Conclusion:
It takes time for blogs to gain authority and rank higher in the search results.
The artists you see on page one of the search results have been creating content on a regular basis for a long time.
You can be on the first page too. All you have to do is start, be patient, be willing to learn and stay consistent with your posting schedule.
Good luck and I will see you on page one.
Blogging Basics – Sell More Art Online Overview:
Know Your Niche
Discover Your Writer's Voice
Create A Flow
Beginning Blogging Tips
You might also be interested in:
7 Effective Steps For Writing Art Blog Posts That Generate Traffic
9 Effective Tips On How To Sell Your Art Blogging
7 Pinterest Strategies That Increased My Traffic
How Long Should Your Artist Blog Posts Be For Best Results
Did you enjoy this article? Don't forget to sign up for my free weekly newsletter.
You can also join me on:
More resources to help build your online art business.
The Complete Blogger Template Toolkit 
OVER 450+ Templates You Need to Quickly Create Stunning, Jump-Off-The-Screen Image to Grow Your Blog-- Without Having to Learn Design!