Blick Studio Drawing Pencils Set
Are you searching for a high-quality drawing pencil for your next art project? This Blick Studio Drawing pencils review will give you my views on Dick Blick Studio Drawing Pencils to make a better decision on your purchase.
You do not have to be a professional artist or illustrator to use high-quality art supplies like blick studio drawing pencils.
Drawing pencils are relatively inexpensive, so using high-quality pencils will not break the bank like other mediums. Just check out blick studio drawing pencils prices to see how affordable they are.
Blick Studio Drawing Pencils from Blick Art Materials offer a wide variety of value grades for the artist. The values are very consistent, making it easy for the artist to know what grade to use for the drawing.
Blick Studio Drawing Pencils Review
Dick Blick Studio Pencils are relatively inexpensive. The quality and the price make this brand a good choice for the learning artist to the advanced artists.
Blick Studio drawing pencils set of 12 or 144—the pencil grades range from a 6B to a 6H. The pencil grades are perfect for photorealism drawings and shading.
If you are searching for a specific grade, they are available separately.
The pencils have a hexagonal cedar casing making them comfortable to hold and will not roll off your drawing table. The grades are conveniently marked on all sides, making it easy to find the pencil you are looking for.
Pros:
Consistent grades
Price – sets of 12 can be found at very reasonable prices.
A large variety of grades ranging from 6B – 6H
Lightweight
The hexagonal shape makes it easy to handle
Markings of grades on all sides of the top of the pencil
Easy to erase
Cons:
Lead has some inconsistency; some of the clay is not ground fine. This may cause an inconsistent line.
Final Thoughts On Blick Studio Pencils Set
I use Dick Blick Studio Pencils for most of my drawings. I am very pleased with the consistency of the grades. I know exactly what the value is going to be with each grade. The pencils keep a sharp tip without breaking. The markings of the grades on all sides make it very easy for me to find the pencil that I am looking for. These pencils are very cost-efficient.
I would recommend these pencils to both art students and professional artists.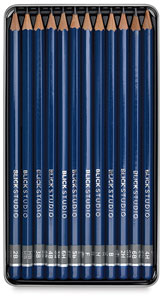 Disclaimer: This post may contain affiliate links. If you make a purchase by clicking on an affiliate link, Nevue Fine Art Marketing may earn an affiliate commission at no additional cost to you. Affiliate relationships include, but are not limited to, Bluehost, Tailwind, Skimlinks, SareASale and StudioPress. To learn more visit Affiliate Link Disclosure Policy
Blick Studio Drawing Pencils from: Blick Art Materials
More High-Quality Drawing Pencils
You might want to compare different drawing pencils to see what will be the best for your drawings and sketches.
Here is a list of some popular pencils used by professional artists and illustrators.
More Art Supply Related Articles
So you've decided that you want to learn to paint with oils. Great decision! But what oil painting supplies do you need to get started? Oil painting is a great way to express yourself and become a better overall artist but the first thing you'll want to do is make sure that you have the right … [Read more…]
Are you interested in learning how to paint, but you do not know if you should start with oil paints or acrylic paints, which is better for artists? I remember watching Bob Ross every weekend as a child, and it is nice to see that he is becoming mainstream again. Bob showed you how easy it is … [Read more…]
Best Sketch Markers Many artists, whether professionals or hobbyists, started drawing and doodling with crayons and markers. Even though markers are often not seen as a medium professional artists use, markers are used by illustrators, lettering artists, and designers for their creative … [Read more…]
Acrylic Paint Supplies – What You Need To Know Before Purchasing. What would a painter be without their paints? Obviously, it is impossible for a painter to paint without their set of paints. Even more than that, however, just as different writers use different styles and vocabularies, so … [Read more…]
Acrylic paints are relatively new in comparison with oil paints and watercolors but have quickly become very popular. Just take a quick look at YouTube and do a search for painting tutorials, and you will see thousands of artists demonstrating acrylic painting. But if you are just starting out … [Read more…]