Would you like to start earning some extra income selling crafts you are already making?
For many people, selling crafts online is the perfect solution. You can work from home and create a business that you are passionate about.
To successfully sell crafts online, you will want to choose the best-selling platform for your creations and learn how to market your crafts, so people know they are available to be purchased.
If you would like to find out about some of the best places to sell crafts online, read on!
Where To Sell Handmade Items Online
Some websites only carry one type of handmade item, while others sell a variety of crafts. Understanding what you want to do with your handmade items will help you choose the best selling platform for your crafty creations. For example, if you're going to create a professional-looking store where people can buy your goods, Shopify or even Etsy would be best.
Best Platforms To Sell Handmade Crafts
Etsy: Etsy is the global marketplace for unique and creative goods and has built a significant following of customers interested in purchasing one-of-a-kind handmade products. You can sign up for a free Etsy.com account and begin selling your crafts immediately. This is the best place to sell crafts online because of their ease of use, a huge following, and simple process to open an account.
Shopify: Shopify is perfect for individuals who want to have more control over their website. You can create customized stores to list the products you are selling and write product descriptions that will make it easy for people to discover your products on Google. It is easy to use but does take more time to set up than some of the other platforms online.
eBay – eBay is how I started selling online and is an auction platform that allows crafters to sell handmade products. The fees are pretty high on this platform, and you will be competing with sellers who have several reviews and ratings. It can be challenging to get customers from eBay looking for handmade products because they expect the lowest prices online.
Handmade Artists: Handmade Artists' Shop is an online venue that sprung out of a group of artists from The Handmade Artists' Forum. Their primary mission for the Handmade Artists' Shop is to support handmade. In addition to artists from the forum, they also accept artisans and crafters of any kind.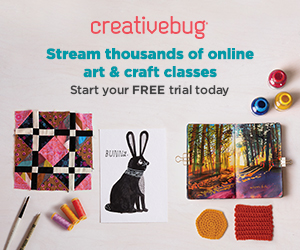 Painting Repeat Patterns by Hand: A Daily Practice by Cleo Papanikolas on Creativebug!
Hyena Cart: Hyena Cart offers a venue for small businesses to list and sell their items quickly and at affordable. The setup is easy and only takes a few minutes to sign up. If you are hoping to sell your crafts online, this is an excellent place to start your journey.
Aftcra: Aftcra is an online marketplace where you can buy and sell American handmade products. Their mission is to support local artists and artisans living in America by connecting them with handmade admirers across the globe. They currently have more than 20,000 members and are growing daily.
Zibbet: Zibbet started in 2009 when they launched the Zibbet Marketplace. Their mission was the same as it is today – to help creative entrepreneurs sell more.
Uncommon Goods: Uncommon Goods offers remarkable designs by independent makers, and their goal is to do it with a positive impact on both people and our planet.
Shop Handmade: Shop Handmade offers a way for crafters to sell their handmade crafts to people worldwide.
Facebook Shop: Facebook now offers a way for people to sell handmade items on Facebook. If you have a Facebook business page, you might want to consider opening a shop for your page. This is an excellent way to get your name out there and promote your crafts.
Related Post: How To Add Products To A Facebook Shop
Take a few minutes to become familiar with all of the policies, prices, and options each platform listed above has to offer to see what will work best for you.
Crafts That Make Money On Etsy
You will be amazed by the number of crafts that can make money on Etsy. There are so many products to sell on this platform that you could never run out of things to list. Some popular handmade crafts include hats, scarves, mittens, slippers and jackets, wall decor, jewelry, rustic decor, and so much more.
Top Selling Crafts Online
Selling crafts online can be done using a number of the platforms above.
The top-selling crafts online include:
Handmade wooden toys

Home decor

Wall decor

Jewelry

Personalized pet tags

Coasters

Magnets

Keychains

Headbands

Wreaths

Dolls

Paintings

Wooden toys

Scarves

Sculpture
Selling Crafts Online Tips
Regardless of the platform you decide to sell on, or if you open your online shop, there are a few things that you should keep in mind when selling crafts online.
#1 – Creating Your Online Shop
If you have decided to open an Etsy shop, you first need to create a professional-looking store with quality listings. You can't expect people to buy from your store if it is not professionally done.
#2 – Listing Photography
The photos that you take for each listing are essential, and they need to be top-notch. If the items are handmade, they should be photographed to represent how they look in person accurately. If the items are not handmade, you need to develop unique ways to show them in different lights. Again, if your photos are nothing special, no one will buy them from your online shop.
Photographing is a skill you will want to learn if you are interested in selling handmade crafts online.
Related Post: Why Professional Quality Images Are A Must For Art Websites
If you are new to photographing your crafts or find it difficult, you might want to consider taking an online course or have someone you know help you.
Keep in mind that the people looking at your work will only see what you are showing them. People will scroll past your listing if your image is blurry, too dark, or not enticing.
Investing in a local class or online video course will help you to build your business quicker.
#3 – Be Unique
Be unique. If you want people to notice and purchase what you have for sale, then be creative. Look around at similar items, and try to develop new ways to display or package them. Those looking for what you have for sale will notice something that is not the same old thing that everyone else has.
#4 – Price Your Listings Right
You need to price your listings right. You can't expect anyone to buy from your shop if you are not competitive in price. Look at the other items on your platform that sell and price your crafts accordingly. You'll want to be sure that if someone finds something they like, and it's priced right, they will purchase from your shop rather than the competition.
#5 – Market Your Shop
After you have opened a successful Etsy or platform of your choice, then you'll need to market your shop. There are several ways to market your online store, including social media, blogs, marketing emails, and guest posting. Don't forget to include pictures in all of the listings used on your marketing campaign.
#6 – Customer Service
Customer service is critical when selling crafts online.
You want to make sure that you respond quickly and carefully to all customer inquiries, questions, concerns, or issues. If your customers think that they are not getting the attention needed, then they will go elsewhere. It is essential to respond promptly and be courteous at all times.
Final Thoughts On Best Places To Sell Crafts Online
When you are done with this post, you will know what platform you will use to sell your crafts online, how to separate yourself from the competition, what prices you will charge for your products, and who your target audience is.
More Articles Relating To Selling Crafts
Disclaimer: This post may contain affiliate links. If you make a purchase by clicking on an affiliate link, Nevue Fine Art Marketing may earn an affiliate commission at no additional cost to you. Affiliate relationships include, but are not limited to, Bluehost, Tailwind, Skimlinks, SareASale and StudioPress. To learn more visit Affiliate Link Disclosure Policy
Do you want to start selling your crafts online to people worldwide? One of the best platforms to start selling handmade items is Etsy. Etsy is a platform where people can buy and sell homemade items. It's easy to use, setting up a shop is free, and it makes it possible to reach more customers … [Read more…]
There is a big difference between what crafts sell the best and which crafts will produce the most significant profit. Before you start tackling a new crafting project, you will want to identify what the most profitable crafts to sell are. It is inspiring when people visit your craft booth … [Read more…]
Easy DIY Crafts To Make And Sell
I have met so many artists and crafters who are making extra money selling artwork and handmade crafts at flea markets, craft fairs, art shows and even on social media platforms like Facebook buy/sell/trade pages. Would you like to supplement your income creating easy DIY crafts? In this post, you … [Read more…]
Would you like to sell more crafts this holiday season? Are you trying to find different ways to increase your income? In this post, I am going to talk about how you can sell Christmas crafts by hosting holiday craft sales parties. Hosting Craft Sale Parties Hosting a craft sales party … [Read more…]