Are you looking for ways to enhance your artistic skills? In this post, I feature some of the best eBooks on painting with acrylics.
You will learn many artistic styles from some of the top artists.
Soon you will be creating art that everyone will love to display in their homes.
Best eBooks On Painting With Acrylics
Disclaimer: Please note that some of the links on this post are affiliate links and will be clearly marked as so. I will earn a small commission when you purchase a product or service from an affiliate link at no extra cost to you which helps with the costs of operating Nevue Fine Art Marketing. I will only recommend products I have used, found helpful to my business and are companies I trust.
Disclaimer: This post may contain affiliate links. If you make a purchase by clicking on an affiliate link, Nevue Fine Art Marketing may earn an affiliate commission at no additional cost to you. Affiliate relationships include, but are not limited to, Bluehost, Tailwind, Skimlinks, SareASale and StudioPress. To learn more visit Affiliate Link Disclosure Policy
Inside Acrylics Studio Secrets From Today's Top Artists by Phil Garret
Product Description:
Readers will catch a glimpse inside artists' studios as they explore innovative ways to use today's popular acrylics (including new slow-drying acrylics) to achieve not only the handling that has been traditionally the domain of oil paints, but also to learn other contemporary techniques.
Acrylic Expressions ebook Painting Authentic Themes and Creating Your Visual Vocabulary by Staci Swider
Product Description:
Artists become known for the look they create. Find what makes you and your artwork unique and emphasize it! In this workshop, you will do some searching for that special element you have to offer the world! Express yourself with what makes you happy and create something no one else can!
Acrylic Illuminations ebook Reflective and Luminous Acrylic Painting Techniques by Nancy Reyner
Product Description: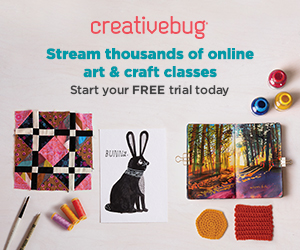 Painting Repeat Patterns by Hand: A Daily Practice by Cleo Papanikolas on Creativebug!
Each technique starts with an illustrated demonstration, then continues with other suggested projects. Highlights include how to obtain interesting sheens like an encaustic look; tips on applying gold leaf and shifting metal leaf hues with glazes; exploration of an array of new specialty paints; using real metal paints for grounds and surfacing techniques to create drawing surfaces and more.
Acrylic Color Explorations Ebook Painting Techniques For Expressing Your Artistic Voice by Chris Cozen
Product Description:
Learn about how to use color, the history of color, and the language used to describe color in paintings and mixed-media art.
Acrylic Revolution ebook new tricks & techniques for working with the world's most versatile medium by Nancy Reyner
Product Description:
Acrylic Revolution will show you everything you need to know to be successful in your acrylic painting projects. With over 101 of the most popular, interesting, and indispensable tricks for working with acrylic – each with its own step-by-step demonstration – there is literally page after page of acrylic instruction and inspiration for everyone from artists, to crafters, to weekend enthusiasts, to students of all levels. A gallery of finished art at the back of the book will show readers how to combine different tricks to use in your artwork offering you real-life applications for acrylic techniques.
Wildlife Scenes In Acrylic ebook Paint This with Jerry Yarnell
Product Description:
Bring landscapes to life with popular workshop instructor, best-selling author and television personality Jerry Yarnell! Jerry has made painting a pleasure-and a success-for thousands of artists, both beginner and experienced alike. In this ebook, he delivers eight new, fun-to-create wildlife scenes in his signature teaching style. Following Yarnells clear and friendly instructions, readers will learn how to pant a variety of animals, landscapes and seasons-from horses in a spring pasture, to tropical ocean sunsets, to winter birds nestled amid snow-laden pines.
The Joy Of Acrylic Painting Ebook
Product Description:
This guide offers an engaging, streamlined approach for any beginner! Special emphasis on the elements of color, pattern and texture, these lessons give you a jump-start on painting with feeling. Gonzales combines the forgiveness of acrylics with the approachability of expressive painting.
Acrylicworks – The Best Of Acrylic Painting Ebook
Product Description:
Readers will love this showcase of the best in contemporary acrylic from the F+W fine art community's second annual acrylic artists' competition with instructive, insightful commentary by more than 100 contributing artists.
Acrylic Innovation Ebook
Product Description:
Acrylic is often used as a substitute for oil paint or watercolor, but the real gold mine is in allowing the medium freedom to do what it does best. This book shows how today's artists are doing exactly that. It's loaded with original artwork and valuable insight from 64 artists, incredibly diverse in styles and subjects, each using acrylic in unique ways to create expressive and personal art. 64 artists offer their individual ideas, approaches and inspirations for working with acrylic paints 29 styles, ranging from photorealism to minimal color field and everything in between, are explored through artist profiles, artwork and boundary-breaking challenges that provide dynamic starting points for your own art 29 step-by-step demonstrations illustrate acrylic-driven techniques you can take straight to your work, including collage and assemblage, reverse painting, printmaking, accidental stenciling, working with metallic mixtures and more A follow-up to the best-selling Acrylic Revolution, Acrylic Innovation takes you outside your comfort zone. Dip in whenever you feel the urge to experiment, have fun and see fresh and exciting results.
Paint People In Acrylic With Lee Hammond Ebook
Product Description:
Bestselling author Lee Hammond is known for providing artists with friendly and easy-to-follow instruction. Perfect for beginners, this guide shows how to get started with comprehensive lessons on basic techniques using photos as a reference. Focusing mostly on painting portraits from the neck up, each project builds on the previous so you can progressively develop your skills. Ultimately, you will master the art of painting a wide assortment of people of all ages and ethnicities-from a variety of angles. These books are presented in PDF format and are viewable on both MACs and PCs with Adobe Acrobat, a free program.
Conclusion:
Painting is fun and could even earn you some extra money.
These best eBooks on painting with acrylics will help you to take your creations to the next level.
You might also be interested in:
How To Paint Flowers With Acrylic Paints Step-By-Step Tutorial
3 How To Paint Flowers With Acrylics Videos For Beginners
How To Paint Dramatic Acrylic Flowers Video 
4 Acrylic Painting Basics eBooks Every Artist Should Have
How to Paint Oceans with Acrylics by Katie Jobling
28 Day Blogging Challenge for Visual Artists
Are you ready to start building an online presence?
Available on Amazon or Download your copy today.
The Productive Artist How to Live Your Dreams
The right mindset and time management skills are essential for any business. These topics are often not talked about but are key elements for your success. You will learn how to have a winning mindset and time management skills necessary for operating a successful art business.
Available at Amazon or Download your copy today.
Get More Done in Less Time The Part-time Artist
Proven strategies that will help you to get more work done in less time so you can sell more art and earn more money.
Available at Amazon or Download your copy today.
Did you enjoy this article? Don't forget to sign up for my free weekly newsletter.
You can also join me on:
Learn how to start, grow and monetize your online art business.
Art Business Planners