Would you like to become more productive and sell more art? In this post, you will discover how to become a productive artist with a three-item to-do list so you can start creating and selling more art.
Become A Productive Artist With A Three-Item To-Do List
Planning and documenting your objectives is a sure way for you to accomplish all of the tasks you set out to complete.
Your goals and 4-week calendar view are just the first steps.
If you really want to get things done you will want to create a daily to-do list.
Have you tried a daily to-do list before?
How did it work for you?
Did you become frustrated or just stop using it after a couple of days?
If your to-do list discouraged you, you are not alone.
Most people do not know how to write an achievable to-do list and become frustrated very quickly. Their frustration leads them back to their old habits.
Create A Daily Habit
Before I talk about how to write a list you can achieve, I would like to take a minute to talk about the importance of creating a habit.
Everything you do on a daily basis has been created by doing the same routine over and over until it became a habit.
You take a shower at the same time because you have created a habit.
You brush your teeth around the same time because you have created a habit.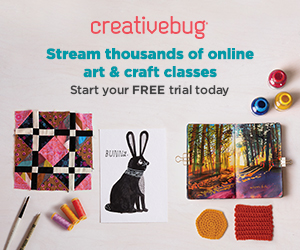 Painting Repeat Patterns by Hand: A Daily Practice by Cleo Papanikolas on Creativebug!
Your morning routine is similar because you have created a habit.
You scroll down your Facebook newsfeed several times throughout the day because you have created a habit.
Habits are created by repetitive actions.
You want your daily to-do list to be a part of your daily routine. This can be done by writing your to-do list every day for at least 21 days in a row.
Three-Item To-Do List
Let's talk about how you can create a list that you can achieve and feel good about.
I am hoping that at this point you have your yearly goals documented and you have started your 4-week calendar view.
Every day write down 3 of the most important things you would like to achieve for that day.
Only write down three. You will be setting yourself up to fail if you write more than you can accomplish.
Most people stop writing lists because they become frustrated that they cannot complete the list. The reason they cannot complete the lists is that they write unrealistic to-do lists.
Be realistic about how long each task will take and how much time you can devote to the jobs.
Become Aware Of Your Time
The last thing I would like to mention is to become aware of how much time you have during the day to work on your art business.
Do not write a list that will take you four hours to complete if you can only devote an hour to your art business for that day.
Write down tasks that fit into your schedule.
Being productive is all about becoming aware of your time and surroundings.
Action Step
Take out your goals a 4-week calendar view and start writing your daily to-do list.
If you do not have your goals or calendar documented, take the time to do it now.
For one month, write down on a calendar every day that you had a to-do list and document if you completed the tasks or if you didn't have enough time to finish them.
If you could complete all the tasks you did a good job planning.
If you were not able to complete the tasks, think about what prevented you from crossing off the last task and make some adjustment for the next day.
After a month you should become an expert at writing your daily to-do lists and you will find that you are achieving more than you could have ever thought possible.
Disclaimer: This post may contain affiliate links. If you make a purchase by clicking on an affiliate link, Nevue Fine Art Marketing may earn an affiliate commission at no additional cost to you. Affiliate relationships include, but are not limited to, Bluehost, Tailwind, Skimlinks, SareASale and StudioPress. To learn more visit Affiliate Link Disclosure Policy
Conclusion:
Many people have a difficult time getting everything done during the day.
Everyone lives a busy lifestyle with multiple distractions.
You can learn how to become more productive with your time so you can start to achieve your dreams.
Become a productive artist with a three-item to-do list overview:
Create a daily habit
Three-item to-do list
Become aware of your time
You might also be interested in:
28 Day Blogging Challenge for Visual Artists
Are you ready to start building an online presence?
Available on Amazon or Download your copy today.
The Productive Artist How to Live Your Dreams
The right mindset and time management skills are essential for any business. These topics are often not talked about but are key elements for your success. You will learn how to have a winning mindset and time management skills necessary for operating a successful art business.
Available at Amazon or Download your copy today.
Get More Done in Less Time The Part-time Artist
Proven strategies that will help you to get more work done in less time so you can sell more art and earn more money.
Available at Amazon or Download your copy today.
Did you enjoy this article? Don't forget to sign up for my free weekly newsletter.
You can also join me on:
Learn how to start, grow and monetize your online art business.
Art Business Planners