Are you finding it difficult to manage all of your social media sites? Have you been spending too much time on them just to find out you are not getting anything in return? In this post, discover how to get the most out of social media for selling art.
How To Get The Most Out Of Social Media For Selling Art
Disclaimer: Please note that some of the links on this post are affiliate links and will be clearly marked as so. I will earn a small commission when you purchase a product or service from an affiliate link at no extra cost to you which helps with the costs of operating Nevue Fine Art Marketing. I will only recommend products I have used, found helpful to my business and are companies I trust.
It seems that every day I research digital marketing, there is a new social media network for businesses to market on.
The internet is an excellent tool for businesses to build brand awareness and relationships with their customers, however, if social media is not used correctly, you could find yourself wasting valuable time and money trying to sell your artwork.
"Don't dwell on what went wrong. Instead, focus on what to do next. Spend your energies on moving forward toward finding the answer. "

~ Denis Waitley
One of the biggest problems I see artists do with regards to social media is that they try using too many sites.
I have made the same mistake years ago. I was trying any and everything just to build an audience. Unfortunately, that strategy did not work. Once I discovered I was wasting time on strategies that were not working I was able to refocus and put my energy towards projects that were producing positive results.
Most artists work alone. They are not lucky enough to have a marketing team that focuses on social media.
Working for yourself means that you will need to make the most out of your time.
You want to have the best return for every job that you do.
If you have too many social media sites open, you will never have the time needed to be productive.
For more information on how you can be more productive on social media, visit How to be More Productive Marketing on Social Media.
The easiest way to be productive on social media is to limit the number of sites you are working on.
Social Media Tips For Artists
Have an understanding of what social media is and what each particular network offers.
Social media is a place where people socialize. That sounds pretty straightforward, and it is. Businesses have found that they could use social media sites to market their products, and now social media is swamped with ads and advertisements.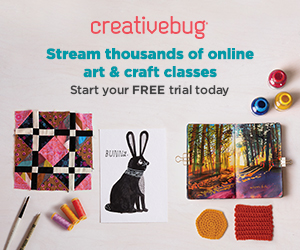 Painting Repeat Patterns by Hand: A Daily Practice by Cleo Papanikolas on Creativebug!
With all of the ads on the internet, people have put on blindfolds. The ads are ignored and not even noticed anymore.
To make the most out of social media, you will need to learn what the people are interested in with each social media network and use that to your advantage. If you only try to sell on social media sites, you will start to lose your following.
Facebook, for example, is where people go to find up-to-date information on their friends and family.
Twitter is for people looking for valuable information.
LinkedIn is used for businesses to connect. Every social media site has a unique language that you will want to learn.
Your primary objective for the sites that you are using is to engage and connect with people. People will start to get to know you. They will be interested in learning more about you, and then you will have a good chance that they will buy your artwork.
What are the best social media networks for you?
It is simple to figure out what social media site will work best for you. They are the ones that you like and spend most of your time on. If you enjoy the network, people who are interested in your niche will also be on it.
If you enjoy being on a particular site, you will already know what the people's interests are. You will already know how to communicate on that network. You will enjoy it, and it will show in your posts.
You will be able to connect and engage with your following without seeming fake or like you are just trying to sell.
Sign up for the different networks and discover the ones that you like to be on the best.
Focus on one or two networks.
I have seen so many artists using too many social media networks thinking that it will help them build their business.
There is no way that they can spend quality time on all of the sites they have active. They just post images of their artwork hoping to land a sale. They get frustrated when they can not build their following, and they are not receiving any new sales.
Do not make the same mistake that they are.
Just use one or two of your favorite social media networks and build an audience. You know how much time that you can spend on marketing. Spending quality time on one or two social media sites will help you to build your brand and create loyal fans.
Change With the Times
Social media sites will continue to change their algorithms and the way they share content in newsfeeds.
The changes made will affect how easy it is for you to reach your following.
Facebook has recently announced a big change that will affect all businesses using Facebook to market their products.
For more information on Facebook's change visit How Facebook's New Goals Affect Artists.
For more information on how to market on Facebook with the new changes visit How to Keep Up with Facebook's Changes.
Keep on top of all the changes social media is making. The changes will affect how you reach your audience.
How Artists Can Use Social Media
Here is a library of posts that will help you to develop an artist social media strategy that produces real results.
How Social Media Will Increase Your Art Blog Traffic
Easy Social Media Strategies That Drive Traffic to Art Blogs
How Artists Can Save Time Scheduling Social Media Posts
7 Effective Social Media Tips for Growing Your Artist Brand 
How to Hide Pinterest Images in Blog Posts with Social Warfare
New Monthly Social Media Printable Tracker
How to be More Productive Marketing on Social Media
7 Social Media Marketing Tips and Tricks for Artists
How to Install Social Warfare on WordPress Art Blogs
9 Social Media Marketing Tips for Artists Selling Art Online
Top 7 Social Media Marketing Apps for Visual Artists
How to Create a Social Media Marketing Plan – Sell Art Online
Continued Learning:
Here are some social media courses to help you learn how to get the most from your social media marketing strategies.
Social Media Bootcamp with CC Chapman, Kim Garst, Ariel Hyatt, Amber Naslund (affiliate link)
Social Media Design Toolkit with Janine Warner (affiliate link)
Social Media Marketing with Lindsay Adler (affiliate link)
Connect With Your Customers on Social Media with Erin Dollar (affiliate link)
Conclusion:
Make the most out of your time and social media.
Spend some time on different sites and figure out which ones that you would like to use for your marketing strategy.
Connect and communicate with your audience. Get to know them. Build their trust.
Social media networks can be very beneficial for companies if you use them correctly.
How to get the most out of your social media overview:
Have an understanding of what social media is and what each particular network offers.
What social media networks are best for you?
Focus on one or two networks.
What are your favorite social media networks? Which ones are you using? I would love to hear from you in the comment section.
Now that you know how to promote your art on social media it is time to take action so you can start selling more art online.
You might also be interested in:
Did you enjoy this article? Don't forget to sign up for my free weekly newsletter.
You can also join me on:
Learn how to start, grow and monetize your online art business.
Art Business Planners
Disclaimer: This post may contain affiliate links. If you make a purchase by clicking on an affiliate link, Nevue Fine Art Marketing may earn an affiliate commission at no additional cost to you. Affiliate relationships include, but are not limited to, Bluehost, Tailwind, Skimlinks, SareASale and StudioPress. To learn more visit Affiliate Link Disclosure Policy
28 Day Blogging Challenge for Visual Artists
Pyrography by Dave Nevue
Purchase Peaceful Days Wood Burning Framed Print