Disclaimer: This post may contain affiliate links. If you make a purchase by clicking on an affiliate link, Nevue Fine Art Marketing may earn an affiliate commission at no additional cost to you. Affiliate relationships include, but are not limited to, Bluehost, Tailwind, Skimlinks, SareASale and StudioPress. To learn more visit Affiliate Link Disclosure Policy
Create Canva Art In Minutes
Do you find that you are spending too much time editing images for your art blog and social media accounts?
Are you having difficulty remembering all of the different social media image dimensions for Twitter, Facebook, Instagram, and Pinterest?
You no longer need a list of different social media image dimensions or challenging to learn photo editing tools like Photoshop, thanks to Canva.
Canva is a free online tool that makes it possible to design professional images in just minutes with its drag and drop feature and thousands of customizable templates.
In this post, you will discover, how artists can save time marketing art online with canva.
How Artists Can Save Time Marketing Art Online With Canva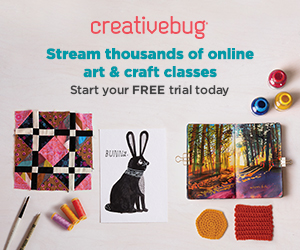 Painting Repeat Patterns by Hand: A Daily Practice by Cleo Papanikolas on Creativebug!
There are many jobs associated with selling art online and at local craft fairs.
However, using tools like Canva will make some jobs more manageable and less time-consuming.
Canva makes it possible to create marketing images in just a few minutes.
To start taking advantage of Canva, you will have to create a free account by simply adding an email and password.
The free account offers hundreds of images and templates, but if you are looking for more features, images, and templates, you will want to sign up for Canvas Pro Plan.
Canva Features
Here is a list of features Canva has to make your images look professional.
Photo straightener
Image Cropper
Add text to photos
Speech bubble maker
Fade and transparency tools
Photo enhancer
Photo blur
Photo vignette
Design grids
Free icons
Photo frames
Web wireframe
Add texture
Badges
Pick A Design
After you have created your canva account, choose a design, and start creating images for your art marketing strategy.
Canvas has an extensive list of templates, including templates for Facebook, Twitter, Instagram, Pinterest, and blog posts.
Below is a video to help you become familiar with Canva.
Customize Your Canva Image
It is time to use your creative side after you have decided on a template.
Choose from the design elements below to create marketing images that will turn potential art collectors into loyal collectors.
Stock Layouts: Choose from an extensive library of fully customizable design layouts. The Pro membership will provide even more layouts.
Canva Elements: Customize your layouts with thousands of elements including, frames, photo grids, arrows, geometric shapes, and so much more.
Text – Overlay your layouts with text. Choose the font style, color and size.
Images – Add stock images to your canva art or upload images from your PC. The pro plan offers more image options.
Background – You can also add a background to your images if you wish.
Practice Creating Canva Designs
Take some time to learn how to use Canva with the free version.
Scroll around and become familiar with all the features Canva has to offer and experiment with creating some images.
Come up with a design you can use as a template so all you have to do is add an image and some text. This is our favorite feature. Once you have a design you like, it will save the template for you for future designs.
You will soon find that it will take you minutes instead of hours creating professional images for your online marketing strategy.
When you have become familiar with Canva's free version, try Canva's Pro Membership to unlock even more features.
Final Thoughts On How Artists Can Save Time Marketing Art Online With Canva
Selling art online takes a lot of work. All of the little jobs like creating images for social media take time and if you do not know how to manage your time you can easily find yourself sitting at the computer all day instead of in the studio creating art.
You might also be interested in:
Design A Logo In Minutes Are you ready to brand your blog with a logo? In this article, you will discover how to create a logo using PicMonkey, a free online image editor for your artist blog. It is said that you cannot judge a book by its cover. How many times have you looked at a … [Read more…]
How To Grow An Email List From Scratch Are you trying to increase your online art sales? Are you having a difficult time building a loyal following that visits your site regularly? You have probably already heard that an email list is one of the most significant online business … [Read more…]
How To Develop An Art Style What does it mean for an artist to find or discover their art style? What does it mean for a writer to find their writer's voice? What does it mean for a guitarist to discover their musical style? When a creative person discovers their art style, they have … [Read more…]