Disclaimer: This post may contain affiliate links. If you make a purchase by clicking on an affiliate link, Nevue Fine Art Marketing may earn an affiliate commission at no additional cost to you. Affiliate relationships include, but are not limited to, Bluehost, Tailwind, Skimlinks, SareASale and StudioPress. To learn more visit Affiliate Link Disclosure Policy
How To Draft A Press Kit
Do you have an artist press kit?
If you don't, you might want to consider putting one together so you will always be prepared for the unexpected.
You never know when someone will come up to you and ask for information about your business.
The last thing you want is to look like a deer staring at headlights when someone asks you for more information about your art business.
In this post, you will discover how easy it is to put an artist press kit together so you can be prepared for when someone from the media, a blog, art gallery, or art agent asks to learn more about you and your business.
Why You Need An Artist Press Kit
An artist press kit, also known as an artist press release, is simply a packet that contains information about an artist.
An artist press kit might also be called an artist media kit.
The art press kit or media kit gives the media, collectors, or advertisers the information to understand what the artist has to offer.
The purpose of the press kit is to grab the attention of the person reading it.
If your artist press kit is done correctly, the viewer will want to contact you to learn more about you and your artwork.
There are many layers involved in selling art online and offline.
You have heard us talk about the importance of building an online presence over and over.
But what happens after you have built your online presence?
Your job is to connect with the people finding you online.
The stories you write on your art blog will help you build trust with your readers over time, but an artist press kit will help get the ball rolling.
You might think you already have too many things on your to-do list, and we get that. There are many things we are trying to juggle throughout the day.
The good news is that you do not have to complete this project all at once.
Break this task into sections and complete one part a week. Within just a few weeks, you will have your artist press release.
How To Make A Press Kit For An Artist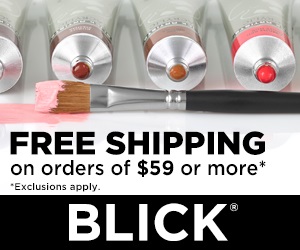 Listed below are the main items that should be included in your kit.
Use the list as a checklist. You do not have to complete all of the tasks at once.
If you find it easier to get it done in one shot, do so; otherwise, keep chipping away until you have an artist media kit you are proud of.
Here is what should be in your artist press kit.
Recent Photograph
Keep an updated photograph (headshot) of yourself in your kit. You would be surprised how easy it is to forget to update your photo.
Pick a day to update your headshot and write it down on the calendar.
Keeping the same day every year will make it easier for you to stay consistent.
An easy way to remind yourself is to set a recurring reminder on your smartphone.
Artist Statement
Every artist should have an artist statement, and your statement should be included in the artist press kit, social media sites, blogs, and websites.
The artist statement is a written summary of your artwork, artistic style, mission, and your art business's direction.
The statement explains the message behind your work so the viewer can feel connected with your art on a personal level.
Like your press kit, your artist statements should be updated regularly, especially before exhibitions.
Related Resource: Artist Statement Workbook
Art Samples
Include a few images of your best artwork.
The images will show the viewer what style of artwork you create.
If you have a hard time deciding what would be the best to display, ask a few of your friends.
Your friends will look at your artwork differently than you will.
When you look at your art, you will notice all of the little mistakes you do not like.
You might not pick some of your best work in other people's eyes because of some little imperfection you wish was not there.
Your artistic skills will improve every year, so you will want to keep your artist press kit updated with new artwork.
The same day that you change your headshot, you should update your artwork images as well.
Introduction Letter
In the introduction letter, include your mission statement and your vision statement. That information will tell the reader up front what you and your art business has to offer.
The introduction letter should also include a table of contents providing a brief description of what is inside. The introduction will make it easier for your reader to find the information they are looking for.
Include all contact information and the best time to reach out to you.
Biography
Your biography should explain:
Your artist journey
When you started creating art
When you started your art business
Awards
Press Coverage
This shows the media what has been covered in your art business and will help them decide if there is something that they would like to touch on.
Video
Videos are becoming more and more popular nowadays. It is an excellent way for someone to hear your story while seeing how you communicate your message.
You can not achieve that in writing alone.
The video only needs to be a couple of minutes long, touching on your business's story's key points.
You do not need to spend a large amount of money on a video. Smart Phones have great video cameras and audio nowadays. That is all that you will need to make a great video that you can add to your kit.
Contact Information
You added your contact information on your intro letter, but you should also include a contact page for your kit's end.
Include every way a person can contact you and when you are available.
Artist Business Cards
Your business cards help to brand your business and should include your logo, your name, contact information, and artist website.
Place a few business cards and a brochure inside the kit. 
Update Your Artist Press Kit
The material in your press kit will change as your business grows. If you are just starting out, you should still have a press kit; you will just want to keep it up to date by adding relevant material as it happens.
A good plan is to update your kit once a year. Find a time you can put this task on your calendar every year.
It is important to only add your best material in your press kit.
Respect your reader's time. If your press kit is filled with useless information, you will more than likely lose the interest of your reader.
A good strategy is to give just enough valuable information so the reader will want to learn more about you.
Final Thoughts About Starting An Artist Press Kit
Take your art business to the next level and get your kit finished and have it available online.
Here is an example of an artist's press kit:
David showcases his kit on his website, which makes it easy for anyone to view who is interested in doing business with him.
More Art Business Related Posts
Art That Supports A Cause Artists have used their creativity to help people in need for many years. Artists can support charities close to their hearts, and the rewards of helping others in need come back tenfold. Artists who donate art for charity help people or animals in need and build name … [Read more…]
Content For Your Art Business Are you frustrated because it seems like only your friends and family are visiting your online art gallery? Do you have an art blog?  In this post, I will talk about the importance of good content for your art business. The blog posts for your art … [Read more…]
Different Art Business Ideas to Help Supplement Your Income Do you have a creative mind and enjoy spending time working on different projects? If you do, you already have the mindset of a successful creative entrepreneur. Whether you enjoy painting, drawing, woodworking, photography, pottery, … [Read more…]