Acrylic paints are relatively new in comparison with oil paints and watercolors but have quickly become very popular.
Just take a quick look at YouTube and do a search for painting tutorials, and you will see thousands of artists demonstrating acrylic painting.
But if you are just starting out should, you purchase artist grade acrylic paints or student grade acrylic paints?
Disclaimer: This post may contain affiliate links. If you make a purchase by clicking on an affiliate link, Nevue Fine Art Marketing may earn an affiliate commission at no additional cost to you. Affiliate relationships include, but are not limited to, Bluehost, Tailwind, Skimlinks, SareASale and StudioPress. To learn more visit Affiliate Link Disclosure Policy
What Are Acrylic Paints
Acrylic paint was transformed from acrylic resin in the early 1930s. The synthetic paint was created by combining some properties of watercolor and oils in the 1940s.
In the late 1940s, Leonard Bocour and Sam Golden created a solution acrylic paint and were commercially available in the 1950s.
Acrylic paint is a quick-drying water-soluble based paint made of pigment suspended in acrylic polymer emulsion.
It didn't take long before artists discovered that acrylics were very versatile, which possessed a great deal of potential.
Over time, different manufacturers started to enhance acrylic paints with richer pigments.
The Difference Between Acrylic Paint And Oil Paint
Oil paint is a slow drying paint made of pigment suspended in a drying oil. The most common oil used in oil paints is linseed oil.
Oil paints have been around as far back as the 13th century.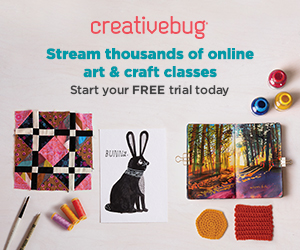 Painting Repeat Patterns by Hand: A Daily Practice by Cleo Papanikolas on Creativebug!
Acrylic paint is a quick-drying paint that uses water to combine the emulsion and pigment in acrylic paints.
Besides the drying time of the paints, one of the most significant differences between oil paints and acrylics is the colors.
Oils use more pigment, which produces vibrant and more vivid colors.
Another difference between acrylics and oils is that acrylic dries darker, whereas oils keep their color during the drying process.
Acrylic Painting Techniques
Just like every medium, there are multiple techniques that can be used with acrylics.
Some artists can create acrylic paintings that look just like oil paintings or watercolor paintings.
Take a look at this video to see some common techniques professional artists are using.
The Difference Between Student Grade And Artist Grade Acrylic Paints
It can quickly feel overwhelming when it is time to purchase art supplies when you are experimenting with a new medium like acrylic paints.
Let's take a look at the main difference between student grade and artist grade acrylics.
Student grade paint is frequently recommended to students because it is more affordable and is ideal for learning.
On the other hand, artist-grade paint is a higher quality paint used by professional or more advanced artists.
Here are the distinctions between artist grade and student grade acrylics:
Artist Grade Acrylic Paints
High-quality pigment levels
Varied price range
Wide range of colors
Less color shift
Student Quality
Less paint coverage
More affordable price range
Greater color shift
Suitable for large scale painting and under-painting
Best Acrylic Paint for Beginners
There are several factors to consider when you are deciding on what brand of acrylic paint will be best for you.
You will want to take into consideration the viscosity, performance, and, most important, the quality.
VISCOSITY
Viscosity refers to the thickness or consistency of the paint. Heavy body acrylics are more similar to oil paints and have a thick, smooth consistency that retains brushstrokes and is more suitable for mixing colors and blending.
Fluid acrylics are thinner and are more suitable for mimicking watercolor techniques.
PERMANENCE
Permanence refers to how much the color of paint will fade over time after it's exposed to light.
Acrylics typically have a higher performance rating than other mediums, including oil paints.
Check the performance ratings before making a purchase. Most manufactures will rate their paints as AA, A, and so on. AA will be the best.
QUALITY
Most art supplies come in two different grades, artist and student quality. The artist-grade acrylic paint brand is a superior product with a wider range of colors and higher-quality pigments.
Why would you choose student grade over artist grade?
If you are just starting out and you are not sure if this is a medium you would like to work with, student grade might be worth using because it is more cost-efficient.
However, if you know that you will like to work with acrylics, the professional-grade acrylics will be a better choice to work with and enhance your artistic skills.
Best Acrylic Paint For Artists Just Starting
Here are some of the highest quality arcrylic paints for both students and advanced artists.
Liquitex BASICS is heavy body acrylic paint that will keep its shape and strokes as you paint, similar to oil paints. These paints are perfect for traditional painting, impasto, and mixed media.
This set features 24 colors including Bright Aqua Green, Burnt Sienna, Burnt Umber, Cadmium Orange Hue, Cadmium Red Deep Hue, Cadmium Red Medium Hue, Cadmium Yellow Deep Hue, Cadmium Yellow Medium Hue, Dioxazine Purple, Iridescent Gold, Iridescent Silver, Ivory Black, Mars Black, Medium Magenta, Naphthol Crimson, Permanent Green Light, Permanent Hooker's Green, Permanent Light Blue, Phthalo Blue, Primary Blue, Primary Yellow, Titanium White, Ultramarine Blue, and Unbleached Titanium.
Blick is the largest and oldest art supplier in the United States, and Blick also has a line of quality art supplies, including acrylics. Their student-grade is a fabulous value for beginners and is available in a wide range of colors and tube sizes.
This set contains 36 colors, including Titanium White, Mars Black, Cadmium Yellow Medium Hue, Cadmium Red Medium Hue, Ultramarine Blue, Ivory Black, Cerulean Blue Hue, Cadmium Yellow Light Hue, Burnt Sienna, Alizarin Crimson, Cadmium Orange Hue, Primary Yellow, Hooker's Green,Cadmium Red Deep Hue, Phthalo Blue, Burnt Umber, Cobalt Blue Hue, Green Light Permanent, Dioxazine Purple, Bright Aqua Green, Primary Blue, Gold, Raw Umber, Yellow Oxide, Phthalo Green, Raw Sienna, Deep Violet, Quinacridone Magenta, Silver, Primary Red, Cadmium Red Light Hue, Cadmium Yellow Deep Hue, Medium Magenta, Neutral Gray, Green Deep Permanent, and Red Oxide.
Winsor & Newton Artist's Acrylic 10-tube set is excellent quality, affordability, and a perfect set for artists just starting to learn how to paint with acrylics. The high-quality pigments have a smooth consistency that's similar to oil paint.
This set includes Burnt Sienna, Cadmium Yellow Medium Hue, Cadmium Red Hue, Crimson, Phthalo Green, Mars Black, Titanium White, Winsor Blue, Raw Umber, and Yellow Ochre.
Acrylic Painting Tutorials
Learn the best acrylic techniques in the comfort of your home.
Acrylic Painting For Beginners
Acrylic Painting For Beginners: Understanding Color
Final Thought ABout Artist Grade Acrylic Paints
Whether you are a beginner or a pro, using artist acrylics will make the painting experience more enjoyable.
Purchase a set of basic acrylic colors if you are experimenting with this medium. You can always buy different acrylic colors if you enjoy painting with acrylics.
Acrylic paint is a quick-drying paint that uses water to combine the emulsion and pigment in acrylic paints.
Related Posts
Pentel Oil Pastels Review – Great Quality At An Affordable Price
4 Acrylic Painting For Beginners Courses – Paint Like The Pros 
How To Paint Flowers With Acrylics For Beginners