Disclaimer: This post may contain affiliate links. If you make a purchase by clicking on an affiliate link, Nevue Fine Art Marketing may earn an affiliate commission at no additional cost to you. Affiliate relationships include, but are not limited to, Bluehost, Tailwind, Skimlinks, SareASale and StudioPress. To learn more visit Affiliate Link Disclosure Policy
How To Build An Artist Brand
The importance of an artist's brand is essential to the development of your business.
To build a successful art business, you must create an artist brand that distinguishes yourself and your work.
Failing to do so will make it difficult for your target audience to discover you online, if not impossible.
The artists that you follow online have built name recognition that makes them appear on the top of all search results, including Google, Bing, Pinterest, and Instagram.
Your objective is to do the same for your business.
Today, I will share some strategies to build a unique brand for your online art business that will drive traffic to your website.
Artist Branding
Some artists are confused about what a brand is. They think all they need is a particular font style and color for their business name.
There is much that is involved with designing an artist brand.
You are an artistic entrepreneur and the CEO of your art business.
One of your art marketing objectives is to create a brand that has people recognize your artwork.
Unlike a corporate business, an artist's brand is about an artist as an individual.
An artist's brand becomes personal and includes the individual's ethics, philosophy, and beliefs.
Many layers will create an artist brand, and each layer should be well thought out.
Each layer will be a reflection of your business and, in turn, a reflection of you.
Traditional marketing methods, such as business cards, flyers, postcards, fairs, and craft shows, are just a small part of your branding strategy.
You will now need to consider that your art will be seen around the world with the help of the internet.
Your policies, communication in person and online, social media presence, shipping policies, artwork, packaging, return policies, blogging, and websites will be a big part of your brand.
Be consistent with your plan, and pay attention to all of the small details.
Learn from the greats.
Study each person's brand and decipher how their brand tells who they are and how it determines their artwork's worth.
What is Branding
According to Business Queensland:
"Branding is a way of identifying your business. It is how your customers recognize and experience your business. A strong brand is more than just a logo; it's reflected in everything from your customer service style, staff uniforms, business cards and premises to your marketing materials and advertising."
Your artist brand is what you are known for and what your customers will remember about you.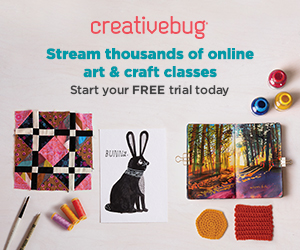 Painting Repeat Patterns by Hand: A Daily Practice by Cleo Papanikolas on Creativebug!
As an artist, you are branding your art business (policies, quality of your art, pricing, customer service, etc), but you are also branding yourself as an artist.
The brand that you create should focus on you but instead focus on you as an artist.
My brand for this site is "Learn How to Start, Build, and Monetize Your Online Art Business." I have also branded myself as graphite, pastel, and pyrography artist.
My art branding strategy allows me to connect with artists and graphite, pastel, and pyrography art collectors.
Before You Start Branding Your Art Business
What are your business objectives?
What would you like to accomplish with your artist brand?
Is your website an online portfolio for art school or gallery representation?
Are you going to sell artwork on your website?
Is your website going to compliment your brick and mortar store?
Having a clear vision of your business objectives will ensure that you implement the right strategies to achieve your business goals.
The vision of your business will help you to determine what is best for your artist brand.
How To Personalize Your Artist Brand
One of your goals is to personalize your brand. You want to separate yourself from all of the other artists online.
The first step is to look deep into your artistic style.
What is unique about your artwork?
What makes your art striking and worth mentioning?
What are you most proud of?
What is the message behind your painting or drawing?
What makes your art valuable?
Succesful artists and businesses have a clear understanding of what separates their company from their competitions and promote their message regularly.
A good example is Nike. When you hear the phrase, "Just do it" you think of Nike.
Nike has taken that phrase and consistently shared it on multiple mediums to people worldwide.
The outcome is, people will think of Nike when they hear or see the words, "Just do it."
Another example is Bob Ross.
What do you think of when you hear the name, Bob Ross?
You think of "The Joy of Painting."
Did you ever watch his videos on PBS? You could easily see how he branded himself throughout the entire tutorial.
He made everyone believe that painting was fun, relaxing, and anyone could do it.
From the "happy trees", to "it's ok, we will just turn this mistake into a happy bird", Bob consistently marketed his brand.
What words or phrases will you use to represent what you have to offer as an artist?
Take some time and think about the words that describe your art business.
What you come up with will become a large part of your marketing strategy.
Like I have mentioned earlier, personal branding for artists is more complicated than describing a can of coke.
You are bridging your artwork and art business with your morals and views.
Branding Yourself As An Artist
Before you can start to build your brand, you will want to identify who your target audience is.
Having an understanding of who will be purchasing your artwork, will help you to develop your artist brand.
The information you collect will inform you how to best communicate with your audience and what will visually attract them.
Take some time to identify who your target audience is.
What you will want to know about your target audience:
Age
Male or female
Location
Single or married
Do they have children
Level of education
Yearly income
Once you know who your target audience is, you will be creative and create a brand that attracts your audience and identifies your art business.
Here are some posts to help you learn more about your future art collectors.
For more articles visit Art Business – Art Marketing Resource
What Are Your Unique Strengths
Now that you know who your audience is, you will want to know more about you.
What are your strengths?
What separates yourself from other artists?
What does your artwork offer that no one else can duplicate?
Take some time to identify your best qualities.
For example:
Bob Ross makes painting fun.
Nevue Fine Art Marketing helps artists live their dreams.
Nike encourages athletes to do whatever it takes to win.
Slogan
The next step is to take your strengths and create a key phrase that describes you.
The best way to do this is to write many different ideas that describe your business's mission on a piece of paper or your computer.
Do this for the next few days.
After you have a good list, start going through your ideas again.
Keep revising your ideas until you can say, "This is perfect".
The slogan for Nevue Fine Art Marketing is "Helping Artists Live Their Dreams".
The slogan explains to artists what type of content they can expect to find when visiting my site.
You want to do the same. You want your visitors to know what they can expect when they visit your site.
Artist Brand Logo
Your next step is to create a logo to reinforce your message visually.
This is the part when you can have some fun.
Use your creative side to design an artistic image for your logo.
It can be anything that you want and there are no rules because you will start promoting your logo and everyone will start to recognize it.
I user fiverr to outsource many projects for my art business, including logo designs, social media images, and even content for specific tasks.
You can outsource so many things for your art business so you can focus on the things that will make you the most money, like creating artwork.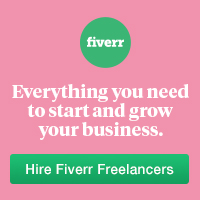 Here are some more tools that are available for you to create your business logo.
Free logo design tools:
(Source: Creative blog)
You can always hire someone to create a logo for you if you do not have the time to design one yourself.
(Source: Design Hire)
Promote Your Brand
The next step is to start promoting your brand.
The key is to be consistent with your efforts. Everything you do should incorporate your logo, brand, and the mission of your art business.
Be consistent on all of your social media networks.
You want people to know it is you when they see your posts on any social media platform.
Be consistent on your art blog.
Your artist blog, online art gallery, and social media sites should all look the same.
Most importantly, be proud and tell everyone.
Click the book below to download the Create An Artist Brand Workbook.
Successful Art Brands
What makes some artists successful online while other artists with the same skill level fail?
Why does it seem like whenever you are on Instagram, the same artists are on the top of the newsfeed?
Why do some artists have thousands of followers on their social media platforms?
Branding for artists is about name recognition.
The objective of branding yourself as an artist is to build name recognition, just like all of the other artists online you have discovered.
Artist branding is more than a beautiful logo or having a perfect art business name. It is about connecting your art collectors with your artwork personally, so they remember your name.
When you have successfully done this, you will find yourself on top of all the social media newsfeeds, have thousands of social media fans and rank on the first page in the search results.
The result is that you have created an artist brand that will build a thriving art business.
Final Thoughts On How To Build An Artist Brand
Your brand is what will separate yourself as an artist from all of the other thousands of artists online.
Take some time to create the perfect brand and slogan for your art business.
Your objective is to make sure that people know the art online they are admiring is yours.
Would you like to learn how to build a blog that generated over $15,000 a month?
Debbie Gartner explains exactly how she created a blog that makes her six figures a year.
You Might Also Be Interested In:
The form you have selected does not exist.
Popular Art Marketing And Sales Tutorials
Below are some of the most famous art marketing courses that will grow your online art business:
Most Popular – How to Make a Living Selling What You Make by Megan Auman
Most Popular – Build a Successful Creative Blog by April Bowles-Olin
How to Build a Business While Learning Your Craft by Megan Auman
Pinterest Marketing for Makers & Designers by Megan Auman
If you enjoyed this article don't forget to sign up for my free weekly newsletter.
You can also join me on:
More resources to help build your online art business.