Last Updated on
Are you finding that you are spending money on art supplies that you already have? When you are in the middle of a project do you find yourself wandering around trying to find what you need? In this post, you will discover some easy art studio organizing tips that will help you save time and money so you can be more creative.
"For every minute spent organizing, an hour is earned."

~ Benjamin Franklin
Home art room organization benefits:
You will achieve more with a

To-do List.

Your business will grow quicker with a

well-written plan

.

You will save money
You will have better time management habits
You will have more balance in your life
You will create more art
You will be more creative
You will sell more artwork
Art Studio Organizing
The definition of organizing is to arrange into a structured whole; order.
I like to think of being organized as everything having a specific place. I call the specific place, its "home".
Once I have decided the best place for something, I make an effort to put it in its "home" once I am done using it.
After a few times doing this, it becomes a habit to put it back in its "home" after every use.
It might seem that it is too much effort to put something in its designated area, but in reality, it takes less effort in the long run.
How is organizing during the day less effort in the long run?
You will not waste time looking for something when you need it.

You will not have to waste time thinking where did I leave it last.

You will be able to concentrate on more important things like creating and selling art.

You will not waste extra time doing a weekly or monthly cleaning of large piles of clutter.
Remove Unused Art Supplies
The easiest way of organizing your art space is to get rid of all the art supplies you collected over the years that you do not use.
How many times have you said:
I will use that someday
I don't want to get rid of those in case I need them
I don't want to through them out in case someone needs them
Eventually, I will have time to work with those again
Over the years, there becomes a collection of art supplies that will never be touched.
Donate supplies you are not using if you have a difficult time throwing away supplies you have purchased and collected.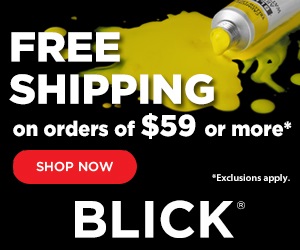 There are so many places that would be grateful to receive donated arts and crafts supplies.
Where to donate art supplies:
Nursing homes
Children hospitals
Local schools
Teachers
Community centers
YMCA
Local art centers
Not only will you feel good that you help people in need, but you will also be reducing clutter in your art studio.
Art Studio Setup Ideas
The hardest part of being organized is starting.
The easiest way to get started is to take ten or fifteen minutes out of your day and decide on where the best place will be for your finished artwork, unfinished artwork, art supplies, paperwork, and other miscellaneous items.
Write down where the new home will be for each item.
Lists are very helpful in organizing and time management.
Tomorrow take out your list and make sure you put everything back where it belongs.
Within a week or two, putting things back in their "home" will become automatic.
You will be rewarded by never waste time searching and digging for something you need any more.
Recycle Containers For Storing Art Supplies
Recycle plastic jugs, mason jars or coffee containers for some of your art supplies like drawing pencils or paintbrushes if you are like me and you do not like to spend money buying storage containers.
Just make sure that you have enough containers for everything you need.
You do not want to damage any of your supplies by cramming them into one jar.
I even have a jar for the pastel pencils I am using for a particular pastel painting.
This makes it easier for me to find the colors I am working with instead of digging through a hundred different pencils every time I need a new color.
Art Studio Organizing Benefits
As an artist, we are lucky that our art supplies do not take up a large amount of room.
You will want to be organized for a couple of reasons.
First, you do not want to run out of supplies during a project.
Second, you can reduce costs by not ordering supplies that you already have.
I have found myself running out of supplies and shipping materials when I started selling art online and it happened during the holiday season.
Needless to say, it was hectic trying to find the supplies I needed and I paid top dollar for them.
After that incident, I made it a point to stay organized and always have a running inventory of art supplies and shipping materials.
Use Bins and Storage Files For Larger Items
Storing your drawings and paintings in a safe place will help you to protect your work during the creative process and when it is completed.
A painting can be stored safely on an easel while you are working on it but I have found that keeping my drawings on my drawing table is not the best decision for me.
I have a cat that likes to jump on my drawing table when I am not in my room. Unfortunately, there have been several times I had to start a project over because she soiled the drawing surface.
Now I keep all of my graphite drawings and pastel paintings in storage files like the ones below.
This helps me to stay organized while protecting my artwork at all times.
Storage Files for Artists: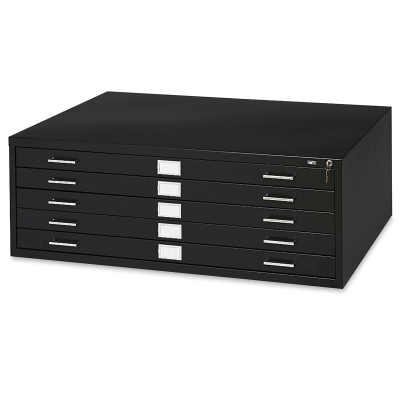 Safco 5-Drawer Steel Flat Files
from: Blick Art Materials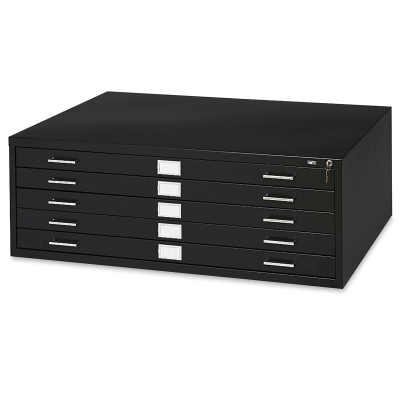 Safco 5-Drawer Steel Flat Files
from: Blick Art Materials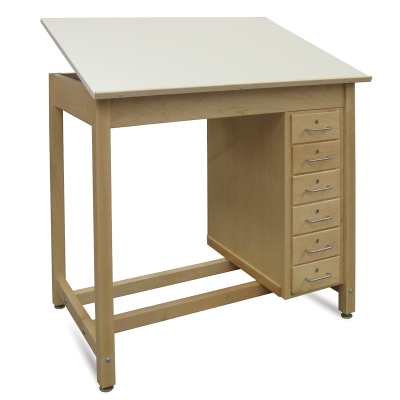 Hann Six-Drawer Wood Drawing Table
from: Blick Art Materials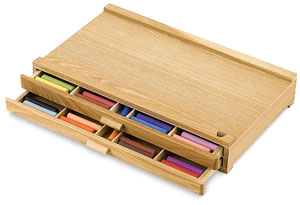 Weber 2-Drawer Wood Pastel Cabinet
from: Blick Art Materials
Prepare Your Art Studio For The Next Day
At the end of the workday get in the habit of putting everything back in its "home".

Clean your drawing table

Sharpen your pencils for the next day

Put your paints away
Clean your brushes
Clean your painter palette
By doing these simple steps you will be ready to create when you sit down to draw.
Nothing will ruin your artistic mind quicker than having to clean an area before you can start creating.
Conclusion:
We all have 24 hours in our day. What separates successful people from people who do not succeed is how time is managed.
Start taking control of your days and succeed at everything you do.
Use these art studio organizing tips and come up with your own art studio organizing tips.
Popular Art Marketing And Sales Tutorials
Below are some of the most famous art marketing courses that will grow your online art business:
Most Popular – How to Make a Living Selling What You Make by Megan Auman
Most Popular – Build a Successful Creative Blog by April Bowles-Olin
How to Build a Business While Learning Your Craft by Megan Auman
Pinterest Marketing for Makers & Designers by Megan Auman
Did you enjoy this article? Don't forget to sign up for my free weekly newsletter.
You can also join me on:
Learn how to start, grow, and monetize your online art business.
The Complete Blogger Template Toolkit 
OVER 450+ Templates You Need to Quickly Create Stunning, Jump-Off-The-Screen Image to Grow Your Blog-- Without Having to Learn Design!