Whether you are new to art shows are you are just starting out. These art booth tips will make the process easier, more productive and more profitable.
You work hard painting all year for the upcoming art fairs.
You practice setting up an art booth display at home so you can showcase all your new paintings.
The time has come, and you are excited to get to the art fair and show off your art collection.
Even if you have the best art booth set up, how can you attract buyers to your booth?
How can your art booth stand out at an art fair with so many artists showcasing a similar subject matter?
Yes, your paintings are unique but with so much art to see how can you be sure that your art booth display will get buyers to your booth or have visitors make a purchase?
Today I am going to talk about some art booth tips I have learned over the years that will make your next show more profitable.
Disclaimer: This post may contain affiliate links. If you make a purchase by clicking on an affiliate link, Nevue Fine Art Marketing may earn an affiliate commission at no additional cost to you. Affiliate relationships include, but are not limited to, Bluehost, Tailwind, Skimlinks, SareASale and StudioPress. To learn more visit Affiliate Link Disclosure Policy
Art Booth Display
A first impression is so important when you are displaying your art at an art fair with so many artists showcasing their beautiful oil paintings, watercolor paintings, and pastel paintings.
The only way you can be sure to attract people to your booth is to have an attractive professional setup.
One of the most important things to remember when you have an art booth display at an art fair is that you are not only an artist who creates the paintings, but you are also a merchant.
Your primary goal is to present your artwork to collectors in a way that they will want to stop at your art booth and will remember you for the upcoming fairs.
There were some art shows I attended that only allowed me a 10×10 art booth while others let me use a 20×10 art booth.
Every art fair is different.
I have learned that it is better to practice setting up the art display at home rather than scrambling at the show.
It is easier to adjust and rearrange your art collection at home until you are delighted with how your art is displayed.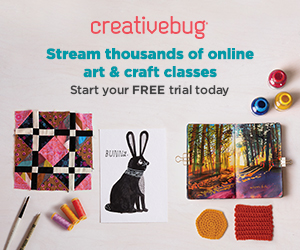 Painting Repeat Patterns by Hand: A Daily Practice by Cleo Papanikolas on Creativebug!
Another art booth tip is to take a picture of your display and write detailed notes, so when it is time to set up at the art fair, you know what has to get done.
Below are some tips to help make your art booth look more inviting and professional:
Art exhibition display stands – for art prints and greeting cards
Have a card that shows the size, medium, and price of each painting or drawing on display
Have business cards available at different locations of your art booth
Invest in a colorful sign of your art business logo
Don't overcrowed your paintings – leave a little space between each painting. Display your best pictures first and replenish them as they sell.
Extras:
Have a clipboard for people to join your email list
Have your logo on your coffee mugs and shirt
Display brochures that link to your online artist website
Display awards that you have received
Display a short bio about your art career
The good news is that you can create an art booth on a budget that does not break the bank.
The key to participating in an art fair is to make money, not lose money.
There are many tutorials on DIY art display stands that will help you to create a perfect display for your art that will not cost an arm and a leg.
Here are a few that I have found to help get you started:
How To Set Up An Outdoor Art Booth Display And List Of Equipment Needed
Create A Welcoming Atmosphere
Now that you have practiced your art booth set up at home and you have the perfect art booth display, let's talk about some other key areas that will attract art collectors to your booth.
My wife and I enjoy going to art and craft fairs as much as we enjoy having an art booth at an art fair.
Walking around and seeing all of the different art and crafts is both inspiring and educational.
How can it be educational to go to craft fairs?
Not only do I enjoy looking at art, but I also observe:
How the display is set up
How the artist interacts with the customers
How many people are visiting a booth and if there is a large crowd, what makes that booth more appealing than the one next to it
The signs that explain the art and the prices of the art
How they display the signs
There is so much you can learn if you go to art fairs as a buyer, not as an artist.
Here are four examples of what I learned at different shows I visited.
The first story is from a show we went to at Cape Cod.
Every artist had a shed that displayed and protected their artwork from the outdoor elements.
If I were to guess, the shed was around 20' x 20'.
It was almost closing time when we got there.
My wife and I were roaming around, looking at all of the beautiful art hanging in the sheds.
We went into about ten displays, and not one artist approached us.
We didn't receive a hello or even a look in our direction.
As we approached one display an artist stood up from his chair and greeted us with a big warm smile and welcomed us into his art booth.
The greeting we received inspired us to look at every piece of his work and ask many questions about his paintings and his art career.
It did not take long until we had a personal connection to him as an artist and his artwork.
While we were leaving the show, we passed by a booth where an artist was packing up for the day.
We stopped to look at the art that was still hanging, and the artist came out and said, "I wish people came here with money in their wallets instead of just lookers."
We could not believe what we were hearing.
This artist had no idea who we were and if we were interested in purchasing her artwork.
That one show provided us with two extremely different scenarios.
One artist made such a pleasant experience with who I am still in contact and another artist who pushed us away.
Both experiences are rememberable but only one artist will receive a purchase from us.
Here are two more quick stories I will never forget.
One show my wife saw something that she wanted to buy.
We went to the booth and looked at the product she was interested in.
She turned to me and said I am going to get this.
We started to look for the artist, and as we were looking for the artist, we saw him sleeping in the corner.
Needles to say, we left without making a purchase.
The last story I want to talk about is something we will never forget.
We stopped at an art booth to admire some beautiful oil paintings.
The paintings were absolutely stunning.
I was looking at a painting and felt a soft nudge from my wife.
She tilted her head in the direction of the artist staring at us while flossing his teeth.
I could not make this story up even if I wanted to.
Why am I telling you these stories?
I am telling you them because I want you to be aware of not only how beautiful your art display is but also how welcoming your booth is.
There are so many art fair booths filled with beautiful artwork.
The artists who will walk out of the fair with a pocked filled with money are the ones who are welcoming and personable.
Craft Fair Do's
Let's recap some art booth tips that attract buyers at art fairs.
Come up with as many booth ideas for fairs as you can. You can do this by attending art fairs or researching online.
Purchase or make an art stand that will display your artwork correctly.
Practice your festival booth set up at home, not at the show.
Present both you as an artist and your artwork professionally.
Greet people with a big smile.
Ask them if they have any questions you can help them with.
Have professional signs made for your logo.
Have description tags for all your art being displayed.
Have business cards and brochures in several different places.
Have proper packaging material for purchases and always include a business card in the package.
Have a newsletter signup list.
Art Booth Don'ts
It is easy to forget things when it is time to pack the car for a show, so make a checklist of everything you need to bring to each fair.
There are some things you will not want to do at craft fairs snd here are some of them:
Do not overcrowed your guests. Greet them and let them know that if they need any help just to let you know. After that, let them enjoy your paintings. They will come to you if they are interested in purchasing a painting.
Do not forget to show gratitude for them taking the time to stop by. People might not be able to purchase a painting at the time of your show but might be interested in buying your art in the future.
Don't only accept cash. Most people do not carry a large amount of money on them even if they are going to an art show. It would be a shame if you lost a massive sale just because you do not accept credit cards. Square is a popular is a free credit card reader that is used with smartphones. I use the Square at all of my art fairs. It is easy to set up and use.
Don't fall asleep at your table.
Don't complain that you are not landing sales to customers
Don't floss your teeth while staring at your potential buyers.
Conclusion:
I have attended and worked at multiple art fairs and always try to assess what works and what doesn't work.
The art booth tips that I have shared with you today are all life lessons I have taken home.
The bottom line is that you have to remember that you are not only an artist but you are also a merchant that represents your artist brand.
Always do your best and always try to make the next show better.
Make a list of all the art booth tips you learn at art shows you attend and sell at.
Popular Art Marketing And Sales Tutorials
Below are some of the most famous art marketing courses that will grow your online art business:
Most Popular – How to Make a Living Selling What You Make by Megan Auman
Most Popular – Build a Successful Creative Blog by April Bowles-Olin
How to Build a Business While Learning Your Craft by Megan Auman
Pinterest Marketing for Makers & Designers by Megan Auman
Did you enjoy this article? Don't forget to sign up for my free weekly newsletter.
You can also join me on:
Learn how to start, grow, and monetize your online art business.
Art Business Planners