Last Updated on
Do you have a difficult time finding things to write about for your art blog? In this post discover 110 art blogging ideas that will keep you inspired to write so you can build an online presence.
110 Art Blogging Ideas
How many times have you put off writing an article for your art blog, because you do not have anything to say? Maybe you believe no one would be interested in your articles or thoughts.
The truth is there are many people now searching online for information only you can offer.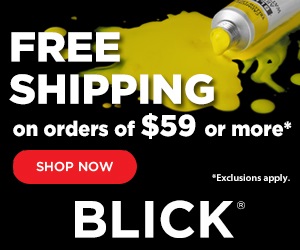 Related Post: 6 Blogging Benefits You Can't Ignore
Besides getting over the fear of writing, thinking about ideas to write about must be the most challenging aspect of starting a blog post. Here is a list that I have gathered throughout the years which will keep you busy for some time.
110 Art Blogging Ideas
Psychology of Color
Canvas size
How to price art
Different types of Paper
Paper reviews
Best online store to buy art supplies
Different types of pencils
Pencil reviews
Different types of brushes
Brush Reviews
Different types of paint
Paint reviews
Different types of pens
Different types of markers
Your favorite medium
Your studio
How to organize your studio
Favorite music to listen to while creating
Favorite artist
What inspired you to become an artist
Your artist journey
When did you start selling art and how did you start
How did you learn
What medium did you start with
How to start an art blog
What blogging platform do you use and why
Favorite online photo sharing sites
Do you sell at craft shows
Your favorite craft shows and fairs
How to start selling art at a craft show
What you need to know when selling art at a craft show
Do you sell your art in galleries
You to get into an art gallery
What you use for your artist website
How to create an artist website
How to write about your artwork
How to tell your artist story
Why start an email list
How to start an email list
How to write an artist newsletter
How to connect with other artists
How do you stay motivated creating art
How do you stay motivated selling art
What tricks have you learned over the years selling art
How do you prepare for craft shows
How do you prepare for Gallery shows
How to make your art studio safe
Paint Hazards
How to clean your brushes
Time management
How much time do you spend marketing
What marketing ideas failed
What marketing ideas worked
What are your favorite marketing books
How to stretch canvas
How to protect your drawing paper
How to ship art
Do you sell originals or commissions
Best practices for commission sales
Do you sell prints
Who do you recommend for a printing service
Do you sell on POD sites
POD site reviews
Art in progress
How do you balance your life being an artist
Do you create art outdoors
How to write a great title for art
Do you belong to any art clubs
Tips on promoting art, what works best for you
How can people buy your art
What are your policies
What is your artist mission and vision
How to frame art
How to photograph art
Best cameras for photographing art
How does art help children
Latest art gallery you visited
Latest craft shows you visited
Drawing tutorials
Painting tutorials
Art News
How to save money on art supplies
How to paint from reference photos
Favorite art book
Interview other artists
How can artists handle criticism
Explain your art technique
Do you recommend an art school
Are you a traveling artist
How to travel with art supplies
Upcoming art shows you will be attending
Promote sales for your artwork
The best way for an artist to start learning
Art basics
what are your favorite social media sites to promote your work
How much time do you spend on social media sites
What advice can you give to someone starting to sell their artwork
Best colors to accent a room
Provide an art giveaway
Talk about donations or charity your art has supported
What is it like to be an artist
How does it feel to be self-employed
Importance of light in art
How to mix colors
What are the primary colors you work with
Color therapy
Inspirational art quotes
Inspirational images of art
What are you grateful for
How to keep your accounting organized
Download and print this list to help keep you inspired to write and build your art business.
Free Download 110-art-blogging-ideas
Conclusion
As you can see, there is a lot you can write about that will inspire, motivate and educate art collectors and artists. I could have gone on for days writing topics for you, but I think this will give you a good starting point.
You will find that as you go down the list, you will think of other ideas you would like to write about. I recommend writing down any ideas that pop up in your mind. I have lost many great ideas because I didn't want to spend the time writing it down. Now I will stop what I am doing to jot down a few notes.
Before you write, go through the list and see what topic creates a spark. Start writing about that subject. You will find it to be easier to write about something you are motivated to write about.
Did you enjoy this article? Don't forget to sign up for my free weekly newsletter.
You can also join me on:
Learn how to start, grow and monetize your online art business.
The Complete Blogger Template Toolkit 
OVER 450+ Templates You Need to Quickly Create Stunning, Jump-Off-The-Screen Image to Grow Your Blog-- Without Having to Learn Design!