Are you looking for an exciting way to create stunningly vibrant works of art? Then acrylic pouring is perfect for you.
Acrylic pouring involves mixing paints with a textured medium and then transferring them onto surfaces. Not only does it produce mesmerizing creations, but using this method allows you to acquire new painting techniques as well.
To get the most out of your paint pours, having homemade acrylic pouring mediums explicitly tailored to your needs would be ideal.
We'll provide step-by-step instructions on how to make different DIY acrylic pouring mediums so that you can begin crafting the perfect pieces in no time.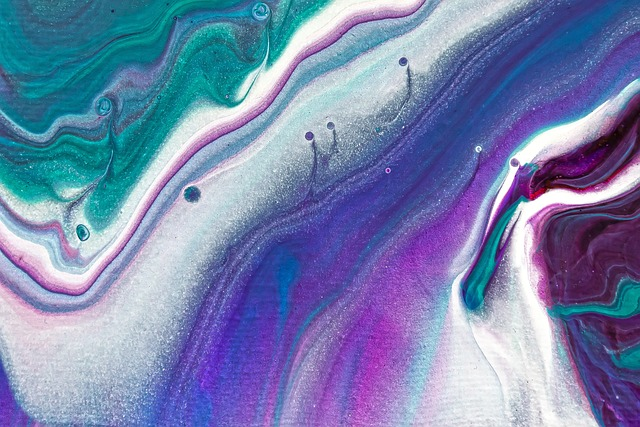 Disclaimer: This post may contain affiliate links. If you make a purchase by clicking on an affiliate link, Nevue Fine Art Marketing may earn an affiliate commission at no additional cost to you. Affiliate relationships include, but are not limited to, Bluehost, Tailwind, Skimlinks, SareASale and StudioPress. To learn more visit Affiliate Link Disclosure Policy
What Is Acrylic Pouring
Acrylic pouring is a form of abstract art. It involves using different colors and textures to create unique works of art. This technique can create various styles, from free-flowing shapes and color blending to detailed designs with intricate shapes. The results are usually quite eye-catching and visually appealing.
Acrylic pouring involves using acrylic paint thinned down with water or other mediums such as silicone oil, alcohol, or a combination of both. This mixture is then poured onto a canvas or other substrate in various ways depending on the desired effect. The paints then blend as they move across the surface and dry quickly, creating beautiful pieces of artwork.
Related Post – Fluid Acrylic Painting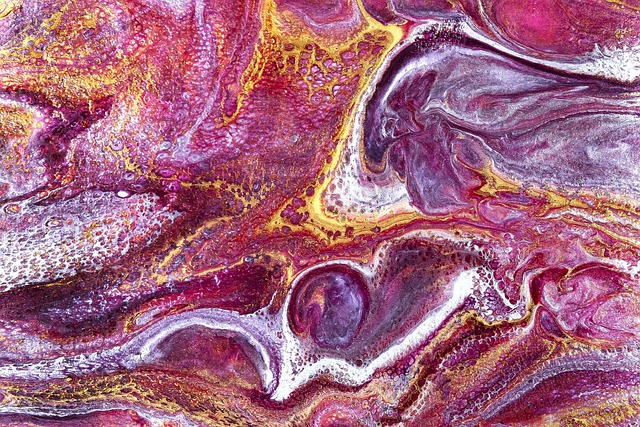 What Is An Acrylic Paint Pouring Medium Recipe
The acrylic pouring medium recipe combines ingredients to thin out acrylic paints so they can be poured onto surfaces without running off or becoming too thick. A suitable pouring medium should reduce cracking, add flexibility to the finished painting, and improve flow and drying times. Some common ingredients used in acrylic pouring medium recipes include Floetrol, PVA Glue, Water, Silicone Oil, Alcohol, Flow Aid Additives, and Retarder.
Supplies Needed To Create An Acrylic Pouring Medium
Creating an acrylic pouring medium requires several supplies, depending on your chosen recipe. Generally speaking, you will need some base, such as Floetrol, pouring medium, or Gamblin PVA, and other additives like water, silicone oil, and alcohol if desired for more complex recipes. Additionally, you will need some containers for mixing ingredients, such as an old jar or container with a lid so you can store your medium for future use. Lastly, it is essential to have some measuring device, such as spoons or scales, to measure out all the ingredients correctly to get desired results every time.
Benefits Of Having Homemade Acrylic Pouring Mediums
When it comes to making your own pouring medium, there are many benefits. Making your own DIY pouring medium is a great way to ensure you get the exact results and consistency you want for your artwork. It also gives you more control over the outcome of your painting.
The most significant advantage of using homemade acrylic pouring mediums is that they can be tailored to suit any painting or project. For example, suppose you are working on a small canvas with intricate details. In that case, you can create a medium that will provide superior coverage and help stabilize the paint layers so that the details stay intact. Or, if you are looking for a glossy finish for more significant works, then a custom-made pouring medium can help produce the desired effect.
Another benefit is cost savings. By creating your own acrylic pouring mediums at home instead of buying pre-made ones from art supply stores, you can save money while still getting good quality results. This means less out-of-pocket and more money towards materials such as paints, other pouring mediums, and primers. Additionally, understanding how different ingredients interact with each other allows artists to customize their own recipes to get the best performance out of their paints while still staying within their budget.
Using homemade acrylic pouring mediums allows users to experiment without worrying about wasting expensive supplies or ruining an acrylic pour painting due to poor chemical reactions between ingredients. Knowing exactly what goes into each recipe allows artists to understand what makes specific pouring techniques work better than others and adjust accordingly to get desired results every time.
In conclusion, numerous advantages are associated with making your own acrylic pouring mediums instead of relying solely on pre-made ones from art stores or online retailers. Creating custom recipes lets artists find precisely what works best for them in terms of cost savings and quality assurance while giving them greater control over the outcome of their artwork. In addition, experimenting with these recipes doesn't have the same risk attached when working with store-bought products since users know exactly which ingredients have been mixed to achieve a specific result.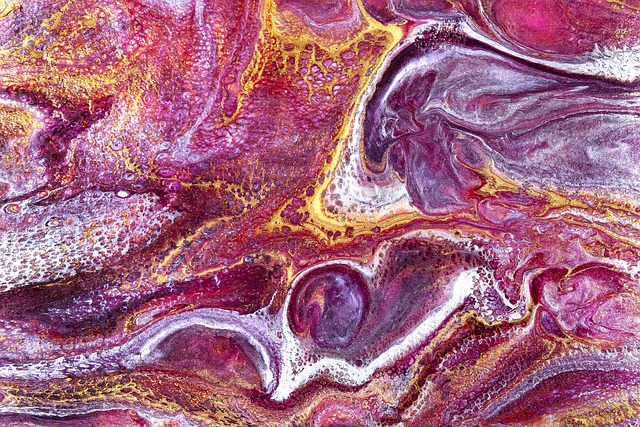 How To Make DIY Acrylic Pouring Mediums
Regarding acrylic pouring mediums, DIY pouring medium recipe options are an economical way to save money while achieving the desired result. Making your own mediums is a great way to save money, but it also helps you customize them as needed for different projects and styles. To help you get started, here's a step-by-step guide on how to make different mediums for acrylic pouring.
The first step in creating DIY pouring mediums is deciding what medium you want to use for your own acrylic pouring technique. The most popular types are GLOSSY, MATTE, and ULTRA GLOSSY. Depending on the look you're going for, each has its own advantages and disadvantages. Glossy gives a glassy finish that brings out the vibrancy of colors, while matte has a more subtle and muted effect. Ultra glossy provides a super shiny finish that adds extra depth to your paint-pouring projects.
Once you've chosen the type of medium you want to use, gather the necessary supplies, such as a variety of different acrylic paints, gloss or matte sealants, and distilled water or acrylic flow improver. Start by mixing equal parts of your water-based paint with either distilled water or acrylic flow improver until it reaches a pourable desired consistency. This is important because if it's too thick, it won't stick well when poured onto the canvas. Depending on the results you're looking for, you can add gloss or matte sealant into the mix until it reaches your desired thickness (around 1 part paint/medium mix: 1 part sealant). If you're using an ultra-glossy medium, add 1/4 cup of glossy sealant into the mix. Experiment with different ratios until you find the perfect blend that works for your project.
Once you've created your medium, it's ready to be used. Remember to store pre-mixed pouring paints in an airtight container, as oxygen can cause the medium to dry out quickly. For best results, use within a few days of mixing.
When you have discovered recipes for your acrylic pour paintings, write down the exact ingredients and ratios so you can repeatedly make the same pouring mixture with the same success.
Finally, let your homemade pouring medium sit for at least 24 hours before using it for your project so that all the ingredients have time to settle properly and blend nicely. Once everything has been set up correctly, feel free to experiment with different ratios of paint/medium mix: sealant until you find one that works best for your painting style – now all that's left is getting creative.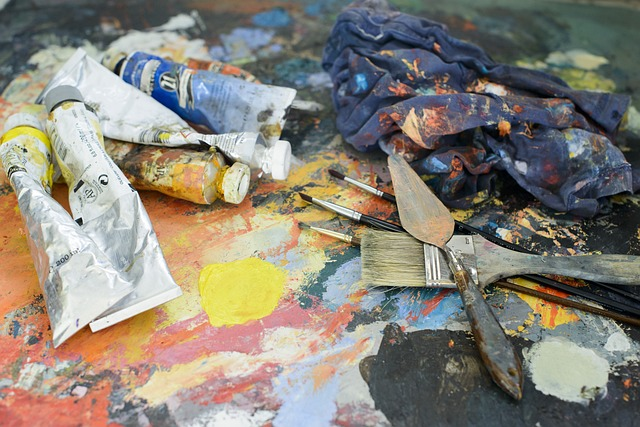 Tips For Crafting The Perfect Acrylic Pouring Pieces With DIY Mediums
1. Use a pouring medium.
A pouring medium is a liquid that helps to thin and spread the paint while also helping it to adhere to the surface. You can purchase an expensive pouring medium or make your own.
2. Choose your colors.
Acrylic paint comes in a wide range of colors, so you can choose whatever colors you like best. If you want your colors to blend, choose colors next to each other on the color wheel. If you want your colors to stay separate, choose colors opposite each other on the color wheel.
3. Mix your colors with the pouring medium.
Once you have chosen your colors, mix them with the pouring medium until you have achieved the desired consistency. The ratio of paint to the pouring medium will depend on the paint you are using, the painting surface you are working with, and the effect you are trying to achieve.
4. Pour the paint onto the surface.
When ready to pour the paint, start in the middle of the surface and work your way outwards in a circular motion. Be sure to pour slowly and evenly, so the paint does not run off the surface.
5. Tilt the surface.
Once all of the paint has been poured, tilt the surface in different directions so that the paint runs around and covers the entire surface. Tilt slowly and carefully so that you do not cause any runs, air bubbles, or drips in the paint.
6. Let the paint dry completely.
Once the paint has been applied to the surface, let the fluid painting dry completely before moving on to the next step. This may take several hours or even overnight, depending on the type of paint you used and how thickly it was applied.
Conclusion
Acrylic pouring is a method of creating art by mixing acrylic paint with a pouring medium and other additives. This technique creates unique patterns and textures that are unpredictable and beautiful. It's an expressive way for artists to explore their creativity without having too much control over the outcome. It's also a forgiving process that allows you to make mistakes and produce stunning results.
The artist starts by preparing their paints, which can involve adding different colors, mediums like Liquitex pouring medium, or additives to create the desired effect. Remember, your acrylic pouring techniques will determine your needed pouring medium. Once the paints are ready, they can be poured onto the canvas or other surfaces in various layers or acrylic pouring techniques. Different tools, such as blow torches, spatulas, and brushes, can be used to manipulate the paint after it has been poured. After the painting is complete, it may be sealed for protection or left unsealed for a more organic look.
No matter what kind of art you enjoy creating, acrylic pouring offers something special for everyone. The unpredictable nature of each artwork produces an ever-changing array of colors, shapes, and textures that will never look the same twice. You can even combine various techniques with traditional painting methods to create truly unique pieces that reflect your own style and personality. Acrylic pouring is an accessible form of creativity that anyone can explore regardless of experience level or budget constraints. With just a few supplies and practice, anyone can immediately start creating beautiful works of art.
Related Posts:
Discover the Perfect Acrylic Pouring Ratio: A Guide to Getting the Perfect Fluid Art Consistency
How To Use Floetrol for Perfect Acrylic Paint Pours Every Time
5 Tips For Printing Artwork on Products
Best Places To Sell Crafts Online
Make Your Art Projects A Snap With These Resin And Acrylic Pour Calculators