Are you frustrated because nobody is visiting your artist's website? Are you spending too much time on social media and art sales are still nonexistent? In this post, I am going to talk about 7 effective website generating tips for visual artists so you can start to see your website traffic increase.
Disclaimer: This post may contain affiliate links. If you make a purchase by clicking on an affiliate link, Nevue Fine Art Marketing may earn an affiliate commission at no additional cost to you. Affiliate relationships include, but are not limited to, Bluehost, Tailwind, Skimlinks, SareASale and StudioPress. To learn more visit Affiliate Link Disclosure Policy
Effective Website Traffic Generating Tips
The number one challenge for emerging artists who are just starting to sell their artwork online is learning how to drive traffic to their website.
They become frustrated because they see so many artists thriving online and they can not seem to catch a break.
The good news is that you can get traffic to your artist website, and it is not difficult to do, but it will take time and commitment.
Website Traffic is a must if you want people to see and purchase your art online.
How can you sell your art if nobody sees it?
You can't.
You need to put your art in front of a lot of people and the tips outlined below will help you to do just that.
There is no magic potion that will help you to get visitors to your website. But with patience, hard work, and determination your site can generate over 100,000-page views a month just like mine does.
I do want to mention that extra traffic does not guarantee you will land more sales.
In order to sell original art online, you will have to promote your art to the right people, your target audience (people who are interested in your artistic style).
Artists who sell original art online have learned how to drive quality traffic to their site.
Quality traffic will be the people who are interested in what you have to offer.
For example, I would not do well marketing to people who love vibrant colors because I am a graphite and pyrographic artist. My artwork would not be something they would purchase for their home.
In order for me to land sales, I have to find and market to people who have a passion for grayscale and pyrographic art.
Before you can start promoting your art to your target audience you will have to determine what your niche is.
How to Generate Traffic to Your Website
Many artists do not have a background in marketing. In fact, most artists hate the word marketing.
I can understand this but I want to tell you marketing is not as hard as you might think.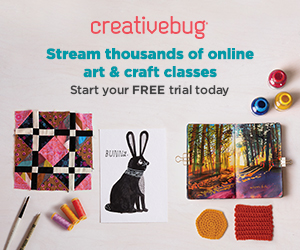 Painting Repeat Patterns by Hand: A Daily Practice by Cleo Papanikolas on Creativebug!
In order for you to build an online presence, you will have to concentrate on a couple of things.
First, you will need to upload images of your art to a platform where people can visit and make a purchase.
For more information on where you can get started selling your art visit 15 Places to Sell Art Online and Make Money
Second, you will have to start a blog and develop a Digital Content Marketing strategy designed to attract your target audience and drive them to your site.
If you want to speed up the growth of your blog take the 28 Day Blogging Challenge for Visual artists.
If you have not started a blog yet you can easily do so by purchasing hosting and a domain name from BlueHost.
BlueHost provides hosting and domain names at affordable costs and you can have your WordPress site up in just a couple of clicks.
You can even set up an eCommerce platform free with WooCommerce right on your WordPress blog.
For more help on how to build a professional artist website visit the posts below:
I told you it was easy. Start a blog, build a professional art website, upload images of your art and drive people to your site so they can make a purchase.
Before I talk about some effective website traffic generating tips I want to disclose that building an audience does take work and it will not happen overnight.
Successful artists, you see online have become masters at online marketing. They have put in the time to learn and execute different strategies.
Keep in mind that they all started where you are, right from the beginning not knowing anything about marketing online.
You can do it, you just have to be willing to take the time to learn.
If you want to learn how to build an audience and learn strategies that drive traffic to your artist website I strongly recommend learning from the best. Neil Patel has become a master of digital marketing and shares his tips on his online video course Driving Traffic to Your Online Business.
Neil's advice and strategies have helped me to grow my business faster than I could have ever imagined.
Plan For Success
Everything starts with a plan.
In order for you to see your traffic grow, you will want to know what type of traffic you would like to attract, where your target audience hangs out, and how you can grab their attention.
You will hear me talking a lot about "your target audience" in upcoming posts. Your target audience is basically the people who have an interest in your artistic style and message.
Those are the people you want to market to.
Like I said earlier, I do not want to waste my time marketing to people who like vibrant colors.
I want to spend my time finding people who have a passion for graphite art so I can showcase my work to them.
Let me give you an example.
If your target audience is people who have a passion for nautical decor, you will not want to target people who love winter sports.
You will be wasting your time.
Instead, focus on your niche. Those are the people you will be able to convert into buyers.
Online Marketing Strategies
Below are 7 strategies you can start working on today to help you increase the traffic of your website.
#1 PPC ads - Of course, not all PPC ad campaigns generate targeted traffic.
You have to study your prospects and design keyword-specific ads that send traffic to a web page related to the ad.
For a website about buying paintings, you do not want to have ads for art. That is too broad. You want to target your niche. If your niche is still life oil paintings, you will want to advertise still life oil paintings. If your keywords are too broad in your ad, you will be throwing your money away.
Research the best PPC strategies before you invest in PPC.
#2 Classified advertisements - Use the same advice and strategy as with PPC ads above.
#3 A squeeze page - opt-in list and targeted email messages.
A squeeze page is essentially a way to capture the email addresses of people who are interested in receiving your information. True, they may be after your giveaway, but that's okay - they're still a qualified prospect.
Once you have their email address, you can begin sending them informative, entertaining and slightly promotional messages, all of which are designed to send them directly to your website – targeted website traffic.
An email list is one of the most beneficial lists you will have to build your business.
OptinMonster is a great opt-in plugin for WordPress.
#4 Article Marketing - Article marketing is one of the most effective ways to generate targeted website traffic. When you publish quality content, and it gets published online on article directories and republished on other websites, you're reaching a wider audience. The link(s) in your article and your bio box can all send targeted traffic right back to your website. The more articles you publish, the more targeted traffic you generate.
#5 Blog and guest blogging - Use the same advice and strategy as with article marketing above.
#6 Social Networking - Social networking can send tons of traffic to your art website simply because people are curious about you and your art. However, if you're strategic about your social networking strategy, you will occasionally include links to your website with attention-grabbing posts or headlines. The result: targeted traffic. Be careful not to just post selling ads on social media. That could give you a negative outcome.
7 REASONS TO START YOUR FACEBOOK ARTIST PAGE
10 REASONS TO HAVE YOUR ART BUSINESS ON TWITTER
#7 Comment on blogs and forums - On most forums and blogs when you participate and comment you can post a link to your website in your signature. This does generate curious folks who just want to know "who said that?!" However, when you participate in forums and blogs that are relevant to your website and industry niche, you're sending targeted traffic to your site.
Get Traffic To Your Website Free
The strategies above are common practices by businesses large and small.
However, the most successful businesses online take advantage of a strategy that is free and that is blogging.
They write content that helps their audience solve a problem which in turn drives a tremendous amount of traffic to their site.
Learning how to drive massive traffic to your website is easy, the hard part is executing the strategy on a consistent schedule.
For tips on how to make the most of your time blogging visit Best Art Blog Traffic Tips. There are over 30 valuable articles I have written to will help you to build a successful art blog.
How To Get Traffic To Your Website Fast
I have been selling art online before Facebook even existed.
There is one important thing that I have learned over the years and that is that there is no secret formula that drives traffic to websites.
If anyone is trying to sell you that it is easy to drive traffic to your website, they are lying.
Like I have said before, building an online following takes a lot of hard work and dedication.
If you are willing to put in the work you too will be very successful.
Conclusion
At first, you will have a difficult time generating traffic because your sites will not be ranked in the search engines.
To speed up the process, you might want to consider purchasing ads and spending a lot of time promoting your art on social media sites.
The longer you have your artist blog and art website up, the easier it will be to generate traffic.
In time, Google, Bing, and other search engines will start to see you as an authority in your niche and will rank you higher in the search.
Always remember that there is no instant website traffic magic pill.
It takes hard work and patience. Everything you do today will help you sell more art in the future.
Check website ranking regularly with Google Analytics and continue to adjust your strategy until it is producing the results you are hoping for.
Popular Online Craft Marketing Classes
Are you ready to take your art business to the next level?
Investing in marketing courses and tutorials will maximize your profit and speed up the growth of your business.
Below are some of the most popular art marketing courses that will grow your online art business:
Most Popular – How to Make a Living Selling What You Make by Megan Auman
Most Popular – Build a Successful Creative Blog by April Bowles-Olin
How to Build a Business While Learning Your Craft by Megan Auman
Pinterest Marketing for Makers & Designers by Megan Auman
Did you enjoy this article? Don't forget to sign up for my free weekly newsletter.
You can also join me on:
Learn how to start, grow and monetize your online art business.
Art Business Planners