Last Updated on
You work hard on creating your artwork. You work hard on building a brand that will separate yourself from all of the other artists online. You are working hard on your content and social media marketing strategy. But are you becoming frustrated with the lack of traffic your artist website is receiving? In this post, you will discover 7 mistakes that hurt your art blog and how you can fix them.
7 Mistakes That Might Be Hurting Your Art Blog
Disclaimer: Please note that some of the links on this post are affiliate links and will be clearly marked as so. I will earn a small commission when you purchase a product or service from an affiliate link at no extra cost to you which helps with the costs of operating Nevue Fine Art Marketing. I will only recommend products I have used, found helpful to my business and are companies I trust.
It is easy to understand that if your artist website is not receiving traffic, you will not land any sales.
If you are planning on selling your art online you need to have people visit your artist website.
But how do you get people to visit your site?
Ramona Sukhraj shared her thoughts about how blogging benefits businesses.
Ramona went on to say:
"You'll notice some trends are changing, but there are several things that remain the same. For example:
Business blogging is steadily on the rise

B2B companies with a blog receive more leads than those that don't

A B2B blog has tremendous SEO benefits and organic search attracts high-quality leads

A company blog has more long-term ROI than traditional marketing efforts"
There is no secret that it will become difficult for you to reach your following on Facebook in the upcoming months.
Mark Zuckerberg made it clear in a blog post that there will be major changes in 2018.
You can read more by visiting How Facebook's New Goals Affect Artists.
Expect to see similar algorithm changes from most of the large social media platforms in the near future.
Ramona also shared some eye open statistics about blogging that you will want to become familiar with.
Here are just a few statistics from her post:
You can read more by visiting 28 Little – Known Blogging Statistics to Help Shape Your Strategy in 2018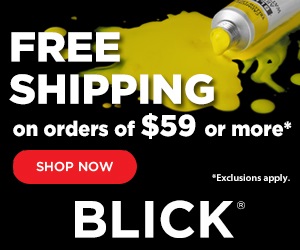 It is easy to see that a content marketing strategy (blogging) will help you to grow your art business for the long-term.
If you are happy with a few post likes and social media shares then yes focus on social media. But if your goal is to sell your art online, you will want to develop a content marketing strategy.
Avoid These 7 Mistakes That Hurt Your Art Blog
Below are 7 common mistakes new artist bloggers do that prevent them from growing their audience quicker. The tips outlined below will show you how to run a successful art blog.
BLOG IMAGE
Images on your blog help your readers to identify what your content is about.
The images break up the text and make it easier to read.
Another benefit is Pinterest pins. Besides Google, my artist blog receives most of its traffic from Pinterest. In fact, I receive more traffic from Pinterest than all of the other social media sites combined.
You can use images of your artwork, other images that relate to the content you are writing about or create text overlay images.
37% of marketers said visual marketing was the most important form of content for their business, second only to blogging (38%). (Source)
I use Photoshop to edit my images.
There is a learning curve with Photoshop but once you become familiar with the software you notice it will take no time at all to create professional images.
Photoshop 101 Classes at CreativeLive (affiliate link) makes learning Photoshop a breeze.
Pin It Button
Like I have said earlier, Pinterest is where I receive the majority of my traffic from.
In the beginning, I didn't focus on Pinterest and the growth of my blog was slow. Traffic was steadily climbing but the overall growth was slow.
I generated over 300% more traffic from the first month when I started a Pinterest Business account and added the Social Warfare plugin (affiliate link) to my site. The growth continues to climb rapidly.
Make it easy for people to pin your content on their Pinterest boards with plugins like Social Warfare. (affiliate link)
Read More Link
A "Read More" link provides snippets of your post. This allows readers to easily find the content they are interested in on your artist blog.
I have visited many blogs that do not have the "Read More" link and I have to scroll through entire posts before I can find other content.
This becomes frustrating when you are in a hurry to find something.
Make it a pleasant experience for your readers and include snippets of your posts with a "Read More" link.
Promoting Blog Posts
Just like your artwork. People will not know your blog posts exist in the beginning if you do not promote them.
You are spending time writing content that will attract your target audience, take a few minutes and post them on your social media accounts and send it to your email list.
This will jump-start your page views.
In time your posts will start to receive organic traffic from Google but until them, share your posts with everyone.
Keep Your Promise
The title of your blog will be the key factor if someone clicks on the link to read more or just scroll past it.
Catchy titles are important for your CTR (click-through rate) but more important than that is keeping your promise.
Respect your audience by delivering content that supports the title.
Writing valuable content that supports the title will help you to build a loyal following. Google will take notice of this and start to see you as an authority in your niche.
Valuable Content
You will hear me say, "Write valuable and high-quality content" over and over.
What does this mean?
Your objective is to provide value to the reader by solving a problem they might have.
For example, if you sell paintings, a buyer might want to know how to care for art they have purchased.
Writing an in-depth post on how to take care of a painting will solve the buyer's problem and will have you seen as an expert in your field.
The reader will continue to go to your site for valuable information, see the new art you are creating and possibly make a purchase or share your work with their friends and family.
Easy To Navigate
The last mistake many bloggers make is that their site is not easy to navigate.
There is no structure of flow to the site and trying to find content is near to impossible.
If you want to sell your art online, you need to focus on creating a site that your readers will want to continue to visit.
StudioPress Themes for WordPress (affiliate link) makes it easy to build a professional looking website that will be easy to navigate.
Conclusion:
Your artist blog will be the fuel that drives traffic to your art listings.
To build your following quicker avoid these 7 mistakes that hurt your art blog.
7 mistakes that hurt your art blog overview:
Blog Image
Pin It Button
Read More Link
Promoting Blog Posts
Keep Your Promise
Valuable Content
Easy to Navigate
You might also be interested in:
28 Day Blogging Challenge for Visual Artists
Are you ready to start building an online presence?
Download your copy today, or Purchase on Amazon.
The Productive Artist How to Live Your Dreams The right mindset and time management skills are essential for any business. These topics are often not talked about but are key elements for your success. You will learn how to have a winning mindset and time management skills necessary for operating a successful art business. Available at Amazon or Download today.
Did you enjoy this article? Don't forget to sign up for my free weekly newsletter.
You can also join me on:
Learn how to start, grow and monetize your online art business.
The Complete Blogger Template Toolkit 
OVER 450+ Templates You Need to Quickly Create Stunning, Jump-Off-The-Screen Image to Grow Your Blog-- Without Having to Learn Design!