Last Updated on
Are you ready to start selling your paintings online but don't know where to start? If you are new to selling your artwork online you might feel a bit overwhelmed on what the best methods to sell your work are. Or maybe you have been trying to sell your art and you are struggling to land a sale. There is a lot that goes into selling products online and I am going to highlight some strategies that will start moving you in the right direction. In this post, I will share with you 7 essential tips on how to sell paintings online.
7 Essential Tips On How To Sell Paintings Online
Disclaimer: Please note that some of the links on this post are affiliate links. I will earn a small commission when you purchase a product or service from an affiliate link at no extra cost to you which helps with the costs of operating Nevue Fine Art Marketing. I will only recommend products I have used, found helpful to my art business and are companies I trust. CLICK HERE to learn more.
Selling paintings online is more challenging than most artists think.
If you are a well-known artist, someone could type in your name into the search engines and your website and social media sites would pop up in search results. The person would click on to your website and browse through your online art gallery.
When you are just starting out people interested in your art style will have a difficult time finding you because your site will not be ranked in the search engines. In the early stages of your business, you need to focus on building brand awareness and growing your following.
Building your online presence takes time, dedication, demanding work, and patience. The good news is you will get what you put into it. If you work hard you can make a strong online presence.
You might get lucky sometimes to have some people stumble upon your site because they happened to match a few keywords on your site. This can happen but it is infrequent in the beginning.
In order for you to sell fine art online, you need to find a way to drive your target audience to your artist website.
The good news is there are ways to build your online business so your site will attract your target audience, but more on that later.
Related Post:
How To Sell Your Art Online By Knowing Who Your Audience Is
How Selling Paintings Online Has Changed Over the Past 17 Years
Selling art online has drastically changed over a brief period. I can still remember listing my first painting on eBay as if it were yesterday.
At that time, I didn't know how to take pictures of graphite drawings so I could upload them on eBay and sell them.
I tried different cameras, different lighting, and different angles but nothing I did could capture the soft value changes of my drawings.
At that point, I decided to sell paintings on eBay. It was easier for me to capture a good image of a painting than it was to take a picture of a graphite drawing.
When I started selling on eBay, I didn't know anything. I had to learn how to upload images, create auctions, write descriptions, learn about keywords and everything else that related to selling on eBay.
I did very well with eBay in a relatively brief period. I am not saying it was easy. I spent many hours learning and trying different ideas to build my online art business. But I got to a point when I decided to have a website built for my paintings.
Back in those days, it was more difficult to build a website. Unless you knew code (I didn't) you would have to have someone build the website for you.
My first website for my custom hand painted signs cost me over $4,000.00. It was a large investment but my business was growing rapidly and I needed to go to the next level.
Today you can build a professional website yourself in minutes with WordPress. You can have a professional artist website for the price of about a cup of coffee a day. (Things have come a long way.) To view all the tools, I use for this website visit Art Marketing Resource.
When I first launched the site, I decided to keep selling on eBay to generate income while I was learning how to market my new website.
There was not a lot of information about "how to sell your art" in those days. In fact, most of the information I would stumble upon was quite confusing.
One way I could generate traffic to my new site was by offering a discount for the next purchase from my new artist website. Every package I sold from eBay had a coupon.
Those coupons drove most of the traffic in the beginning. During that time, I learned about SEO, keywords and the importance of writing better descriptions.
While I was revising all the posts I had listed, I learned about social media and blogging.
Social media was so much different from it is today. I started on MySpace. Once again, I had no idea what I was doing. I was literally throwing buckets of spaghetti against the wall hoping something would stick.
Articles about how to market on MySpace didn't exist. I was taking my brick and mortar business knowledge and trying to incorporate some of those tactics with selling products on the internet.
I knew that I had to market my paintings online to build brand awareness, but the tools available back then were limited. I tried multiple networks and every new platform that would become available.
There was one site (I wish I could remember the name of it) that was for people who would share products that were on their wish list. They would be able to save the products, rate them and share them.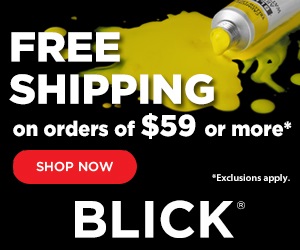 I don't believe the site exists anymore but it did generate some traffic to my website.
Within a blink of an eye, other social media sites started to be born such as Twitter and Facebook. I remember saying "How can they compete with MySpace?" Obviously, they challenged MySpace and they won. (Times have changed.)
Fast forwarding to today, there are tools available for artists of all styles to sell original art online.
Graphite artists can scan their art and upload the images to their website. Cameras are more reasonably priced for the painters and crafters.
Selling prints has never been easier and anyone can build a professional website that can collect money. (Times have changed.)
Before social media, eBay and owning a website was the only way for an artist to be successful in selling art online. Even with those tools, it was difficult to build the trust of the buyers. Shopping online was new and people didn't feel secure providing their credit card information. Thanks to PayPal, people started to feel more secure purchasing items online.
Today more people are shopping online than ever. Touching a product before making a purchase is now in the past. All you need is a smartphone and an internet connection and you can purchase anything from around the world. (Times have changed.)
Social media has also changed the way artists can sell their art. Artists can now use apps on social media sites to sell artwork directly on a social media platform.
Times have changed and they will continue to change during your career.
How To Protect Your Business
The best way to protect your business is by owning your business. What I mean by this is owning the site you are building your business on.
If you are just starting to sell art online, you might want to consider selling your art on sites like Etsy or other third-party sites that are available.
While you are starting to learn how to market and promote your art, you should consider building your own website.
You want to build a business on land you own, not rented land. In other words, you want to be able to have total control of your site. You do not want to have someone else tell you what you can or cannot do.
Websites are easy to build using WordPress. You can see all the tools I use at Art Marketing Resource.
7 Essential Tips On How To Sell Paintings Online
Below are some basic strategies you will want to focus on so you can build a solid foundation for your art business.
Personalize Your Website
Learning how to sell fine art starts with having a platform to showcase your artwork. I recommend building a WordPress website because it will be easy for you to brand and modify the site while your business grows.
Before you start designing your website you will want to develop a blueprint of how you would like your site to look. Keep in mind the main purpose of your site is to showcase your art and you as an artist.
Do not show your favorite images of your pets or talk about your favorite frozen cocktail. You want to be personable as an artist not what you do after work hours.
Know what categories you would like to have on your website site to make it an enjoyable experience for your audience.
Decide on the colors you would like to use. The colors should enhance your art not be distracting.
Take some time to research other artist's galleries and websites. Find things that you like and things that you do not like.
Researching your competition will make it easier for you to decide how you would like to have your site look.
Now that you have an idea of what your site will look like you will need to find a theme that will complement your brand.
There are literally thousands of themes that are available for WordPress.
You will have the option to use free themes or purchase premium themes.
If you are building a website for your art business you will want to strongly consider using a premium theme.
I have tried many free and paid themes and will now only suggest using StudioPress.com Genesis Themes.
I am using Executive Pro for this site. To see a list of all the tools I use for this site visit Art Marketing Resource.
Selling art online with images is entirely different from selling art from a gallery or your art studio.
You are basically building an online art gallery around your art. Create a warm, pleasing environment your audience will enjoy so they will want to come back and visit you on a regular basis.
Artist Blog
Search engines cannot find websites that have little or no text. If you are like many artists who do not like to blog, I strongly suggest you find a way to motivate yourself to write. That is if you would like your art to be found in search engines.
Let's look at it this way. If you were fishing do you think you would have a better chance catching fish with one hook, of 500 hooks loaded with tasty fish bait?
Of course, you would have a better chance with 500 hooks. That is 500 times more likely a fish will notice the fish bait.
The same is true with search engines. The only difference is you will be using text instead of fish bait.
Many artists come to me and ask, "Is it ok if I only post images or videos?"
Images and videos are an important part of your online marketing strategy, but Google does not understand images or videos. Google's language is text. If you want Google to rank your site, you will need to communicate to Google using Google's language.
I know blogging is difficult, but I do have to tell you your efforts will be rewarded.
Seeing thousands of people visit your site because of a post you wrote is a good feeling.
I struggled with writing but I knew if I wanted to compete online I needed to write and build a successful blog.
I wrote everything I have learned over the years in an eBook to help speed up the learning process for you.
If you struggle writing blogs or you are just starting your art blog you might want to consider reading my eBook. 28 Day Blogging Challenge for Visual Artists
Social Media
Social media has changed drastically from when I started selling art on eBay over 15 years ago.
Not too long ago businesses of all sizes took advantage of social media platforms. Any business could reach a large audience for free.
It didn't take long for marketers and businesses to oversaturate the news feeds with advertisements.
The amount of content that was being uploaded every day is unimaginable. Something had to change or people would start to become frustrated seeing only posts from businesses they followed.
Just like Google's algorithm, social media had to develop an algorithm to filter the content being published.
The objective for Google and social media is to provide the best content for its audience. They want their audience to have an enjoyable experience. After all, they make more money the longer people are on their platform.
The new algorithm for Facebook, for example, is making it more and more difficult for businesses to reach their followers. Posts from a Business Page will be shared to about 2% of the following. For example, if you have 1,000 people following your Page, your post will be delivered to about 20 people. This number can increase depending on the engagement of the post.
These numbers are alarming but do not get discouraged. Social media still plays an important part of a digital marketing plan and can produce momentous results. You will just have to market differently than you did five or ten years ago.
Here are a couple of quick tips to help you get the most from your social media marketing plan.
Keep up-to-date with social media changes.
Build relations with social media.
Drive traffic to your site by including a link on every post.
Post on a consistent schedule.
Only publish quality content.
Focus On Your A Descriptions
Writing great descriptions will not only help you to land a sale, but it will also help Google to understand what your site is about.
Your description should be easy to read but should also be optimized for search engines. Enrich your text with keywords so your target audience can find you.
The description should explain exactly what the buyer will receive when they open their package. Besides the obvious, size and the medium you use, you should also share the story behind your painting or drawing.
You want a potential buyer to feel connected to your art and you as an artist. This can be done by writing a great description for each piece of art you have listed for sale.
Related Post:
How to Write Great Art Descriptions That Sell.
Grow Your Email List
Your email list is the only thing you will have that can guarantee you to reach your audience. Social media is not a guarantee. Search engines are not a guarantee. Your email list is a way for you to communicate with people who love your art.
Let everyone know that you send out a newsletter and explain what they can expect in the newsletter.
Make it easy for people to sign up for your newsletter by placing several opt-in forms on your art blog and art website.
Related Posts:
These posts above will go over everything you will need to know about starting and growing an email list.
Join Forces
There is power in numbers. Start reaching out to other artists and build relations with them.
Work together and help each other grow. You will know things that will help your new artist friends and they will be able to provide you with helpful information.
Support your fellow artists by sharing their current blog posts, social media posts, and new artwork. They will be more than willing to help share your content as well. By helping each other, you can both grow your audience.
Don't be afraid of artists stealing your competition. Every artist is unique and will attract a specific audience.
Never Give Up
The last tip that I would like to talk about is, in my opinion, the most important tip I can share with you.
People fail because they give up to early. Everything else I talk about will change. Social media marketing will change. Content marketing will change. Digital marketing will change. Video marketing will change. The only thing that you have control of and should never change is believing in yourself.
If it took you an extra year or two to reach your goals would you be disappointed?
You shouldn't. The only time you might feel disappointed is if you gave up too soon.
There is no set time of when you should or will reach your goals. The important thing is to live and work for them every day. Every day that you strive to do better will bring you one step closer to your goals.
You can achieve everything within reason. If you are a 5-foot 90-year-old man, you might not make it as a professional basketball player.
The good news is you are an artist. You are selling your visual story to people who are attracted to your style. They are out there, you just need to find them.
If you struggle with setting goals or sticking with them you might enjoy my eBook The Productive Artist – How to Live Your Dreams
Popular Art Marketing Courses
Are you ready to take your art business to the next level?
Investing in marketing courses and tutorials will maximize your profit and speed up the growth of your business.
Below are some of the most popular art marketing courses that will grow your online art business:
Most Popular – How to Make a Living Selling What You Make by Megan Auman
Most Popular – Build a Successful Creative Blog by April Bowles-Olin
How to Build a Business While Learning Your Craft by Megan Auman
Pinterest Marketing for Makers & Designers by Megan Auman
Conclusion:
Everyone that has internet access has the opportunity to sell paintings online. You just have to take the time to learn how to sell paintings online.
In the beginning, the process will seem overwhelming and you will feel like you are getting nowhere.
Always remember that everything you do is bringing you one step closer to your dreams. You might not see instant results but in time your efforts will pay off.
Start by focusing on the basic:
You might also be interested in:
28 Day Blogging Challenge for Visual Artists
Are you ready to start building an online presence?
Available on Amazon or Download your copy today.
The Productive Artist How to Live Your Dreams
The right mindset and time management skills are essential for any business. These topics are often not talked about but are key elements for your success. You will learn how to have a winning mindset and time management skills necessary for operating a successful art business.
Available at Amazon or Download your copy today.
Get More Done in Less Time The Part-time Artist
Proven strategies that will help you to get more work done in less time so you can sell more art and earn more money.
Available at Amazon or Download your copy today.
Did you enjoy this article? Don't forget to sign up for my free weekly newsletter.
You can also join me on:
Learn how to start, grow and monetize your online art business.
Now that you know how to build a solid foundation for your online art business it is time to take action and learn how to market artwork.
The Complete Blogger Template Toolkit 
OVER 450+ Templates You Need to Quickly Create Stunning, Jump-Off-The-Screen Image to Grow Your Blog-- Without Having to Learn Design!