Last Updated on
Online shopping is the new norm. What could be better news for a visual artist? However, there are always two sides of the coin. With more people shopping online there is more competition. Developing effective social media marketing strategies is important if you want to continue to reach your audience.
7 Effective Social Media Marketing Strategies for Visual Artists
All the benefits of social media marketing make investing your time designing and strategizing a plan valuable. Who wouldn't like to have more visitors to their site or more emails saying, "You've got a sale!"?
As the numbers of online sales continue to increase, more competition will join the playing field. You need to stay ahead of the curve if you would like to survive. Continue to build your online presence and take advantage of every tool that is available. Social media is a tool that you will want to use regularly.
A UPS Study was released on June 8, 2016, showing that the avid online shopper is leading a retail revolution.
The study showed for the first time in the study's five-year history of more than 50 percent of all purchases made by respondents are made online, up from 48 percent in 2015.
It makes sense that shopping online would become the norm. Purchasing merchandise online not only saves time, but it's also convenient, easy to search for the best prices, open 24/7, and you can buy from the comfort of your home.
Teresa Finley, Chief Officer at UPS, brought up an excellent point:
"This year's UPS study revealed that 45 percent of online shoppers love the thrill of hunting for and finding great deals and that physical stores continue to play a major role in that experience. The challenge is how to engage best with shoppers to fulfill their desires."
Who doesn't love to save money? How many times have you been excited about a great deal that you have found either online or in a physical store? The act of saving money is exhilarating and provokes conversation.
I was watching a Sunday football game with the family the other day, and I would say that a good fifty percent of the conversation was talking about great buys at supermarkets, online shopping and the best deals on automobiles. The other half was talking about how great our team is. The point is that we all like to save money.
Now that it is so easy for people to bargain shop and the internet is becoming overpopulated, the question is "How will you be able to continue to grow your art business while making a profit?"
There is hope. UPS also found:
"Social media's influence on purchasing decisions is up nine points (to 34%) in the last year with nearly a quarter of respondents (23%) having made purchases through social media sites."
Some people think the only way to reach their audience on social media is by buying ads or boosting their posts. The best way for you to build your art business is by learning how to grow your organic reach with your social media sites.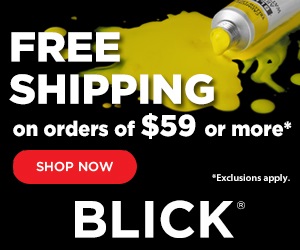 Here are some simple tactics that you can start right away that will cost you nothing but your time.
Social Media Marketing Strategies
Create Great Content
Curate Great Content
Share Great Content
Create Micro-content
Blog Posts
Create Engaging Content
Engage with Your Audience
Create Great Content
How many times have you heard, "You have to create great content to build your online audience?"
What does that mean?
What is great content?
How do you learn how to create great content?
Many articles will tell you that creating great content will drive tons of traffic to your site. However, very few articles explain what great content is.
I am going to tell you the secret.
Content is only good when the reader enjoys what they are reading. It is that simple. When your audience feels that they have to share what you have posted, you succeeded in creating great quality content.
Your audience will be the judge.
How do you know what strikes your audience?
When your post receives likes, shares, and comments, you have provided quality content.
Writing content that your audience will be waiting for will take a lot of time and effort.
To start, you will want to become a great listener. Read all the comments and observe what they like and share. That will give you all the information that you need, and it is free. This is such a simple tactic that so many people are not doing.
Most people post what they want to post and lose perspective for what the post is actually for, the audience's enjoyment, not theirs.
Curate Great Content
Writing fresh content takes time. You would probably rather spend your time in the studio than on your computer. The drawback is if you do not grow your following you will not be able to afford to spend time in the studio.
Curating content is a tactic that is used by businesses and professional bloggers to help build their audience.
All you have to do is find content that is already popular and includes your views.
For example, if you find a video that has a ton of views and thumbs up on YouTube that supports your brand, upload it to your social media sites with a few words on how it will help them.
Always give credit and provide a link back to the author and the article.
Curating content provides value to your followers and does not take a lot of time to create.
Share Great Content
Another great way for you to provide a ton of value to your fans is by sharing content you find that will be valuable to them. It will only take a few minutes a week to gather some great material that you can pass along.
You can even save time by scheduling posts.
You will soon find that you are never scrambling around trying to find content to share.
Some artists and business do not feel comfortable sharing other people's content. The best way for you to build trust with your audience is by providing them with content that helps them and what interests them.
It does not matter who wrote the article.
The only thing that matters is that you provide content that will benefit your reader.
Create Micro-Content
People are bombarded with a tremendous amount of content every day. I shared how much content the average person is consuming in a day in the article I wrote: "What is Your Target AudienceSearching For?". If you have a few seconds, take a look at some of the statistics but be prepared to have your mouth hit the floor.
After you have finished reading some of the statistics, you will realize that more is not always better.
You might get confused with all of the hype on the perfect length for blog posts and higher search engine rankings.
Instead of writing for a particular word count, write for your reader.
Everyone has busy lives. There will be times that micro-content will be what your audience needs. Provide both in-depth contents for when your audience has more time to absorb what you have to say and offer quick and easy to consume material for when they are on the run.
You could record short 30-60 second videos of you finishing a project or DIY projects that will please everyone. Be creative and see how other people are providing micro-content that goes viral.
Blog Posts
You would be surprised at how many people do not consider blogging a social media platform.
Brian Clark wrote a great post about this subject in copyblogger.
After providing a Wikipedia definition for social media he went on to say:
"In the "modern" social media sense, blogs came way before social networking exploded with Facebook and Twitter. Blogs pioneered social media well before MySpace and Friendster came and went."
Your blog will allow you to tell your story in more depth. Your audience will be able to get to know you as an artist and a person.
The more you allow them to get to know about you the more they will trust you. Your paintings and drawings will then have a more personal meaning to them. You have gained a true art collector.
You should always include links to all your new blog posts you publish on all of the social sites you are using. Share your story with everyone.
Create Engaging Content
What is engaging content? It is content people will want to share and comment on. The more engagement a post receives, the more people the post will reach. You will be able to build brand awareness to hundreds or even thousands of people who do not already know about you. How nice would it be to have thousands of people hear your name?
There are many ways to create engaging content. The simplest way is to ask. If you ask someone a question, they feel obligated to answer. When someone comments on a post, the post lives longer in Facebook's news feeds. The longer you can keep your posts higher in the news feed the more organic reach you will receive.
Another way is to ask your audience to share your post. I do not recommend doing this all of the time. It can become annoying if every post has "PLEASE SHARE MY POST." Pick the most relevant posts to ask your audience to share, such as new art that you have just listed for sale.
Motivational and inspirational posts do well with engagement. Take a look at your Facebook news feed and take notice of how many shares an inspirational image receives. Incorporate that tactic into your plan.
Videos are on the rise. Take advantage of the organic reach you can receive from videos while it lasts. Milk it for everything that it is worth. Something new will pop up soon, then you will have to jump on that wagon.
Take some time and study what posts receive the most engagement. Try to figure a way to incorporate that tactic into your social media marketing plan.
Engage with Your Audience
Social media is a great way for you to build relations with your audience. It doesn't take a lot of time, and the benefits will be enormous. All you have to do is comment back on every comment that someone posts. This might be one of the easiest effective social media marketing strategies you will need to do during the day. If you have a smartphone, you will be notified when there is engagement on your social media posts. Throughout the day when you have a spare thirty seconds reply back to any comments.
People will start to notice that you take the time to respond to comments and will encourage people to engage more on your posts.
Learning
If you want to be successful with your social media marketing strategies, you need to continue to learn and adapt with all of the changes that will arise. Nothing stays the same, and you need to be willing to change with the times. What works today might not work tomorrow.
Conclusion:
Start now and take action on these 7 effective social media marketing strategies today. To get the best results to focus on one at a time and become the best at each strategy. Soon you will be watching your social media audience grow larger than you could have ever imagined.
Did you enjoy this article? Don't forget to sign up for my free weekly newsletter.
You can also join me on:
Learn how to start, grow and monetize your online art business.
The Complete Blogger Template Toolkit 
OVER 450+ Templates You Need to Quickly Create Stunning, Jump-Off-The-Screen Image to Grow Your Blog-- Without Having to Learn Design!