I have learned many years ago about the importance of having fresh ideas to write about. This is an area where many artists struggle. The end result is walking away from the computer. In this post, I am going to talk about 7 blog post ideas for artist blogs so you will never have to look at a blank screen again and you can start driving more traffic to your art website.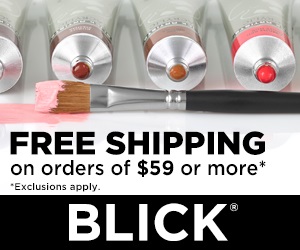 Disclaimer: This post may contain affiliate links. If you make a purchase by clicking on an affiliate link, Nevue Fine Art Marketing may earn an affiliate commission at no additional cost to you. Affiliate relationships include, but are not limited to, Bluehost, Tailwind, Skimlinks, SareASale and StudioPress. To learn more visit Affiliate Link Disclosure Policy
Blog Post Ideas For Artist Blogs
You already know the importance of blogging on a regular schedule.
You also know that your art blog will be the fuel that drives traffic to your art listings.
I have learned over the years that there will be times when I can write about a particular topic with ease.
Other times it will take a little more effort.
You have heard me say in the past, "Being more productive with your time will increase the value of your time."
When I first started blogging I would sit at the computer and decide what to write about.
I didn't have a game plan and I didn't know what topics would produce the most traffic.
The bottom line, I was wasting my time.
At that point, I decided to learn more about SEO and keywords.
Keysearch – Is one of my favorite SEO tools and is extremely affordable compared to other SEO tools.
Most SEO tools have a monthly fee of over $90.
Keysearch is under $20 per month, and it is straightforward to use.
They also send you emails on some best practices.
Keysearch Features:
In-depth keyword research
Keyword difficulty checker
SEO Competition Analysis
Rank tracking
Brainstorm Niche ideas
My keyword list provides me enough topics to be able to choose what will be the easiest for me to write at that given time and what will produce the most traffic.
Create a list of keywords that describe your artwork and art business.
Use Keysearch to help you discover what keywords will drive the most traffic to your site. You might never finish the list, but the list will help you to be more productive with your time.
To get you started I am going to share with you seven blog post ideas. Type these post ideas in Keysearch to find hundreds of topics that will drive traffic to your artist website.
7 Blog Post Ideas For Artist Blogs
Grab some paper and write any ideas that come to mind while you are reading this post.
Completed Artwork
This might sound like a no-brainer but many artists do not write blog posts about their new art.
Some reasons young artists might struggle to share their art online is that they are afraid of their art being stolen, insecure of their skills or do not know what to write about it.
Artists that have been selling art online for some time have learned the importance of sharing their art and have perfected how to write about it.
If you want to sell your art online you have to showcase your art. The first post might feel uncomfortable but the more you write posts about your new artwork the easier it will become.
Related Post: How to Protect Your Art Images on WordPress
Tips for Art Posts:
Tell the story behind the art.
Explain how you created the work.
Share what inspired you to create the piece you are showcasing.
You could even talk about the techniques you used.
Write about the medium you used to create the art.
Work In Progress Posts
Some art takes longer to complete than others. My artwork could take up to a month to finish.
The good news is that you don't have to wait until your art is completed to write about it.
I have done very well with "work in progress" posts.
This helps to fill in the space between completed pieces.
People love to see art come to life.
I know many artists that have their art sold before it is even completed. How great would that be? 
Writing about your progress is easy to do and will give your readers something to look forward to and keep returning to your art blog.
Techniques
All artists start at the same place.
We learn our skills by trial and error, learning from other artists, videos and books. As time goes by you start to learn your own unique style.
Sharing your unique artistic techniques will help you to build your audience, build relations with other artists, and have you be seen as an expert in your field.
Many artists have opened doors to new opportunities by sharing their art techniques.
Media Exposure
Writing about magazines you have been published on, featured blog posts, podcast shows, YouTube video interviews or any other type of exposure is powerful.
Potential buyers want to learn more about you and this is a great way to share your journey.
After you have written about the media coverage and its experience, share a link to the source.
Local Events
Do you write about local events?
If you don't you should. Writing blog posts will not only help you to sell more art online but it will also help you to generate more traffic to your local craft shows.
Provide information on upcoming events including times, dates and locations.
You can also write about past events to show people what they can expect if they are planning on attending a future show.
Struggles
I truly believe that we learn by our mistakes or from other people's mistakes. Or we hope we learn from them and do not repeat them in the future.
You can find it very beneficial to your art career if you share some of the obstacles you have encountered throughout your journey.
Writing about your mistakes or troubles does not make you weak. Instead, you will be seen as a regular human who overcomes every challenge. You will motivate and educate new artists.
Supply Reviews
Another topic you can write about is the supplies that you have used throughout the years.
Share your thoughts about them. Include the positives and negatives of the tools.
Share information about how to care for the supplies.
Artists are always looking for advice on how to better themselves. Providing information on the tools you use will help them to make better decisions.
Conclusion:
If you want to sell art online you will have to spend time promoting your fine art projects.
It is that simple.
Blogging will give you an upper-hand over the artists who do not have art blogs.
There is more to art marketing than just publishing an image on social media.
You will have to build your email list, do keyword research, write a lot of blog posts and make a presence on social media.
Popular Art Marketing And Sales Tutorials
Below are some of the most famous art marketing courses that will grow your online art business:
Most Popular – How to Make a Living Selling What You Make by Megan Auman
Most Popular – Build a Successful Creative Blog by April Bowles-Olin
How to Build a Business While Learning Your Craft by Megan Auman
Pinterest Marketing for Makers & Designers by Megan Auman
Did you enjoy this article? Don't forget to sign up for my free weekly newsletter.
You can also join me on:
Learn how to start, grow and monetize your online art business.
Art Business Planners