Last Updated on
You started an artist blog to increase your art sales.
But if no one visits your blog posts, how are you going to drive traffic to your artwork?
In this post, you will discover several tips that will help you to increase traffic to your artist blog.
By the end of this post, you will know…
Optimize Your Headlines By Maximizing The Emotional Value
Create Long-Form Content
Promote Your Content
Simple Tips To Increase Traffic To Your Artist Blog
You already know how important it is to master how to promote your art gallery online if you desiring to sell your artwork online.
You also know that your artist blog is an important tool used for marketing your art business online.
Increasing your art blog traffic should be one of your top priorities if your top objective is selling products online.
Neil Patel explains how his sites increased traffic by publishing more posts per week.
KISSmetrics only started to see big traffic increases when I started to publish 5 pieces of content a week.

We recently started testing posting 6 pieces of content a week instead of 5.

When we posted 5 a week, we had 422,885 visits a month.

When we tested posting 6 articles a week, our traffic went up to 501,573 visits.
You can read more by visiting How to Grow Your Blog to 100,000 Visits a Month Within 1.5 Years
The number of posts you publish will affect how much traffic your artist blog will receive. But what else can you do besides writing blog posts to increase your traffic?
Below are 3 simple suggestions that will help you to boost the traffic to your artist blog so you can start selling more artwork.
Optimize Your Headlines By Maximizing The Emotional Value
What is a headline?
A headline is a title that describes what the blog post is about.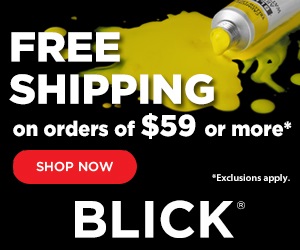 Your headline will be the first thing a potential reader will see when they are doing a search on Google or Pinterest.
If your headline does not catch a person's attention they will continue scrolling until they find something that does.
The headline also tells search engines what your post is about so they can refer it to people searching for the topics you are writing about.
Garrett Moon, Founder at CoSchedule wrote a detailed post about what makes a headline more shearable.
This is what Garrett discovered about the emotional value of a headline:
Posts with a high number of shares frequently reached an EMV Score of 30 or 40, several points higher than posts with fewer shares.

What I found was that as the number of shares also increased, so did the EMV score of the headline. This means that headlines with a higher EMV Score are more likely to be shared more that posts with a lower EMV Score. Essentially, there is a direct link between the number of emotional words used in a headline and the likelihood it will be shared more than 1,000 times. This is a HUGE takeaway that we can all put to work on our posts right away.
You can read more by visiting What We Learned Analyzing 1 Million Blog Headlines
Creating a headline that will inspire a person to stop what they are doing and read your post is just like creating art.
It is important to take some time to craft the perfect headline for your blog posts.
You can revise the headline after it has been published.
If you notice that there a large number of page impressions but a low CTR you might want to experiment with different headings.
To learn how to discover your art blog impressions and CTR visit Search Counsel Reports. (Source: Google)
Below are some of the best free headline analyzer tools I use to craft clickable headlines.
CoSchedule's Headline Analyzer
Emotional Marketing Value Headline Analyzer
ShareThrough Headline Analyzer
Create Long Form-Content
The length of your content (how many words in a post) could affect your PageRank.
PageRank (PR) is a calculation, famously invented by Google founders Larry Page and Sergey Brin, which evaluates the quality and quantity of links to a webpage to determine a relative score of that page's importance and authority on a 0 to 10 scale. (Source: Bruce Clay)
The higher your PageRank is for a post the higher your post will be in Google's search results.
Bottom line is that the higher you rank on the search results the more organic traffic you will receive.
Organic reach is the number of people who have clicked on your posts through unpaid distribution.
How can you increase your PageRank?
Writing long detailed posts has shown to rank higher in the search results.
The average content length for a web page that ranks in the top 10 results for any keyword on Google has at least 2,000 words. The higher up you go on the search listings page, the more content each web page has. (Source: Neil Patel)
Below are some examples of posts that I have written over two years ago that still receive thousands of views every month.
I have found that I get better results by writing a mixture of short form-content, medium form-content, and long-form content.
For example, a post that highlights a new painting will not have as many words as a post that describes how to frame a new painting.
Writing content that provides value to your readers and relates to your art business is how to get your art noticed online.
You will want to check your Google Analytics after you have had your blog live for a few months to discover what type of content is performing the best for you.
Related Post:
Promote Your Content
It takes a lot of work and time to build a following for your artist blog but once you start to see your art sales increase you will sit back saying it was all worth the effort you put into your blog.
The last tip I would like to talk about is promoting your blog posts.
It takes time for blog posts to rank on Google and other search engines so it is a good idea to give your new posts a push by promoting them on all of your social media accounts.
One common mistake I see many artists do is that they will write a great blog post and only share it once on their social media accounts. This mistake slows down the amount of traffic the post should be receiving.
Create a simple schedule for your social media accounts and stick to it. This will allow more of your followers to discover your new posts and if they like it they will share it with their friends.
Here is an example of my social media schedule:
When Post is Published – Once your post is published you should share it on all of your social media accounts.
Next-Day – Not all of your followers will see your first post so it is a good idea to share it again the next day. I share my post at a different time the following day to try to reach a different group of people.
One Week – Share the post again one week after it has been published to ignite the fire again.
One Month – You will be building your following on social media so it is a good idea to share your post one month after it was published to reach your newest members.
You can use this schedule for your social media calendar to start but I recommend that you review your analytics to see what is working best for you and adjust your schedule according to your unique audience.
Conclusion:
Your art gallery online will be the place where people can view and purchase your artwork.
Your artist blog is going to be the fuel that drives traffic to your artwork which will increase your sales.
If you want to sell original art online you will want to focus on different ways to drive more traffic to your artist blog.
The tips outlined above will help get you started.
3 Simple Tips To Increase Traffic To Your Artist Blog Overview:
Optimize Your Headlines By Maximizing The Emotional Value
Create Long-Form Content
Promote Your Content
Popular Art Marketing Online Video Courses:
Did you enjoy this article? Don't forget to sign up for my free weekly newsletter.
You can also join me on:
Learn how to start, grow and monetize your online art business.
The Complete Blogger Template Toolkit 
OVER 450+ Templates You Need to Quickly Create Stunning, Jump-Off-The-Screen Image to Grow Your Blog-- Without Having to Learn Design!