As an artist, you're always looking for new ways to sell your artwork. With social media platforms like Instagram, reaching a wider audience and selling art have never been easier. Instagram will have over 127,2 monthly active users in 2023, making it one of the world's most popular social media platforms. But with so many users, how can you stand out and sell your art successfully? This is where our five Instagram strategies come in.
In this article, we'll show you how to increase your engagement, build a following, and ultimately drive conversions for your art on Instagram. Are you ready to learn how to promote your art on Instagram? Let's dive in and discover the top 5 Instagram strategies to help you start selling art on Instagram.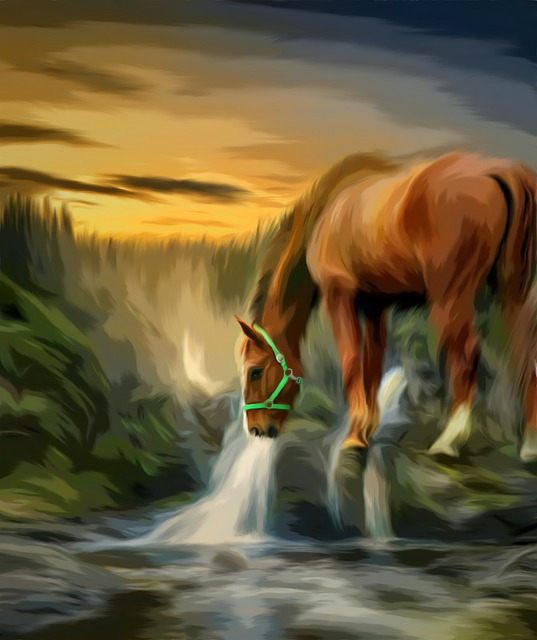 Disclaimer: This post may contain affiliate links. If you make a purchase by clicking on an affiliate link, Nevue Fine Art Marketing may earn an affiliate commission at no additional cost to you. Affiliate relationships include, but are not limited to, Bluehost, Tailwind, Skimlinks, SareASale and StudioPress. To learn more visit Affiliate Link Disclosure Policy
Use Hashtags To Gain Instagram Followers
One powerful way to gain followers on Instagram is by using hashtags. Using the right hashtags, you can attract new followers interested in your art and increase your visibility on the platform. Research popular hashtags in your niche and include them in your posts. Don't forget to mix in a few less popular hashtags, too, as they can help you stand out among the other independent artists selling art online.
Another great way to use hashtags is by creating your own branded hashtag. This can help you build a community around your art and encourage your followers to share their own content using your hashtag. As more people use your hashtag, it can spread your reach and increase your following.
But don't go overboard with hashtags. Instagram allows you to use up to 30 hashtags per post, but it's best to stick to around 10-15 relevant hashtags. Too many hashtags can make your post look spammy and turn off potential followers.
Now that you know how to use hashtags to gain followers, let's look at another Instagram strategy that can help you promote your art.
Using Instagram Stories to Get Your Art Noticed
In addition to using hashtags, Instagram Stories can be an effective tool to promote your art. Instagram Stories is a feature that allows users to post photos and videos that disappear after 24 hours.
Follow these tips to use Stories to help you to sell art on Instagram:
1. Show the process: Share glimpses of your creative process on Stories. This gives your followers an inside look into how you create your art and helps them connect with you.
2. Share promotions: Use Stories to promote any sales or promotions you have going on your business account. This creates a sense of urgency and encourages your followers to take action.
3. Use stickers and emojis: Instagram Stories allows users to add fun stickers and emojis to their posts. This can make your content more engaging and increase the chances of your followers sharing your posts with their own followers.
Using Instagram Stories, you can reach a wider audience and create a stronger connection with your followers in the art world, ultimately leading to more sales.
Engage with Your Followers
One of the most effective ways to boost your art sales on Instagram is to engage with your followers. Responding to comments, answering questions, and thanking them for their support goes a long way in building a loyal following. You can also take it a step further by asking for their opinions on your work or using Instagram polls to gather feedback.
Here are some tips for engagement:
1. Respond to comments: Always respond to comments on your posts. This shows your followers that you value their input and helps build community.
2. Ask questions: Ask your follower's questions in your captions or posts. This encourages engagement and can help you better understand your audience.
3. Use Instagram Live: Instagram Live is a feature that allows users to broadcast live videos to their followers. Use this feature to connect with your followers in real time and answer any questions they may have.
By engaging with your followers, you create a loyal following and increase the chances of them becoming customers.
Collaborate with Other Artists and Brands
Partnering with other Instagram artists or brands can be a powerful way to reach new potential customers and help you build a robust art career. Not only does it provide the opportunity to cross-promote your work, but it also allows you to tap into the existing following of your collaborators.
Whether it's a joint exhibition, a product collaboration, or a social media takeover, collaborating with others in your industry can help you get your work in front of more eyes. Just make sure to choose partners whose values align with yours and whose audience is likely to be genuinely interested in your work.,
What Is Tailwind
Tailwind is a social media marketing tool that can help you simplify and streamline your Instagram marketing efforts. It offers a range of features that make scheduling your posts easier, discovering new content, and analyzing your performance on the platform. By using Tailwind, you can save time and stay organized, ultimately leading to more sales and more tremendous success on Instagram.
One of the key benefits of Tailwind is its ability to schedule your posts ahead of time. This means you can create and plan your content and then let Tailwind automatically publish your posts at the best times for your audience. By doing this, you can ensure that more people see your content on your Instagram feed and that you don't have to constantly monitor your Instagram account to stay on top of your posting schedule.
To start scheduling your posts with Tailwind, connect your Instagram account to the platform and then use the intuitive scheduling tool to choose the dates and times you want your posts to go live. You can also use Tailwind's smart scheduling feature, which analyzes your account activity and recommends the best times to post based on when your audience is most active on the platform.
With Tailwind's scheduling tool, you can save time, stay organized, and ensure that the right people see your Instagram posts at the right time. And in the next section, we'll explore some additional features of Tailwind that can help you take your Instagram marketing to the next level.
Schedule Your Posts with Tailwind
To maximize the impact of your Instagram marketing efforts, it's essential to post regularly with high-quality content that resonates with your target audience consistently. However, manually posting on your Instagram page daily can be time-consuming and overwhelming, especially when managing other aspects of your business. That's where Tailwind comes in.
By scheduling your posts with Tailwind, you can plan your content in advance, ensuring that you always have a steady stream of engaging posts ready to go. This way, you can focus on other aspects of your business while maintaining a strong Instagram presence.
Tailwind's scheduling tool is easy to use and customizable. You can choose the specific dates and times when you want your posts to go live. Alternatively, you can use their smart scheduling feature to analyze your account activity and recommend the optimal times to post based on your audience's behavior.
In addition to scheduling, Tailwind offers a variety of other features that can take your Instagram marketing to the next level. In the next section, we'll explore some of the best strategies for using Tailwind to drive engagement and sales on Instagram.
Tailwind Best Strategies
Now that you understand how Tailwind's scheduling tool works let's dive into some of the best strategies for using the platform to drive engagement and sales on Instagram.
1. Utilize Hashtag Lists
Tailwind allows you to create and save hashtag lists to make posting to Instagram more efficient. Take advantage of this feature by creating lists of relevant and popular hashtags for your art niche. Not only will this save you time when posting, but it will also increase the visibility of your posts and help you reach a wider audience.
2. Collaborate with Other Artists
Tailwind's Tribes feature allows you to connect with other artists in your niche and share each other's content. By joining relevant tribes and sharing your own artwork, you can build relationships with other artists and reach their followers as well. This can help you grow your own following, increase engagement, and potentially lead to new sales opportunities.
3. Monitor Your Analytics
Tailwind provides in-depth analytics on your Instagram account, including engagement rates, follower growth, and post performance. Use these insights to track what works and what doesn't when promoting your art on Instagram. This can help you optimize your strategy and create more compelling content in the future.
4. Create a Posting Schedule
Consistency is key when it comes to building a following on Instagram. Use Tailwind to create a posting schedule that works for you and your audience. This will help you stay on track and regularly share new and engaging content.
5. Repost User-Generated Content
If your followers share photos of your artwork on Instagram, use Tailwind to repost their content to your feed easily. This can help increase engagement and showcase your artwork more authentically. Just be sure to give proper credit to the original poster.
Incorporating these Tailwind strategies into your Instagram marketing plan can help you drive engagement, increase visibility, and boost your art sales.
Instagrams Algorithm
Finally, it's essential to understand how Instagram's algorithm works and how it can affect your content. The platform prioritizes certain posts, such as those with high engagement rates and quality visuals. Additionally, Instagram rewards accounts that post consistently by making their content more visible to followers' feeds.
By understanding the algorithm and staying updated on any changes, you can optimize your content and ensure it reaches the people who want to see it. Tailwind's analytics feature is an excellent tool for monitoring your posts' performance and adjusting as needed.
By following these tips and utilizing Tailwind's features, you can take your Instagram marketing strategy to the next level and drive more engagement and sales.
Conclusion:
In conclusion, Instagram offers a unique opportunity for artists to showcase their work and reach a wider audience than ever before. By utilizing hashtags, Instagram Stories, engagement, collaborations, and Tailwind, artists can increase engagement, build a loyal following, and ultimately sell more artwork. To get the most out of your Instagram account, you must do hashtag research, write a professional Instagram bio, study Instagram insights, and engage with other emerging artists. Remember, a killer Instagram profile and account are essential, and by following these strategies, you can take your art business to the next level. So why wait? Start implementing these tactics today and watch your art thrive on Instagram.
Related Posts:
How To Get More Followers As An Artist On Instagram
How To Sell Art On Instagram Best Strategies
Instagram Marketing For Artists – Build A Following