Are you trying to build your following on Instagram? In this post, you will discover 5 Instagram features artists need to know about that will help you to build brand awareness.
5 Instagram Features Artists Need To Know About
Instagram has become a social media platform that has helped many artists build brand awareness.
Unlike Facebook and Twitter, Instagram is a visual social media site which is perfect for visual artists like you.
You now have a place where they can showcase your artwork to people around the world who are searching for beautiful art and images.
Just like every social media site, there are different features you will want to become aware of so you can develop an effective marketing strategy.
5 Instagram For Artists Features
Below are 5 Instagram features that will help you to grow your audience.
Follow from Search
If you are interested in increasing your following you are in luck.
The Follow from Search feature allows users to follow accounts straight from search.
You can increase the odds of being followed from search by having a clear name and descriptive headline that represents your art business.
Top Posts
Instagram's Top Post feature has been around for some time but it is worth mentioning because it is a great opportunity for you to build brand awareness.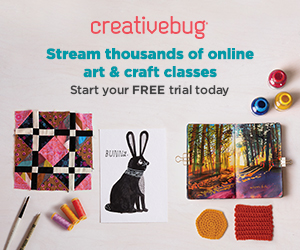 Painting Repeat Patterns by Hand: A Daily Practice by Cleo Papanikolas on Creativebug!
There is no way to know exactly what affects Instagram's algorithm by I have found that images that receive likes and comments within 10 minutes of being published have a better chance of being displayed in the Top Posts.
Having your Instagram posts showcased in the Top Posts help you to build your following and have your artwork seen by people around the world.
"See All" Suggested Users
The "See All" feature allows you to find other artists and influencers on Instagram.
Simply click "See All" and a new page will open showcasing accounts that are related to the one you began on.
Studying what other artists and influencers are doing on Instagram will help you to develop a more productive digital marketing strategy.
For example, you might want to consider uploading "art in Progress" posts if you find that other artists are benefiting from it.
Spend some time to learn what is working for other artists and see if the strategy will work for your goals.
Stories In The Explore Tab
This is a powerful feature if you are using Instagram Stories for your art marketing strategy.
Instagram features a variety of Instagram Stories on the explore page which gives you an opportunity to have your stories shown to a target market that is not even following you yet.
Instagram Live
Facebook and Periscope discovered that people are moving from static content to video content.
Live video has quickly taken over social media thanks to Periscope and Facebook.
Instagram took notice and has launched live streaming.
The only difference between Instagram's live video and the others is that Instagram is not offering a replay. Once the live video ends it is gone.
Conclusion:
There are many tools available for you to help you build a following and Instagram is on the top of the list.
Take some time every week to learn what is new with Instagram so you can continue to build your following.
5 Instagram features Artists Need to Know About Overview:
Follow from search
Top posts
"See All" Suggested Users
Stories in the Explore Tab
Instagram Live
You might also be interested in:
Disclaimer: This post may contain affiliate links. If you make a purchase by clicking on an affiliate link, Nevue Fine Art Marketing may earn an affiliate commission at no additional cost to you. Affiliate relationships include, but are not limited to, Bluehost, Tailwind, Skimlinks, SareASale and StudioPress. To learn more visit Affiliate Link Disclosure Policy
28 Day Blogging Challenge for Visual Artists
Are you ready to start building an online presence?
Available on Amazon or Download your copy today.
The Productive Artist How to Live Your Dreams
The right mindset and time management skills are essential for any business. These topics are often not talked about but are key elements for your success. You will learn how to have a winning mindset and time management skills necessary for operating a successful art business.
Available at Amazon or Download your copy today.
Get More Done in Less Time The Part-time Artist
Proven strategies that will help you to get more work done in less time so you can sell more art and earn more money.
Available at Amazon or Download your copy today.
Did you enjoy this article? Don't forget to sign up for my free weekly newsletter.
You can also join me on:
Learn how to start, grow and monetize your online art business.
Art Business Planners