Are you having a difficult time staying motivated being an artist? In this post, I want to share with you art websites and blogs that will help to keep your fire burning.
5 Art Websites and Blogs – Artists Must Know About
There are times throughout an artist's career that things become stagnant. It is important to find ways to keep yourself motivated and inspired. You need to create art in order to sell art and you should always strive to do your best.
I am a graphite artist and have had a passion for grayscale art for over forty years. But finding motivation, for me, comes from all forms of art. My inspiration comes from oil paintings, watercolors, pastels, graphite, colored pencil, and photography.
Here are 5 painting sites that help me stay motivated so I always look forward to going to the studio.
Disclaimer: This post may contain affiliate links. If you make a purchase by clicking on an affiliate link, Nevue Fine Art Marketing may earn an affiliate commission at no additional cost to you. Affiliate relationships include, but are not limited to, Bluehost, Tailwind, Skimlinks, SareASale and StudioPress. To learn more visit Affiliate Link Disclosure Policy
5 Art Websites and Blogs
Below are 5 sites I visit on a regular basis. They are not in any particular order.
Artist's Network is a great site for any artist to visit if they are interested in learning about different techniques.
They post about 8 times a week and are the home of The Artist's Magazine, Watercolor Artist, Pastel Journal, Drawing magazine, and more.
Whether you are looking for articles, forums, blogs, entering contests or like watching videos you can find it all at Artist's Network.
Artist Daily another blog that helps artists learn how to enhance their skills. You can learn techniques for watercolor painting, oils painting and drawing.
This is a great place where artists go to support one another as well as exchange advice.
You can find about 4 new posts a week.
This daily weblog is for illustrators, plein-air painters, sketchers, comic artists, animators, art students, and writers.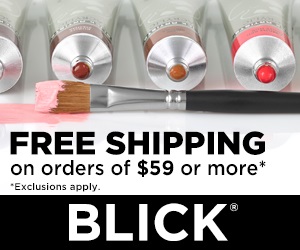 James Gurney created this great blog for artists interested in learning more about the Dinotopia books, studio tips as well as reports from museums and art schools.
You can visit this blog every day and find new content to read while you are enjoying a cup of coffee or tea.
Carol L. Douglas is a plein-air, landscape and figure painter. She teaches out of her Rockport studio and has taught in Maine, New Mexico and New York and has shown in galleries across the United States.
Carol posts 5 times a week and shares valuable information on her techniques and inspirational information about her daily life being an artist.
I am sure that you will find some helpful tips by visiting Carol's blog. Not only will you learn techniques that will help you to enhance your skills but she also teaches you how to be more organized so you can be more productive with your time.
Robert Joyner provides Acrylic painting tutorials for beginner through advanced artists. You will discover hundreds of step-by-step video tutorials designed to teach you how to develop your fundamentals & artistic style by Richmond artist Robert Joyner.
Richard's site is a site you will want to bookmark. He posts about once a week and every article is packed with valuable information that will help you to enhance your artistic skills.
How to Sell Your Art Online
The best way to learn how to sell art online is by studying artists that have had an online presence for some time.
You have heard me talk about the importance of blogging in the past.
I want you to study how many times they blog and what content they provide.
These five sites and artists motivate other artists and are successful because of their digital content marketing knowledge.
Let these 5 art websites and blogs help you to not only stay inspired and motivated but also learn from them on how to market your art online.
Take note of how often they post, what they talk about and how they interact with their audience.
See if there is anything that you could be doing better that will help you to build your following.
Conclusion:
Whether you are a part-time painter or a professional painter, you will need to find ways to keep yourself inspired and motivated.
I find inspiration by watching other artists succeed and grow as artists. I hope you enjoy these sites and blogs as much as I do.
What are some of your favorite blogs to visit? Let me know in the comment section below.
28 Day Blogging Challenge for Visual Artists
Are you ready to start building an online presence?
Available on Amazon or Download your copy today.
The Productive Artist How to Live Your Dreams
The right mindset and time management skills are essential for any business. These topics are often not talked about but are key elements for your success. You will learn how to have a winning mindset and time management skills necessary for operating a successful art business.
Available at Amazon or Download your copy today.
Get More Done in Less Time The Part-time Artist
Proven strategies that will help you to get more work done in less time so you can sell more art and earn more money.
Available at Amazon or Download your copy today.
Did you enjoy this article? Don't forget to sign up for my free weekly newsletter.
You can also join me on:
Learn how to start, grow and monetize your online art business.
Art Business Planners