Would you like to have more of your art blog posts shared on social media? I think that we can all say yes to that question. In this post, you will discover how you can have more of your art blog posts shared on social media networks and have your artwork seen by a larger audience.
4 Tips To Have Your Art Blog Posts Shared On Social Media
Disclaimer: Please note that some of the links on this post are affiliate links and will be clearly marked as so. I will earn a small commission when you purchase a product or service from an affiliate link at no extra cost to you which helps with the costs of operating Nevue Fine Art Marketing. I will only recommend products I have used, found helpful to my business and are companies I trust.
The reason you write content is to generate traffic to your artist blog and website.
The more traffic you generate, the more your sales will increase.
One way to have your posts seen by more people is to have it shared on social media networks.
People will share your posts on their social media newsfeeds only if they find the content share-worthy.
For this to occur you will have to share your new posts with your audience. You can get the ball rolling by sending newsletters to your email list and promote your new posts on your social media accounts like Facebook, Twitter Instagram, and Pinterest.
There are many blog tips for beginners available but many of them fail to explain that you have to promote your posts after you hit publish if you want people to read them and know they exist.
The last thing you will want is to have nobody read your posts after you have spent hours crafting perfect blog posts.
Writing is the first step, promoting what you have written is the second step.
Tips to Have Your Art Blog Posts Shared On Social Media
Have you noticed that there are several blogs that keep popping up on your social media newsfeeds or are always listed on the first page of Google's search?
There is a good reason for this.
The owners of successful blogs have worked hard to build an audience for their site by writing high-quality content as well as implementing SEO (Search Engine Optimization) strategies that help their site and posts top rank higher in the search results.
The best blogs you notice online are implementing the four tips outlined below every day.
Become familiar with each strategy and start executing them into your weekly art marketing plan.
It will take time for you to see results with these strategies but the sooner you start the faster you will see your traffic increase.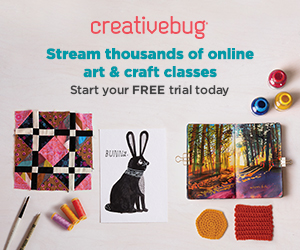 Painting Repeat Patterns by Hand: A Daily Practice by Cleo Papanikolas on Creativebug!
For tips on writing great content your readers will enjoy and SEO strategies that work visit:
Art Marketing Basics: Pillar Content Generates Traffic
How to Write Pillar Content and Why it is Important for Artists
WordPress SEO Basics Video Tutorial
Write Great Content
The most important thing that you can start with is to learn how to write great content that will interest your audience. If people do not find your content interesting or it does not solve a problem, they will not share it with their friends and family. Keep in mind that you are writing for your audience, not you. It is all about your audience. If you can connect your readers with your posts you win. If you can't they will search for other fine art blogs to read and will probably purchase their artwork.
Blog Length – There is much talk about how long posts should be for social sharing. I believe that word count does not judge great content. The quality of the content will outweigh the length of the post any day.
If you go to a restaurant, and they served you a plate of food that could feed four people but was nothing to brag about would you rush home to tell your friends about your experience?
If you went to a five-star restaurant that served you a smaller portion but was prepared perfectly, and had your taste buds singing, would you share that experience with your friends?
It is not the quantity that counts, it is the quality.
The same goes for the content that you write for your art blog.
Spend extra time to write the best material that you can.
The increase in your art sales will be well worth your time invested in writing content your collectors will love.
Ask yourself these questions before you hit publish:
What value does the content offer my readers?
How will the article benefit my reader?
How will the content change my reader's life?
Will my audience want to share this article?
For tips on how to write content your readers will enjoy visit How to Write Art Posts Your Readers Will Read.
Disclaimer: This post may contain affiliate links. If you make a purchase by clicking on an affiliate link, Nevue Fine Art Marketing may earn an affiliate commission at no additional cost to you. Affiliate relationships include, but are not limited to, Bluehost, Tailwind, Skimlinks, SareASale and StudioPress. To learn more visit Affiliate Link Disclosure Policy
Upload Images And Videos In Your Blog Posts
People love pictures and videos.
I am sure that you have already noticed that your Facebook's newsfeed is filled with pictures and videos.
Why? Because people love them. People share them. People engage with them.
I don't know about you but at the end of the day, I want to turn my brain off to relax. At that point, it takes less effort for me to gather information from videos or images.
Your audience might feel the same way.
In a study of over one million articles, BuzzSumo looked at how many blog posts with images were shared. Then they looked at how many images, per how many words, got the best results. What they found was articles with an image once every 75-100 words got double the amount of shares of articles with fewer images and a minimum of 30 more shares than articles with more. (Source: Buzzsumo)
Studies clearly show that if you add great images and or videos to your art blog posts, your posts will have a better chance of being shared.
Add great images to your posts is easy with PicMonkey or Canva.
PicMonkey and Canva are free online photo editing sites that will allow you to add text on top of your images.
People love to share uplifting, positive, motivating, and educational images.
Include these to your articles and start watching your social shares climb.
Try different designs to see what resonates best with your audience. Once you discover what works best start implementing that into your content strategy.
Share Your Articles
It might sound simple, but this is often overlooked. You need to start the ball rolling if you would like to see your articles shared on social media sites.
When you have posted an article share it on all of your social media accounts.
The more that you share your content, the more people will see and share it. Do not just share it once and forget about it. You will want to create a social media schedule for your articles to be posted.
Share your content at different times of the day. Keep in mind that you will reach a different audience at various points of the day.
Make Blog Posts Easy To Share
The last tip that I would like to go over is to make it easy for people to share your content. People will more likely share your content if it can be done with one click.
People are busy, and they will not spend a significant amount of time to share your content. Anything more than one click you will lose a share. If you make it easy for them, and they like your content, they will be more than happy to share your content with their friends.
There are many WordPress Plugins for social sharing if you have a WordPress Blog.
I use and recommend Social Warfare. (affiliate link)
Social Warfare has helped me to increase my blog traffic by over 300% and it continues to grow.
Top Selling Products Online
The top selling products online art not topping the charts because of their quality or prices.
The products have become popular because people are sharing their favorite products with all of their friends on social media.
This is true with the top selling products on eBay, Etsy or even Amazon.
Spend your energy on learning how to make a blog that everyone will want to share.
Conclusion:
Social sharing does not just happen. You need to put in some effort for you to see the results that you are after.
4 Tips to Have Your Art Blog Posts Shared on Social Media Overview:
Great content
Images
Videos
Promote
Make it easy to share
Start with these blog tips and start watching your shares grow.
What are your thoughts? Do you find it difficult having your art blog posts shared? I would love to hear your thoughts in the comment section below.
You might also be interested in:
Did you enjoy this article? Don't forget to sign up for my free weekly newsletter.
You can also join me on:
Learn how to start, grow and monetize your online art business.
Art Business Planners
28 Day Blogging Challenge for Visual Artists