Are you interested in selling art online or selling your art locally? In this post, I will share with you 4 reasons you should be considering starting an artist blog today.
Why You Should Have An Artist Blog
Selling your art is a business. If you would like to sell art online you will need to think like a business owner. In fact, you are the business owner.
It does not matter if you are looking to make extra spending money or create a career from your craft. It becomes a business once you start selling your art.
Art Business Basics
Here are some art business basics you will want to become familiar with:
You will need to think of the best paths to take in order for you to grow your art business.
You will want to think of cost-efficient solutions.
You will want to think of art marketing strategies.
You will want to think of time management strategies.
There are many areas that you will need to plan out to become successful and having an artist blog is one of them.
Fine art blogs, acrylic painting blogs, contemporary painting blogs and all other art related blogs are becoming more popular.
Why are these blogs popping up everywhere?
Because artists know that art blogs are the foundation of building brand awareness and an online presence.
4 Reasons Why You Should Have an Artist Blog
Are you ready to start selling your art online?
Keep reading to learn why a blogging strategy is important for your future.
You Own the Artist Blog
One of the main reasons to have a blog is that you will be the owner.
You will be able to make all of the decisions for the blog.
You will be able to brand the blog the way you envision it to be.
You will be in control of the content, the colors, and the layout.
Your blog will be a platform where you can sell and showcase your art.
You will be able to share the latest news about your artwork and your art business.
If you depend on social media sites to generate a sale you are doing it all wrong.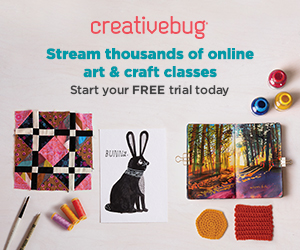 Painting Repeat Patterns by Hand: A Daily Practice by Cleo Papanikolas on Creativebug!
I am not saying that you should not be incorporating social media into your marketing strategy. What I am saying is that you need to do more than just post a few images of your artwork on Facebook if you wish to be successful selling art online.
Social Media Negatives:
Posts have a short lifespan. Most posts have a lifespan of twenty-four hours on social media platforms and you will be lucky if it is that long.
Posts are limited to the amount people it reaches depending on the algorithm of the particular social media network you are working on.
For example, posts from your Fan Page on Facebook will reach about 8 out of 100 fans (if you are lucky). You can pay for extra traffic, but you will need to decide if that is worth the money invested.
Social media sites are a great place to build relationships with your audience and are a great tool for your art marketing plan, but you need to focus on other areas as well.
The difference between social media sites and artist blogs are blog posts will always be available for anyone to view online. Your audience will be able to search for your content on search engines for as long as you have them published. They will never disappear as they do on social media sites.
The lifespan for a Facebook newsfeed is four hours (as of 2015), the lifespan for your blog post is until you delete it. I am generating thousands of page views to my blog from articles I have written and posted years ago.
For more information on how I accomplished this visit How My Blog on Art Marketing Reached 25,000 Monthly Views 
Artist Blog Design
If you have an art blog that you self-host like WordPress, you will have total control of the look and feel of your blog.
You will be able to choose a theme that will best suit your business.  Themes are the layouts for the blog, and most of them can be customized.
For more information on Themes read How to Brand you Art Blog with Themes.
Think of all of the possibilities that you will have. It is like having a store without all of the costs. A store that can be seen by people around the world.
Here are some of the things you will be able to customize on your blog:
Logo
Email opt-in forms
Newsletters
Colors
Content
Videos
Shopping cart
Courses
Tutorials
The only thing that could hold you back is your imagination.
Collect Emails
Collecting emails are essential to the success of your art business. With an artist blog, you can ask for your readers to join your newsletter. When they sign up, you will have their contact information.
This will allow you to keep in touch with your followers and keep them updated on important subjects about your business.
Let's say that Facebook is no longer around. (This could happen, do you remember MySpace?) All of the people who followed you will be gone. You will have no way of contacting them.
With an artist blog will always have the ability to connect with your fan base because your content will be searchable via search engines and you have collected their emails.
Here are some articles to help you build your email list:
7 Email Services for the Online Artist
Best Places to Add an Email Opt-in on Your WordPress Blog
Don't underestimate the power of an email list. Your email list will be the most valuable aspect of your business.
Artist Blogs Build Credibility
Another reason you should have an artist blog is that you will be able to write about topics that interest your readers without being limited to a particular amount of text. Some social media sites limit the amount of text a post can have Twitter). A limit on the text you can use could make it difficult for you to get your point across.
Writing articles about the subjects that you are an expert in will increase your credibility as an artist. People will start to go to you for information on topics they are trying to learn more about.
Providing value for your readers is a quick way for you to build their trust. When your audience trusts you they will be more willing to purchase your art and share your business with people they know. They will become a part of your tribe.
Your tribe will help you to boost blog traffic by sharing your content with their friends and family.
Conclusion:
An artist blog is an inexpensive cost that will actively enhance your business if you put the time and effort into it.
After you have launched your blog you will want to take some time to learn how to get traffic to your blog.
I have made the learning process easy for you with The 28 Day Blogging Challenge for Visual Artists.
This eBook is filled with daily blog traffic tips that will help you to speed up your blog growth.
Like anything in life, the more effort you put into something, the more you will get out of it.
What are your thoughts on an artist blog?
You might also be interested in:
Instagram Stories Coming to Desktop – What it Means for Artists
Did you enjoy this article? Don't forget to sign up for my free weekly newsletter.
You can also join me on:
Learn how to start, grow and monetize your online art business.
Art Business Planners
Disclaimer: This post may contain affiliate links. If you make a purchase by clicking on an affiliate link, Nevue Fine Art Marketing may earn an affiliate commission at no additional cost to you. Affiliate relationships include, but are not limited to, Bluehost, Tailwind, Skimlinks, SareASale and StudioPress. To learn more visit Affiliate Link Disclosure Policy
28 Day Blogging Challenge for Visual Artists
Pyrography by Dave Nevue
Purchase Bluebird Perching Wood Burning