Do you find it difficult at times to come up with content to write for your artist blog? Are their times that you are not publishing blog posts because you just do not know what to write about?  In this post, you will discover 4 blog ideas for artists to blog about so you can keep your blog up to date and generate traffic to your art listings.
Build a Beautiful Artist Website – Weebly – Get Started With this Special 10% Off Affiliate Link.
Blog Ideas for Artists
Disclaimer: Please note that some of the links on this post are affiliate links and will be clearly marked as so. I will earn a small commission when you purchase a product or service from an affiliate link at no extra cost to you which helps with the costs of operating Nevue Fine Art Marketing. I will only recommend products I have used, found helpful to my business and are companies I trust.
Before we get into some blogging ideas, I would like to talk a few moments about the importance of writing posts for your art blog.
Blogging Benefits for Businesses
According to Corey Wainwright, 4 benefits of blogging are:
It helps drive traffic to your website.
It helps convert that traffic into leads.
It helps establish authority.
It drives long-term results.
The benefits that Corey highlights are the main reason I am blogging on a consistent basis.
I want to drive traffic to my site so I can sell more art. I want to have long-term results from my efforts.
I was able to accomplish this and more by blogging and you can do the same.
Read more about how I built an audience at, How My Blog on Art Marketing Reached 25,000 Monthly Views 
Did you know that 97% of consumers go to the internet first to find content about a product or service before they contact a company?
Writing content on a regular basis will help to keep you ahead of your competition.
I hope these statistics motivate you enough to write even when it is tough for you to come up with ideas to write about.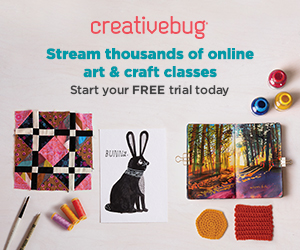 Painting Repeat Patterns by Hand: A Daily Practice by Cleo Papanikolas on Creativebug!
One way to prevent writer's block is to plan ahead and in this post, I am going to share with you some tips so you will never have to stare at a blank screen again.
"It's not what we do once in awhile that shapes our lives. It's what we do consistently."
~Anthony Robbins
4 Blog Ideas for Artists
Here are some blogging ideas that will help spark your creative thoughts.
Blog Ideas for Artists – Art Supplies
Your blog will attract an audience that loves your work as well as artists that are inspired by your talent.
Write about the art supplies that you use. You can separate your supplies into separate blogs. 300-500 words will be perfect. 
Explain where you purchase your supplies, how much they will cost and why you use them.
This information will be valuable for the artists that are interested in learning about the supplies that you use for your art style.
People who purchase your art will be interested in learning more about you and your craft.
This is an easy way to add content to your blog.
Monetize Your Art Blog
You can earn some extra income by adding affiliate links to your artist blog.
Affiliate links are links to products or services that you earn a commission with no additional cost to the shopper.
When you include affiliate links in your art blog posts you are helping businesses you like by promoting their products and you are helping your readers by sharing with them information on where you purchase your products.
There are many ways you can go about finding businesses that offer affiliate programs (most businesses do offer affiliate programs) but an easy way to get started is by visiting ShareASale.
ShareASale is a site that most large businesses use to offer affiliate links to their products and services.
Many artists want to help other artists succeed. I will always use affiliate links from art bloggers I follow to help them earn a few extra dollars.
Do not expect to become rich by affiliate marketing but a few extra dollars coming in does help when sales are slow.
Blog Ideas for Artists – Struggles 
Everyone struggles. It is motivating for people to see how someone triumphs over a situation that they have struggled with.
Inspire others by sharing with them how you overcome difficult situations.
Keep the content relevant to your blog's mission. You do not want to write how you stopped the dog from going to the bathroom in your house on your art blog. This will have people click the back button before they can blink an eye.
Write about the struggles that you have encountered while you were learning.  
Give examples and solutions to the problems you had during your career.
You can also help your collectors solve problems.
Write about:
How to care for original art.
Best places to display art.
Best lighting for art.
How to frame art.
Best places to purchase art.
Best size for their home.
Blog Ideas for Artists – Art in Progress
I see so many art blogs that only post their new art.
Blogs are a great place to share new art as well as sharing how the art came to life.
You want your readers to stay engaged with your blog and have them looking forward to your next creation. This can be done by writing blog posts that highlight your art in progress.
Adding art in progress is a great way to have people engage with your blog. People love to see how art is created and how it takes form.
Explain the techniques and tools that you used for the image that you are showcasing. You will be surprised at how often your readers will return to your site to see your next progress image.
Blog Ideas for Artists – Inspiration
Everyone needs to be inspired. Share with your readers what inspires you to create your art. 
Share some inspirational quotes from your favorite artists.
Talk about your favorite artists and why they inspire you.
Share with your audience what inspired you to become an artist.
People enjoy learning about people that they admire. By letting your audience know more about you, you will be making your artwork more meaningful to them. That is a great way to have your audience become loyal fans.
Disclaimer: This post may contain affiliate links. If you make a purchase by clicking on an affiliate link, Nevue Fine Art Marketing may earn an affiliate commission at no additional cost to you. Affiliate relationships include, but are not limited to, Bluehost, Tailwind, Skimlinks, SareASale and StudioPress. To learn more visit Affiliate Link Disclosure Policy
Conclusion:
These 4 blog ideas for artists will keep you busy. Plan out a schedule and you will find that you will never run out of ideas.
4 Blog Ideas for Artists Overview:
Blogging Benefits for Businesses
Blog Ideas for Artists – Art Supplies
Monetize Your Art Blog
Blog Ideas for Artists – Struggles
Blog Ideas for Artists – Art in Progress
Blog Ideas for Artists – Inspiration
You might also be interested in:
Pyrography by Dave Nevue
Purchase Bluebird Perching Wood Burning