Last Updated on
Would you like to increase your art sales? In this post, you will discover, what your artist blog needs to generate sales and a lot of them.
What Your Artist Blog Needs To Increase Art Sales
Disclaimer: Please note that some of the links on this post are affiliate links and will be clearly marked as so. I will earn a small commission when you purchase a product or service from an affiliate link at no extra cost to you which helps with the costs of operating Nevue Fine Art Marketing. I will only recommend products I have used, found helpful to my business and are companies I trust.
Sales on the web reached $394.86 billion last year, a 15.6% increase compared with $341.70 billion in 2015. That's the highest growth rate since 2013 when online sales grew 16.5% over 2012. – According to Stefany Zaroban
Roughly eight-in-ten Americans are now online shoppers: 79% have made an online purchase of any type, while 51% have bought something using a cell phone and 15% have made purchases by following a link from social media sites. – According to a study by Pew Research Center
We are not only seeing a change in how people are purchasing products but we are also seeing a change in how business conduct business.
As an artist, you have an opportunity to build an online store where you can sell your artwork and other products and services to people around the world.
Not too long ago, you would have had to invest in a brick and mortar building if you were interested in owning a business.
Artist Blog
You can own an art business website for about a cup of coffee a day.
The only two things you will have to invest in to start a website are a domain name (affiliate link) and a hosting service (affiliate link)
Art blogs that use WordPress as a platform have the option of using Premium Themes, Premium Plugins and a variety of other tools to make your job easier but they are not a necessity.
What is the difference between a website and a blog?
"The basic difference between a blog and a website is theoretically the difference in how data is being presented – the format.

A blog is basically a web log that a blogger makes use for chronological listing of blog posts. A blog has the most recent content shown first followed by the previously updated content.

A website in return can be anything. Anything on the internet presented in HTML/CSS or Java/Javascript/Python/Php, etc. comprises of a website. A webiste may be complimented with a blog, but the home page would be more for browsing other pages and not just posts." – According to Srikanth AN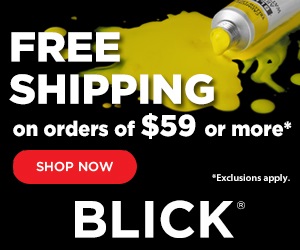 You can read more at Whats Is The Difference Between A Blog And A Websit
If you want to start an online art business, you can build an artist WordPress website/blog very easily.
WordPress is free, but like I have mentioned earlier you will have to purchase a domain name and hosting.
BlueHost provides both domain names and hosting at a very reasonable price. They also have made it easy for you to start your WordPress site in just a few minutes.
WordPress is not the only option you have. You can also build a beautiful artist website with Weebly – Get Started With this Special 10% Off Affiliate Link for Nevue Fine Art Marketing Fans.
What Is The Purpose Of An Artist Blog
"The purpose of a blog is to attract visitors to your site. It's that simple. The more visitors you have reading your content, the more likely you are to convert these interested users into qualified leads and boost sales." – according to Sarena Brown
For an artist, your blog will be the fuel that generates sales.
Your blog gives you the opportunity to build credibility and be perceived as an expert in your field.
This allows you to turn potential customers into loyal art collectors.
An art blog is the key to how to get your art noticed online.
How To Increase Traffic To Your Artist Blog
The answer is quite simple. All you have to do is write valuable content that attracts your target audience as well as being consistent with your publishing schedule.
The execution is more complicated. Writing valuable content on a regular schedule takes a lot of thought and effort.
You have to think of subjects that will attract and be valuable for people who are interested in your artistic style.
Writing the content, proofreading, researching keywords and promoting the posts all take time.
Patients is another important factor when it comes to being successful selling art online.
It will take time for your blog to generate traffic and be ranked by the search engines.
Setting goals, working towards your goals and understanding that success will not happen overnight will separate you from your competition within a couple of years.
My blog was only receiving a few hundred visitors a month for the first six months. After those first six months, my traffic started to consistently increase until it hit 25,000 page views per month within two years.
Now my blog is on a path to reach 100,000 page views a month.
Your artist blog can produce the same results mine did. All you have to do is put the time and effort in.
I have written the 28 Day Blogging Challenge for Visual Artists to help make the blogging experience easier for you.
During the first two years, I spent a lot of time learning about blogging and trying different strategies.
The eBook is laid out with specific tasks to help you to build your artist blog faster.
The eBook is designed to help you generate traffic, but how do you land a sale once you have the traffic?
Here are two things every artist blog needs to produce sales.
Artist Blog Needs – High-Quality Images
High-quality images is a must if you would like to have a chance selling your artwork online.
I have said earlier that you will only need to invest in a domain name and a hosting service to start an artist website. That is true. However, if you would like to increase the chance of selling your artwork you might want to consider investing in some photography courses.
Here are some Photography courses I recommend:
Your images have to reflect your artwork as if it was being viewed in person. You want the customer to know exactly what they will be receiving if you want any chance of them purchasing from you again.
Artist Blog Needs – Prices
Convenience in an e-commerce website is as important as the quality of images on the site.
You only have seconds to grab a viewer's attention once they land on your blog or website.
An image of the art you are promoting should be the first thing a reader sees when they land on a landing page. The art title and selling price should be next. Followed by a description of the art and any policies you have.
Your blog and website will be going through many changes throughout your career. One of your goals should be to make it user-friendly for a customer to purchase an item.
This is one way that you can set up your selling page:
Show an excellent image of the work
Price
Link to purchase
Description of the product
Call-to-Action
Have every selling page consistent. You do not want to confuse the shopper when they are looking for more artwork to buy.
Art Topics To Write About
At this point, you know that your art blog needs high-quality images and prices for the art you are selling.
But how do you get people to your art listings?
The answer is simple, you will have to write and publish a lot of posts.
The posts you publish creates another way for your target audience (people who are interested in purchasing your artwork) to find you in the search engines.
The more content you publish the better.
This all sounds great but what can you write about?
As an artist, you will have many things you can write about.
Here are examples of art blog topics to help get you started:
What inspired you to be an artist?
What inspired you to use the mediums you use?
What subjects do you create?
What are the stories behind your art?
What message are you trying to spread?
How to protect your artwork?
For more ideas visit 110 Art Blogging Ideas
Conclusion:
The strategy behind operating a successful online art business is easy.
Open an artist website, write valuable content to attract your target audience, upload high-quality images of your artwork and make it easy for your collectors to purchase your artwork. That is all your artist blog needs to become successful.
The difficult part is being consistent and patients.
Remember that it took me two years to hit the 25,000 page views a month. Now I am closing in on 1000,000 page views a month.
You can do the same. Look towards the end game not what will be here tomorrow.
Now that you know how to market your artwork, it is time to take action.
What Your Artist Blog Needs To Increase Art Sales Overview:
Artist Blog
What Is The Purpose Of An Artist Blog
How To Increase Traffic To Your Artist Blog
Artist Blog Needs – High-Quality Images
Artist Blog Needs – Prices
Art Topics To Write About
You might also be interested in:
The Complete Blogger Template Toolkit 
OVER 450+ Templates You Need to Quickly Create Stunning, Jump-Off-The-Screen Image to Grow Your Blog-- Without Having to Learn Design!