Last Updated on
Are you finding it difficult to generate traffic to your art blog? Are you consistently writing blog posts that no one reads? Colin Cieloha shared this amazing 16 SEO FAQs infographic that I wanted to share with you. This is not just an SEO FAQs for artists selling art online infographic, it is for anyone selling online or anyone who has a blog. So if you know anyone that might find this information helpful, please pass it along.
Colin Cieloha is an American author and content marketer at Skilled.co. He writes about everything that will draw his attention with a general focus on the trends in the tech world. When he is not writing he is spending his time traveling the globe and snowboarding. You can follow him on his Twitter at @ColinCieloha or on Linkedin.
16 SEO FAQs for Artists Selling Art Online
SEO FAQ's and Tricks to Stay at the Top
Being an online marketer requires lots of vigilance and the drive to keep up the pace with the ever-changing industry. The upside is that having a profitable business is no longer a matter of hard work or making it to the top. We're not saying that it's easy – at all, but it's not as hard as it used to be.
All you need to do is go with what's on the run or even a step ahead of it. And to do that, you need knowledge.
As an online marketer, SEO is basic knowledge. But it's not enough. As we said before, it's a dynamic industry the online world, and the only way to survive it is life-long learning.
If there are things about SEO that you still can't grasp, this infographic with 16 FAQ's about Search Engine Optimization is what you need to clear things up. Kudos to SEO Jury team, who took their time to gather all the data.
What is the easiest way to enhance your SEO score?
Considering that the purpose of SEO is to evaluate the experience of a potential customer on your site, the best bet you've got is to know your audience and meet their needs. By this, we mean you keep a high standard of your site:
Create fresh content – no one likes to read the same things again and again. If your business doesn't have a wide variety of products and service, at least change the descriptions from time to time. People are entertained by novelty, so bring it to them anytime you have the opportunity.

Check your website speed (and improve it, if necessary) – it surely happened to you at least once to lose your grip because a YouTube video didn't load fast enough. And you wouldn't want it to happen to a customer while visiting your website.

Check the most recent Google updates – search engines change their algorithms as often as once every two days, so that no one can cheat or trick the crawlers. Because Google has the lead position in the market, their criteria are the one you should meet if you want to ensure your place among the results.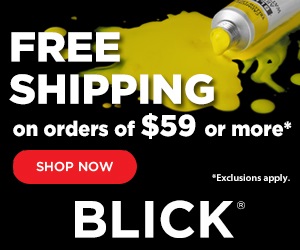 If we were to sum it up, SEO is all about delivering great quality content to your visitors, via a friendly interface. Because Google knows best – would you like to buy something that's the second rate? Then why advertise or sell it?
Presented by SEOjury.co.uk
Why is SEO Important?
SEO helps search engines learn more about your art blog and website. The more you can optimize your site for SEO the easier you make it for search engines like Google to refer your content to your target audience, the people who will be interested in buying your art.
If you want to be found online you have to work hard to get your art blog and artist website ranked on the first page of the search.
Why do you have to be ranked on page one?
That is a good question.
Let me answer the question with a question.
When was the last time you went to page two when you were searching for information on Google or Bing?
If you want to see your traffic increase you need to work on increasing your PageRank.
What is SEO?
According to searchengineland.com
"SEO stands for "search engine optimization." It is the process of getting traffic from the "free," "organic," "editorial" or "natural" search results on search engines."
SEO helps search engines understand what your site is about. This is how search engines can recommend relevant content their audience.
If you do not make it easy for search engines to understand what your content is about, you will never rank high in search.
Do You Have to be an SEO Expert?
The good news is that you do not have to be an SEO expert. You just have to know more than your competition.
Take notes on this infographic and start optimizing your site.
Dedicate some time every week on SEO. You will be happy you did when you start to see your traffic increase.
Conclusion:
There are many layers to selling art online. You need to have an understanding of social media marketing, email marketing, content marketing and the list goes on.
SEO is just another piece of the puzzle you will want focus on.
You might also be interested in:
Do you have a good understanding about SEO? What are some of your struggles?
If you do write them in the comment section below. I will help you in what ever way I can.
Learn how to start, grow and monetize your online art business.
eBooks by Dave Nevue
Art Marketing Video Courses by Dave Nevue
Art Marketing Resource – All of the tools I use and recommend for my online art business.
28 Day Blogging Challenge
Are you ready to start building an online presence?
Take the challenge and join all of the other artists selling their art online.
28 Day Blogging Challenge for Visual Artists
By Dave Nevue
Download your copy today.
Or Purchase on Amazon.
Disclaimer: Please note that some of the links on this post are affiliate links and will be clearly marked as so. I will earn a commission at no extra cost to you if you choose to purchase through those links. I will only recommend products I have used, found helpful to my business and are companies I trust.
Graphite Drawing by Dave Nevue
Purchase Prints and Greeting Cards
The Complete Blogger Template Toolkit 
OVER 450+ Templates You Need to Quickly Create Stunning, Jump-Off-The-Screen Image to Grow Your Blog-- Without Having to Learn Design!