Do you have a knack for creating handmade crafts but aren't sure where to start turning your hobby into a business? Look no further! In this article, we will guide you through 10 unique craft ideas that are both in demand online and offline. From candle making to woodworking, we've got you covered with easy-to-follow tutorials and tips on how to get started selling your handmade crafts. Whether you're a seasoned crafter or just starting out, you'll learn how to decide which craft idea is best for you, how to get people to see your products online, and why selling at local craft shows is essential. So, grab your crafting tools, and let's start on your path to turning your passion into profit.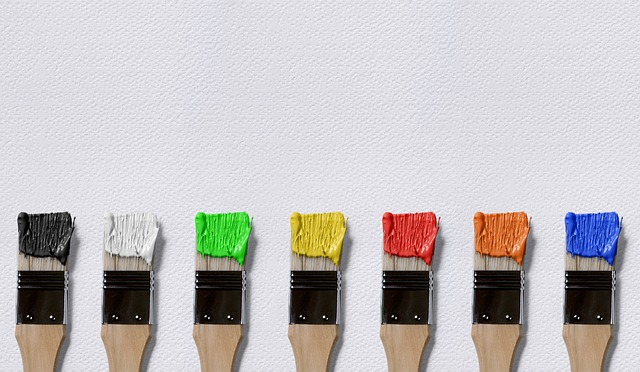 Disclaimer: This post may contain affiliate links. If you make a purchase by clicking on an affiliate link, Nevue Fine Art Marketing may earn an affiliate commission at no additional cost to you. Affiliate relationships include, but are not limited to, Bluehost, Tailwind, Skimlinks, SareASale and StudioPress. To learn more visit Affiliate Link Disclosure Policy
Candle Making Business
If you're looking for a craft that is both relaxing, rewarding and a profitable craft business idea, candle-making might be the perfect fit for your craft business. With various scents and styles available, you can easily create a unique product that speaks to your personality and creativity.
Get started with basic supplies like wax, wicks, fragrance oils, and containers. You can find these items at local craft stores or purchase them online. An excellent way to start is to get a complete candle-making kit. Once you have your supplies, heat the wax and add your chosen fragrance oils. Then, pour the mixture into your containers and let them cool.
Once your candles are ready, you can add your personal touch by decorating the jars with labels and ribbons or placing them in a gift basket. There are various ways to market your candles, such as creating a website or selling them at local markets and craft fairs.
Starting a candle business can be a fun and profitable craft for your startup business. You can create beautiful, unique candles that people will love with practice and creativity.
Embroidery
Embroidery is a timeless craft that has been around for centuries. It's a versatile craft that allows you to create personalized designs and add a touch of elegance to any item. Whether it's a shirt, bag, or pillowcase, embroidery can transform the item into a unique and meaningful piece that can be treasured for years.
You'll need a few supplies, such as embroidery needles, thread, fabric, and an embroidery hoop to start with embroidery. Once you have your materials, you can start practicing basic stitches such as the backstitch, running stitch, and satin stitch. As you become more comfortable with these stitches, you can move on to more complicated designs using different materials and techniques.
There are countless ways to incorporate embroidery into your startup DIY craft business. You can create personalized embroidered items like monogrammed towels, shirts, or custom patches. You can also offer embroidery services for customers who want to add a special touch to their own items.
As you get more craft business ideas and delve into the world of embroidery, you'll discover the endless possibilities this craft offers, and is one of the best craft business ideas. And with some practice and creativity, you can create beautiful and unique embroidered items that your customers will love.
Jewelry Making Business
Jewelry making is a craft and fashion industry that has been around for centuries, and for good reason. There's just something about a well-crafted piece of jewelry that can add a touch of elegance, sophistication, or even whimsy to any outfit. And with the right tools and materials, creating jewelry can become a lucrative business.
Whether you create delicate necklaces, statement earrings, or unique bracelets, the jewelry-making possibilities are endless. The best part? You can customize your creations to fit your brand or appeal to your target audience so you can build a successful business.
To start a jewelry making business, you'll need basic supplies such as pliers, wire cutters, wire, and jump rings. And, of course, you'll need beads, chains, and other materials that fit your overall aesthetic.
Once you have your supplies, it's time to let your creativity shine. Experiment with different color combinations, textures, and materials to see what works best for your brand. And don't be afraid to incorporate unique touches like charms or pendants that make your pieces truly one-of-a-kind.
Soap Making
Soap making is a versatile craft option for startup businesses looking to offer unique products. With various scents, colors, shapes, and designs, soap-making provides endless possibilities for customization and is one of the most popular craft ideas for business for local craft shows. Plus, consumers who prefer natural and organic products often seek handmade soaps.
To start with soap making, you will need basic supplies like molds, fragrance oils, essential oils, lye, and natural colorants. Once you have your supplies, it's time to let your creativity shine. Experiment with different scent combinations, textures, and materials to see what works best for your brand. And don't be afraid to incorporate unique touches like botanicals or personalized labels that make your pieces truly one-of-a-kind.
Crochet
Consider adding crochet to your product line if you're looking for different craft business ideas. This popular craft has gained popularity over the years. It offers many possibilities, from cozy blankets to fun accessories. The beauty of crochet is that you can use different textures and materials to create unique pieces. Crochet can add value to your own craft business because it appeals to a wide range of customers.
Crochet is an affordable craft, and with practice, it can produce high-quality results that customers will love. You only need basic supplies like yarn, hooks, stitch markers, and scissors. You can find crochet patterns for free online or invest in a book of patterns. As you gain experience, you can start creating your unique designs.
If you're unsure where to start, consider making simple items like scarves or dishcloths. These easy projects will allow you to practice your stitches and techniques and build your confidence. Once you're comfortable with the basics, you can start branching out into more complex projects like blankets or clothing.
Adding crochet to your DIY business ideas can help you tap into a new market of customers who appreciate the beauty and warmth of handmade items. Crochet pairs well with other crafts like sewing or knitting, so you can easily incorporate it into your own business too. With some creativity, you can create unique pieces that your customers will love.
Painting
Painting is a versatile craft that can offer endless possibilities for craft businesses. With a brush, paint, and a blank canvas, you can create beautiful works of art that your customers will love. Plus, painting is a great way to add a personal touch to your existing crafts, such as customized signs or painted glassware.
If you want to dip your toes into the world of painting, start with basic materials like acrylic paints, brushes, and canvases. Consider offering painting classes or workshops to your customers, where they can learn basic techniques and create their own masterpieces to take home. You can even create painting kits with all the necessary materials and step-by-step instructions.
Painting is also a great way to diversify your product line. You can offer custom paintings for events like weddings or birthdays or create one-of-a-kind pieces to sell in your online shop or at craft fairs. The possibilities are endless. You can even start a greeting card business with your original paintings or sell prints on merchandise.
Related Post – 50 + Painting Ideas That Will Inspire You To Paint
Woodworking
Woodworking is a versatile craft that can help you create unique products for your craft business. Woodworking can add a rustic touch to your product line, from furniture to home decor items.
Creating personalized signs is one way to incorporate woodworking into your craft business. These can be custom-made to include names, quotes, or sayings. You can also add painted accents to your signs to make them stand out.
Another woodworking idea is to make home decor items like rustic picture frames or wooden shelves. Offering one-of-a-kind pieces will distinguish your craft business from competitors and provide customers with unique decor options.
Woodworking can also be a fun way to create children's toys, like wooden puzzles or building blocks. These products can be marketed toward parents looking for eco-friendly, handmade gifts.
Adding woodworking to your craft business can diversify your craft industry product line and appeal to more customers than other craft businesses.
Pottery
Pottery is another craft that can help take your business to the next level. With its wide range of applications, pottery can be used to create anything from vases and bowls to mugs and plates. The versatility of this craft makes it a great addition to any craft business, as it allows for a wide range of product offerings.
One of the benefits of pottery is its ability to be customized to fit a customer's needs. Pottery can be tailored to meet any request, whether it's a specific color or design. This makes it an excellent option for creating personalized gifts for special occasions like weddings and birthdays.
Not only is pottery a popular craft, but it's also a sustainable one. By using natural materials like clay, you can create products that are both eco-friendly and long-lasting. This sustainability aspect can be a selling point for customers looking for environmentally conscious products.
So far, we have highlighted some of the most profitable craft business ideas. Still, many more ideas exist, like greeting cards or starting a photography or gift basket business.
Card Making
For those with a knack for paper crafts, card-making can be a creative and profitable addition to your craft business. Whether it's for weddings, birthdays, or holidays, there's always a demand for beautifully designed and personalized cards. You can experiment with different paper types, textures, and colors to create unique, eye-catching designs.
Cardmaking is also versatile and easily adapts to other products such as invitations, bookmarks, or wall art. By offering various paper products, you can expand your customer base and appeal to different occasions and events.
You can showcase your cards during specific seasons at craft fairs, sell online to a global market, or even start a subscription service and send cards monthly.
However you decide to do it, cardmaking is one of the best craft business ideas for those who want to get creative and make something people will treasure.
Whatever craft you choose, the key to success in the pottery business or any craft business is finding your niche market and creating unique, high-quality products. Once you have that figured out, the possibilities are endless.
Sewing
Sewing is a timeless craft that can add variety to your product offerings for a startup craft business. The possibilities are endless, from clothing and accessories to home decor and toys. By incorporating sewing into your lineup, you can attract a wider audience and showcase your versatility as a crafter.
One way to start incorporating sewing crafts into your business is to offer customizable items such as tote bags, aprons, or face masks. Customers can choose their own fabric and design to create a unique product. Another option is to make home decor items such as throw pillows or table runners that can be easily personalized with embroidery or applique.
Sewing also allows for the creation of more intricate and detailed products, such as stuffed animals or plush toys, which can be a hit for children and adults. These products can showcase your skill and creativity as a crafter and set your business apart.
If you're interested in exploring the world of sewing, many resources are available in online courses and in books to help you get started. You can create beautiful and functional products that customers will love with practice and patience.
Gift Baskets
Gift baskets are an excellent option for craft business owners looking to add variety to their product offerings. Not only are they aesthetically pleasing, but the contents of each basket can be tailored to fit the customer's individual needs and preferences. Whether for a birthday or other special occasion, gift baskets offer something unique that customers will appreciate.
The first step in creating a professional-looking gift basket is selecting the right container. You'll want something sturdy enough to hold all the items without collapsing or spilling out their contents. Things like wicker baskets or decorative boxes with lids are ideal. Once your container is picked out, it's time to start filling it up.
When choosing items for your basket, consider the person who will receive it – what do they like? Are there certain colors or themes that resonate with them? If so, try to incorporate those into your design when possible. Make sure each item complements one another in terms of size and color palette so everything looks cohesive in the end product. Including consumable items (like food) and keepsakes (like jewelry) is also helpful. That way, once all of their goodies are gone, they still have something to remember your basket by.
Gift baskets are a great way to show off your creative skills and fill up those empty shelves in your store. With the materials and an eye for design, you can make stunning arrangements that make customers want to return for more.
How To Decide What Craft Idea Is Best For You
Deciding what craft idea is best suited for your startup can often be a tricky task. It's essential to take some time to consider your artistic skills, what crafts you enjoy creating, and what materials and supplies are readily available to you. Investigating what crafts are currently popular and marketable on online marketplaces is also worthwhile.
One important thing to remember is the amount of time and effort each craft requires. If you're starting, it might be wise to select a craft that is relatively easy and quick to create. This will allow you to build up your skills and experience before moving on to more complex crafts.
Another consideration is the cost of the raw materials used. Some crafts require expensive materials or tools, which may not be feasible for a startup. It's essential to select affordable crafts while still allowing you to earn a profit.
Finally, consider your target market or audience and what products they might be interested in. For example, if you're targeting parents with young children, you might consider creating toys or children's clothing. Home decor items or jewelry might be more appropriate to target a more mature audience.
Once you've considered these factors, you should better understand what craft ideas best suit your startup. From there, it's all about putting in the time and effort to create quality products that customers will love.
To maximize your chances of success, it's also important to consider how to get your products in front of potential customers. The following section will explore some helpful tips for getting your craft business noticed online.
How To Get People To See Your Product Online
To truly succeed as a startup craft business, you need to be able to get your products in front of potential customers. Luckily, the internet provides many opportunities to promote your crafts online. Social media platforms like Instagram, Facebook, and Pinterest are great places to showcase your products and connect with potential customers. Setting up an online store through platforms like Etsy or Shopify also provides a centralized location for customers to browse and purchase their crafts.
However, simply creating an online presence isn't enough. You need to engage with your audience and build a following actively. This can be done through regular social media posts, blog content, and email newsletters. Collaborating with other creators or influencers can expand your reach and introduce your products to new audiences.
It's important to remember that building an online presence takes time and effort. Consistent branding and messaging across all platforms will help establish your business and make it easier for customers to recognize your products. Search engine optimization (SEO) techniques can also help your business appear higher in search results.
While promoting your craft business online is essential, it's also crucial not to overlook the benefits of selling at local craft shows. In-person sales allow potential customers to see and handle your products, building trust and establishing a personal connection. Plus, craft shows offer the opportunity to network with other creators and gain valuable feedback on your products.
Why Selling Crafts At Local Craft Shows Is Important
While establishing an online presence is essential for a startup craft business, it's vital not to overlook the value of selling at local craft shows. These events provide a unique opportunity for creators to showcase their products and build a personal connection with customers. In-person sales allow potential customers to see and handle your products, which can be especially important for customers who are hesitant to purchase handmade items without seeing them first.
But the benefits of selling at craft shows go beyond just making sales. Attending these events provides an opportunity to network with other creators in your industry. This can lead to valuable collaborations and partnerships that can benefit your business in the long run. Additionally, selling at craft shows allows you to receive valuable feedback on your products from customers and other creators, which can help you refine your offerings and improve your business overall.
Despite the benefits, some crafters may hesitate to attend local shows due to the cost or time commitment of setting up a booth. However, it's essential to remember that these events can be a valuable investment in the long-term success of your business. Not only do they provide a unique opportunity to build relationships with customers, but they can also help you establish your brand and make a name for yourself in your local community.
In conclusion, while promoting your craft business online is crucial, attending local craft shows should be an essential part of your overall business strategy. These events allow crafts businesses to connect with customers, network with other creators, and receive valuable feedback on your products. By taking advantage of these opportunities, you can build a thriving craft business that stands out in a crowded marketplace.,
In conclusion, turning your passion for crafting into a profitable side business venture is achievable with the right ideas and approach. From candle making to sewing, the possibilities are endless. Remember to experiment with your creativity to make your crafts stand out. Utilizing online and offline platforms and showcasing your products at craft shows can help get your business off the ground.
Related Posts:
Tips For Making Your Own Wedding Crafts
How To Start A Craft Business On A Shoestring Budget
Best Craft Ideas For Business – How To Get Started
Best Places To Sell Crafts Online
Art And Craft Hobby Ideas For Everyone