Disclaimer: This post may contain affiliate links. If you make a purchase by clicking on an affiliate link, Nevue Fine Art Marketing may earn an affiliate commission at no additional cost to you. Affiliate relationships include, but are not limited to, Bluehost, Tailwind, Skimlinks, SareASale and StudioPress. To learn more visit Affiliate Link Disclosure Policy
Be More Productive With Your Art Career
Art careers are not built overnight. The artists that you see all over the web have been exactly where you are today.
They have encountered the same struggles and roadblocks you are facing today.
One thing that makes some artists succeed while others fall flat is the will to keep going. Even when times are tough, and the chips have fallen, successful artists find a way to stay motivated and move forward.  
Professional artists have worked hard to build name recognition and online brand awareness. An art business takes discipline, goals, hard work, patience, and the will to learn.
Learning to:
Network with other influential people even if you are an introvert
Develop your artistic skills even when you are less than motivated to pick up a paintbrush
Write blog posts, weekly newsletters, and answering emails when you would rather be in the studio
Build relationships on social media when you would rather post an image of your latest painting
Learning how to be self-motivated plays an essential part in one's success, no matter what they are striving to achieve.
Are you finding it difficult to break through your plateaus?
In this post, you will discover 10 tips to jumpstart your art business this year to see continued growth for years to come.
10 Tips To Jumpstart Your Art Business This Year
There will be ups, downs, and plateaus you will face during your art career.
There will be times when sales are slow or when your website traffic has taken a dive throughout the year.
Social media algorithm changes will affect how many people see your posts on social media.
Some of the roadblocks you can predict like slow sales or website traffic during the summer when people are on vacation.
Other obstacles, like Facebook's algorithm changes, are unpredictable.
Every artist goes through the same struggles. The ones who prosper are the ones who expect change and are willing to adjust their art marketing plan.
Let's go over ten tips to jumpstart your art business this year so you can watch your art business thrive even through the tough times.
Write Business Goals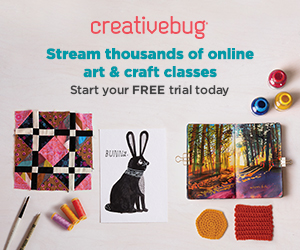 Painting Repeat Patterns by Hand: A Daily Practice by Cleo Papanikolas on Creativebug!
The easiest way for you to keep moving forward is by setting business goals.
The goals you write will help you to stay focused, driven, and motivated.
First, create a clear vision of where you would like to be in five years.
Do you want to make a career selling art?
How much money would your art business need to generate?
Do you want to sell art part-time?
How many hours can you devote to your art career?
How will you sell your artwork?
Are you going to have different revenue streams to help supplement your ar business?
The next step is to break your goals into more manageable tasks.
For example, instead of saying I need to generate $120,000 a year selling art, say I need to earn $12,000 this month.
Maybee, you will not sell $12,000 worth of paintings, especially during the slow months. What can you do to even out the loss? What other income streams can you implement that relate to art that will supplement your income?
Related Goals Resource:
Revisit Your Goals
Revisiting your goals will help you to jumpstart your art business.
At the beginning of every month, identify what is working and what is not working.
If a strategy is working, keep at it. Discard any plans that are falling flat. Do not waste your time if you are not seeing the results you are hoping for. Instead, put your energies into what is working.
Your goals should be broken down into:
One year goal
Six-month goals
Three-month goals
One-month goals
Assessing your monthly goals will allow you to see if you are on track for your three-month goals, and your three-month goals will show you if you are on track for your six-month and yearly plans.
Identifying what is working for you and what is not working for you will help you build a successful art career quicker.
Solve A Problem
Solving problems that arise promptly is a sure way to prevent plateaus or, worse, sales loss.
The first step is to be able to identify problems.
Distinguishing dilemmas is done by reviewing your strategies.
The good news is that you are already good at solving problems.
Take your art for example.
You are solving problems daily.
How can I fix the proportions of the subject I am painting or drawing?
How can I enhance the color balance or the use of light?
How can I make more profit from my artwork?
How can I reduce the cost of supplies?
These are just a few of the questions you are probably asking your self regularly.
Apply the same tactics to your art business.
Ask yourself:
How can I sell more art prints?
How can I sell more original art?
How can I get more people on my email list?
How can I get more traffic to my online gallery?
How can I save time blogging?
Once you identify a problem, come up with a plan to fix the problem.
Create A Challenge
When it comes to regular daily life, some people are creatures of habit, while other people are more spontanious.
Some people need a schedule to get things done while others like to try to multi-task.
If you need to jumpstart your motivation, try creating a challenge for your art business.
The challenge does not have to be overwhelming, instead make a challenge that will make you put in some extra effort but is achievable.
For example, if you write two blog posts a month, challenge yourself to write four blog posts in a month.
If you paint six paintings in a month, challenge yourself to paint eight paintings in a month.
Creating little monthly challenges will keep you motivated and prevent you from going into a slump.
Change Your Routine
Most people are creatures of habit and do the same routine daily.
For example, one might wake up in the morning, brush their teeth, turn on the coffee maker, let the dog outside, pour a cup of coffee, feed the dog, and scroll through their Facebook newsfeed.
How do you think the day would go if the person's coffee maker broke.
Maybee a minor panic because their daily routine went off course?
A broken coffee maker is not that big of a deal. You can always drive down the street to your local coffee shop to grab a cup of Joe, but the routine will be broken, making the person think about how they will accomplish everything they need to get done during that day.
If you want to create a little excitement in your day, change up your work schedule.
Toss Ideas Around
Networking with other artists and influential people is a powerful tool that will help you build a thriving business quicker than you could ever have imagined.
Two minds are better than one. Working with others will help you to see things ina different angle.
Sometimes a different opinion will drastically change the outcome of an original plan.
If possible, try to dedicate time every month or week fro brainstorming ideas with other artists or influential people.
Be Aware
No matter where you are, be aware of your surroundings.
You might be at an art class, an exhibition, an art fair, or just talking with another artist.
Inspiration is all around you.
Just be aware of all the fine details around you.
Take some time to discover what motivates and inspires you to become a better artist and a better business owner.
People often get hung up on a busy day's hustle and bustle and forget what is really important in life.
Take a few minutes to reflect on the important things in your life to recharge your batteries.
Try Other People's Ideas
How many times have you said no to an idea someone passed your way?
Doing so regularly could have you missing out on some great opportunities.
I am not saying you should try every idea that people give you, but I am saying that it is good to have an open mind and try new things.
The bottom line is that if the plan doesn't work, discard it just like you do with the strategies that you came up with that fell flat.
Be Organize
If you want to waste time and become unproductive with your time, stay unorganized.
Organizing your work area, paperwork, email, goals, art studio, and other parts of your life will help you stay motivated and focused.
When you walk into a clean studio, you will be ready to create beautiful artwork.
How can you be creative if you have to spend 45 minutes cleaning before you start painting?
When you sit at a clean desk, you will be inspired to write a new blog post.
Jumpstart your art business by getting yourself organized.
Just Do It
There will be days when you lack motivation.
We all face this dilemma.
There will be projects you like doing and other tasks you despise.
When this occurs, keep telling yourself that you are lucky to support yourself selling art.
Yes, there will be jobs you would rather not do, like bookkeeping, blogging, answering emails, and cleaning paintbrushes. But they are all part of running a successful business.
Look at the bigger picture. Doing a few things you do not like to do sure beats working in a factory.
Tips To Jumpstart Your Art Business Final Thoughts
There will be times when your sales are slow, or you feel like you cannot get anything done.
Implement the strategies outlined above will help jumpstart your art business this year.
10 Tips to Jumpstart Your Art Business Overview:
Set goals
Revisit your goals
Solve a problem
Create a Challenge
Change your routine
Toss ideas around
Be aware
Try other people's ideas
Be organized
Just do it
Tips to Jumpstart Your Art Business Related Posts
The form you have selected does not exist.