Note: this post, 10 Best Digital Marketing Strategies For A New Fine Art Business is a guest post by Peter Minkoff.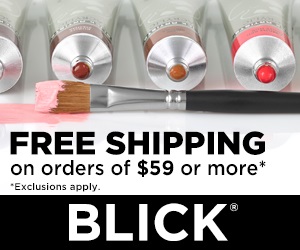 Disclaimer: This post may contain affiliate links. If you make a purchase by clicking on an affiliate link, Nevue Fine Art Marketing may earn an affiliate commission at no additional cost to you. Affiliate relationships include, but are not limited to, Bluehost, Tailwind, Skimlinks, SareASale and StudioPress. To learn more visit Affiliate Link Disclosure Policy
Creating art is a fun part of your new fine art business and the one you will most probably enjoy.
But knowing how to put your artwork in front of your audience requires some other skills too, that have more to do with planning, strategic thinking and techniques you're going to use for your promotion.
For all the newbies in digital marketing, who are looking for ways to promote their new fine art business online, here are the 10 best digital marketing strategies for a new fine art business to begin with.
1. Know your audience
For a killer marketing strategy, you need to start with the very basics –thorough research of your audience. You need to determine the profile of the customers you're addressing with your campaigns, starting with their demographics, their marital status, occupation, as well as their ethnicity and their income.
Learn more about their behavioral patterns and habits too, such as which social media channels they use and which websites they like to visit.
Only when you have a thorough understanding of your target customers, you'll be able to communicate in the way that's appealing and engaging. 
2. Optimize your website
Your website will most commonly be the first touchpoint between your potential customers and your business. To make a great first impression, you should design it in a way that will easily differentiate you from all the others in your line of work.
Make sure your website design is clean and simple so that it provides a smooth and seamless experience to your visitors.
As your website will have photos of the art you're selling, make sure you use high-quality images. You can learn more about how to photograph art that you want to sell, and ensure they're visually appealing.
However, keep in mind that 53% will leave your page if it takes more than 3 seconds to load, so compress or resize your images to avoid sluggish and slow loading pages.
3. Have blog
Businesses that blog receives 97% more links and attract 55% more visitors to their website. The content you post on your blog is how you can make your fine art business differ from your competitors, but only if you approach its creation professionally.
To create such content, make sure it's:
Well-tailored – It needs to fit the needs of your target audience.
Relevant and useful –Make sure every piece of your content provides value to your followers.
Readable –Use the language your prospect use, so that your content is easy to understand. Keep it clean from grammar and punctuation errors.
Authentic and credible –Use your own, authentic voice when creating content for your blog. Still, to make it trustworthy, quote the sources of the data you're using.
Engaging –Use various forms of content – videos, eBooks, infographics, photos, GIFs, to boost the engagement of your customers.
In addition to great benefits, such as bringing more traffic to your website and boosting your business credibility, blogging can help you be seen as an expert in your field, as well as build a brand out of your business.
4. Use SEO
To attract your target audience, you need to optimize your website, blog, and all the content you produce for search engines. Your goal is to rank well in searches that your target audience performs when they're searching for the art they want to purchase.
To be able to achieve this goal, your website and all the content you post should include relevant keywords, as well as credible links to the relevant websites in your niche.
Also, check out this expert local SEO tips on how to boost your local visibility, and get more traffic, both online and IRL.
5. Leverage social proof
Customers nowadays are highly influenced by the people they trust when they're making their purchasing decisions. They rely on the recommendations of their families and friends and other people who they share interests with.
These recommendations, as well as behaviors of others serve as social proof, that validates your business and builds credibility and authenticity around it.
Integrating a powerful CRO tool on your website, your blog or e-commerce store can get you more conversions. For example, it can help you turn your blog visitor into your newsletter subscriber and your visiting prospect into a loyal buying customer.
6. Kill it on social media
48% of the worldwide population actively use social media channels and they often do so with the purpose of searching for products or services and making their purchasing decisions.
You should own profiles on social media channels that are most notable in the art industry and among your target audiences, such as Instagram, Pinterest, Facebook and LinkedIn.
Make sure you post regularly and consistently and engage in discussions with your followers, both on your profile or in some other relevant groups.
7. Use ads
Even though the quality of your content and SEO play a crucial role in the success of your digital marketing campaigns, consider using paid ads too in order to attract more quality traffic.
For example, you can use Facebook Ads to promote your local event or boost your new art pieces or special offers.
8. Perfect email marketing strategy
You can also make email marketing a part of your digital marketing strategy. You can use it to reach many art lovers and clients at once, and deliver them well-tailored and personalized content that will install trust in them, and form a meaningful connection with your brand.
When creating your email campaigns, always have in mind the segment of the audience that you're addressing, and their position in the sales funnel.
Create content with a specific segment of prospects on your mind, and send your campaign to that segment alone, in order to carefully and gradually nurture them into a purchase.
9. Always network
Networking is the key to the success of any business nowadays, so use every opportunity you can to connect to important persons and companies in the art industry.
You can post podcasts or webinars or publish eBooks and invite well-known artists, thought leaders or influencers to join. Get them involved by asking for a guest post on your blog on a relevant or interesting topic, and you might even get a chance to post your piece on their blog too.
Making this kind of connection will boost your reputation and your credibility too.
10. Track your progress
Use analytical tools to track the progress of your digital marketing campaigns, and identify which tactics give the best results with your target audience.
You can use Instagram Analytics or Facebook Insights to see the performance of your social media campaigns, as well as Google Analytics, ClickMeter or SEMrush for the effects of your website campaigns.
Use these 10 best digital marketing strategies for a new fine art business in your digital marketing strategy to strengthen your online art business and position yourself as a notable art creator.
Popular Art Marketing And Sales Tutorials
Below are some of the most famous art marketing courses that will grow your online art business:
Most Popular – How to Make a Living Selling What You Make by Megan Auman
Most Popular – Build a Successful Creative Blog by April Bowles-Olin
How to Build a Business While Learning Your Craft by Megan Auman
Pinterest Marketing for Makers & Designers by Megan Auman
Did you enjoy this article? Don't forget to sign up for my free weekly newsletter.
You can also join me on:
Learn how to start, grow, and monetize your online art business.
Art Business Planners
I hope you enjoyed these 10 Best Digital Marketing Strategies For A New Fine Art Business by Peter Minkoff.
Best wishes on your marketing strategies.